FREE ONLINE CHAT - Curry at Home with Linda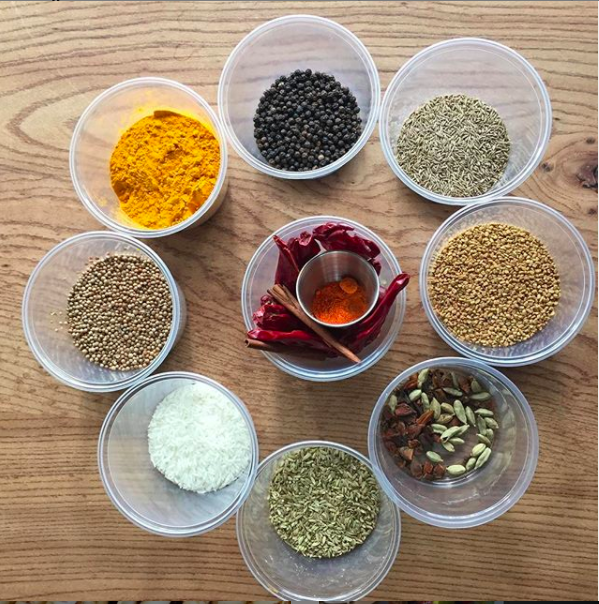 Our resident Malaysian and Southeast Asian cuisine instructor, Linda, is ready to chat with you! She's centering her chat hour around her grandmother's curry spice mix, and will be demonstrating that recipe. Learn how curry powder came about (spoiler alert: it's not Indian), and learn how to blend your own, and tips on using curry powder in various dishes. Come with questions and answers about curries, curry powder, and spices.
Note: We will send registrants a link to join the Zoom meeting by e-mail. We will not be recording this session for distribution.
Linda Tay Esposito is teaching chef whose food represents a tribute and a commitment to the authenticity of the cuisines of the Pacific Rim.  For the last 15 years, Linda has shared her passion and knowledge of South East Asian cuisine in the Bay Area and her work had been featured in KQED Bay Area Bites, the New York Times, etc. Linda taught at the The Cooking School at Cavallo Point and at Sur La Table Cooking School, and was a lead chef at Parties That Cook where she taught global cuisines in a team building setting. She started her teaching career at Whole Foods Market. Most recently she was the head of operations and chef at Bay Area's artisan tofu maker, Hodo. She currently leads the development of La Cocina's municipal marketplace – using food as a creative approach to economic development by offering affordable, healthy food options and safe spaces while providing assessable business opportunities for low income, immigrant, women food entrepreneurs. She writes a food blog at www.flavorexplosions.com and you can follow her on Instagram @flavor_explosions
Photo courtesy of Linda Tay Esposito