Food Security at 18 Reasons
Food security is having a wide range of choices when deciding what to eat. At 18 Reasons, we know that home cooking improves health, saves money, and strengthens family bonds. Unfortunately, home cooking is not necessarily taught at home or in school, and it often feels like an insurmountable skill to learn. 
Our programming helps people to make the most of their food resources by tackling five key barriers to behavior change: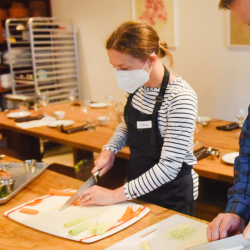 Our classes focus on skill-building in a welcoming, judgment-free environment. We meet people where they are in their cooking journey, and offer instruction on everything from knife skills and cooking fundamentals to exploration of regional recipes and advanced techniques.
Trying new ingredients and recipes comes with a cost. Identifying an item, sourcing it, and learning how to use it is an investment of time; purchasing something you may not enjoy is a financial risk. By providing ingredients and instruction, we remove time and cost barriers to kitchen experimentation.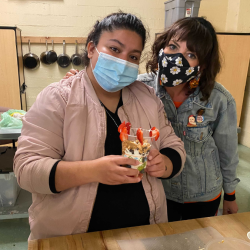 Our classes help participants gain efficiency in the kitchen through improved knife skills, simple recipes, and support with meal planning and prepping. These time management skills make it feasible for families to incorporate nutritious, home-cooked meals into busy schedules. 
Cooking for and with others is a powerful motivational tool. Our classes build community around the table, and engage participants in conversation as they cook. Participants learn together and share their own home cooking knowledge, providing valuable opportunities for peer-to-peer learning.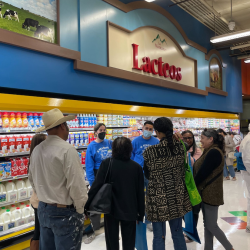 Our modern food system is difficult to navigate. Heavily processed foods, deceptive marketing, and misinformation often lead to confusion about what to buy. Grocery store tours and producer dinners equip participants across our programming with the skills to reclaim control over their food choices.