Host Your Private Event with Us!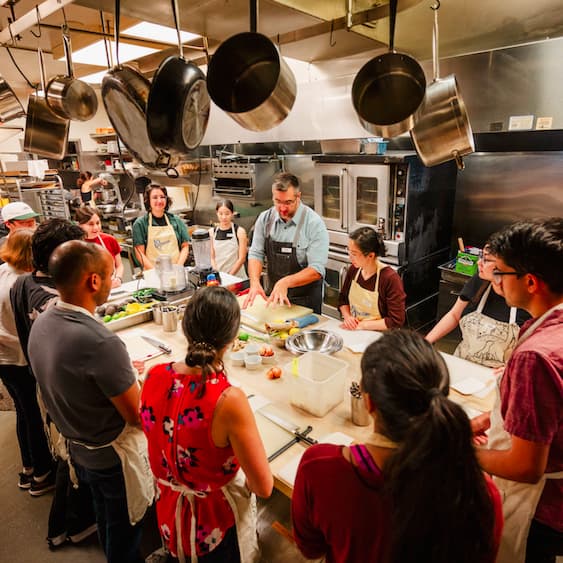 Choosing 18 Reasons' 18th Street Kitchen for your special event supports our mission of increasing food security in the Bay Area. Thank you for supporting our nonprofit cooking school! 
In-Person: Our 18th Street Kitchen classroom is located in the heart of the Mission District in San Francisco. We offer three in-person options for Private Parties: Cooking Classes, Private Dinners, and Venue Space Rental for parties and meetings.
Online: Our online cooking classes are perfect for teambuilding with colleagues working remotely and for celebrating with friends and family who live in different places - scroll to the bottom for more information. 
In-Person Private Parties
In-Person Private Parties are limited to 15 guests in a cooking class, 30 guests in a seated dinner, and 45 people for a meeting. 
With long wooden tables, a marble and iron bar, a cookbook library, and food-themed art, our classroom offers a beautiful setting for your group. Your rental of our 18th Street Kitchen includes our classroom space, staff to a gender neutral restroom, tables, benches, dishes, silverware, glassware, cloth napkins, assorted vases, votive candles, and access to our projector, Wi-Fi, and sound system. Our alcohol license allows only beer and wine to be served.
Visualize your event by stepping through our Recommended Classrooom Layouts to see photos of our space.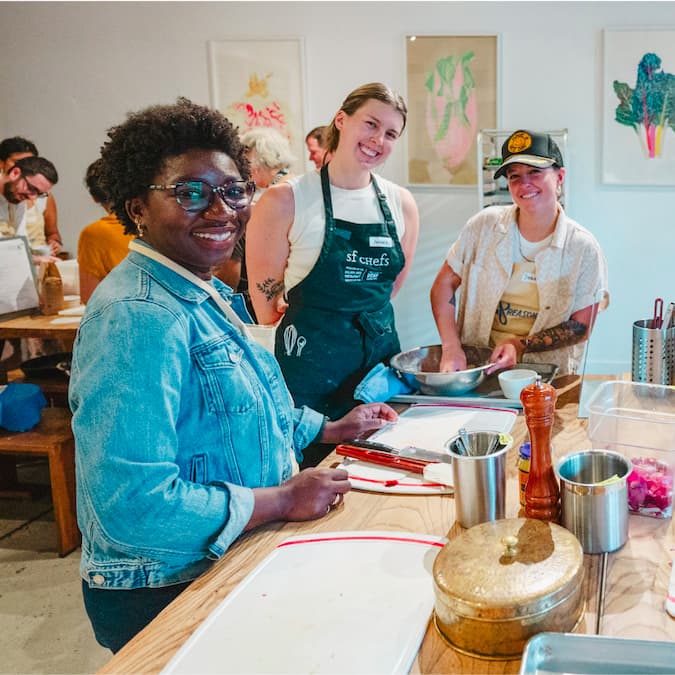 Our Chef Instructor will provide a special experience for you, friends, family, or colleagues. 
Rental price includes use of our classroom, staff, a cooking lesson with ~4 menu items, ingredients purchased from Bi-Rite Market, and 2 glasses of wine per guest. In-person private cooking classes are currently limited to 15 guests.
A 3.5-hour class (including dining time) follows this cost structure:
Base fee $1450 plus $90 per person. 
Additional rental time is available at $90 per half hour.
For private classes occurring in Nov-Dec, there is an additional 10% charge.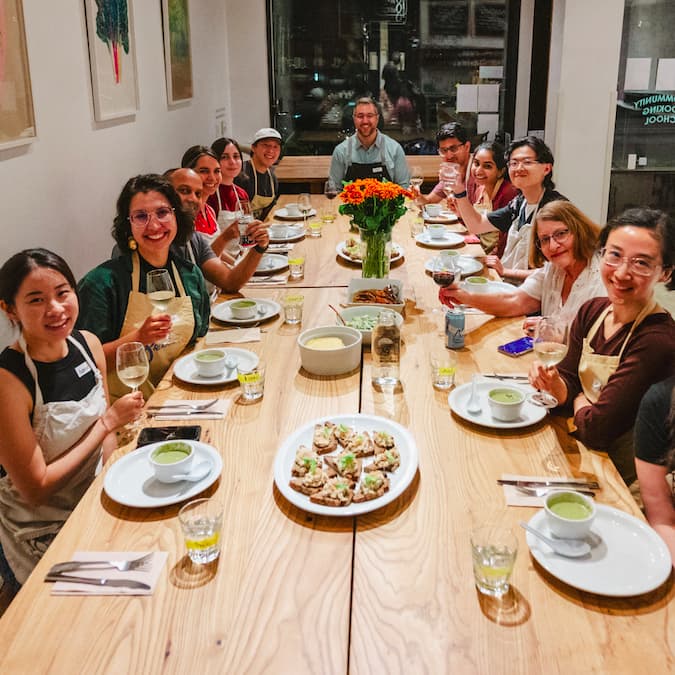 Let us take care of you from start to finish. 
One in-house chef will work with you to design and prepare the perfect menu for your occasion, with the use of our dining room for 3 hours. We often serve our meals family-style at our tables, but can also create buffet-style and standing reception menus. Private dinners are limited to 32 guests. Rental includes our 18th Street Kitchen classroom space, chef, staff, a custom menu, and ingredients purchased from Bi-Rite Market. Alcohol is not included, though guests may bring in wine and beer (no spirits allowed onsite) with no corkage fee. Prices start at $3,100 for 10 guests.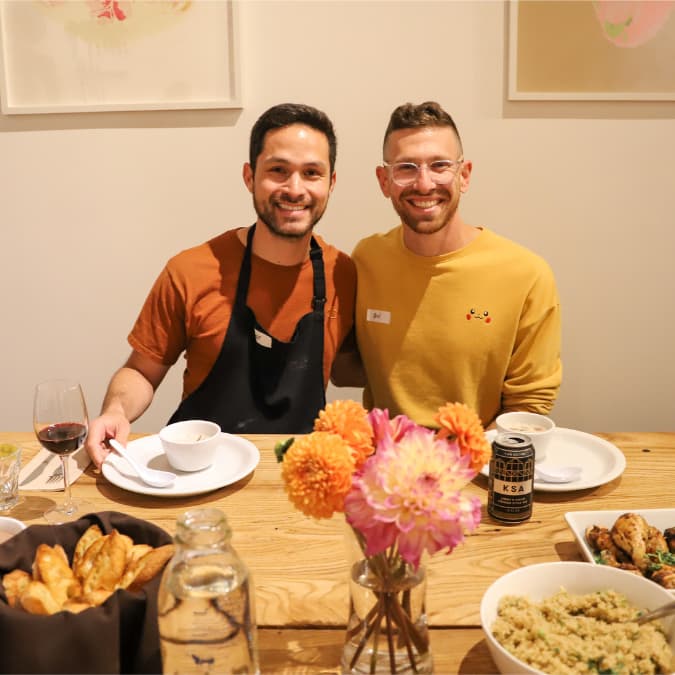 Capacity: 45 people 
Space rental only, does not include food or beverage service. 
Parties: ideal for birthdays, baby showers, and other family milestones! 3-hour minimum, includes two staff members. Daytime event prices start at $775 (must end by 3 pm). Evening event prices start at $1,200 (must end by 11 pm).  
Meetings: ideal space for meetings, co-working, wine or food tastings, and team building retreats. Rental from 8am-4pm, includes one staff member. Price: $1,200.
For rentals occurring in Nov-Dec, there is an additional 10% charge.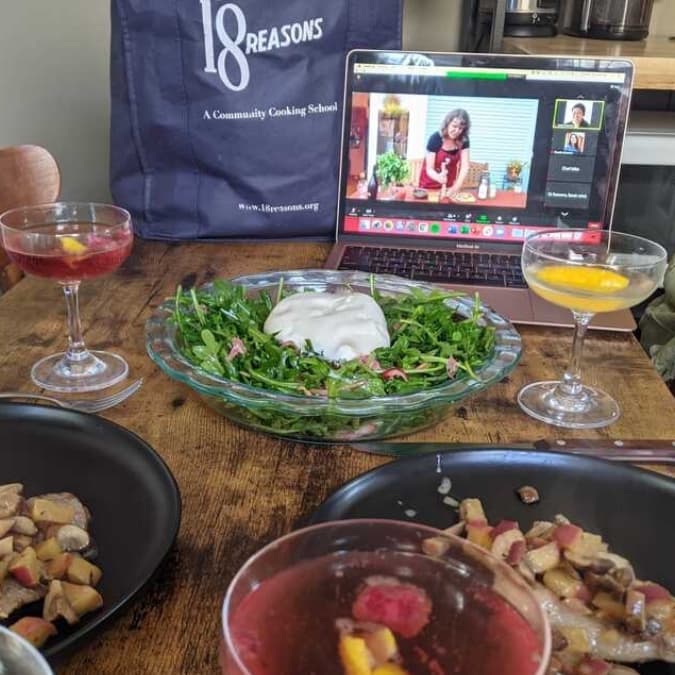 Our chefs will guide you every step of the way in the comfort of your home kitchen!
An instructor will work with you to create a menu. We provide a shopping list a week prior to class, so guests shop before class - then we provide a recipe and Zoom link to join the class. During class, this instructor will lead you and your group through recipes, and a facilitator will assist with class flow supporting guests. After class finishes, you'll have the virtual room to enjoy the meal on your own and spend quality time with coworkers, friends, or family.
$800 for up to 5 screens. Add $50 per screen over 5, but no more than 20 total screens.
For private classes occurring in Nov-Dec, there is an additional 10% charge.
A 15% service charge will be added to the invoice.
The 18 Reasons team has excellent virtual teaching practices. There were no hiccups or issues at all. They were helpful, friendly, and fun. We all LOVED the recipes, and several of us have already recreated them at home.
Virtual Private Party corporate team-building host
After requesting a private party, we will contact you within five days to follow up on your request. Questions? Contact us at privateparties@18reasons.org.