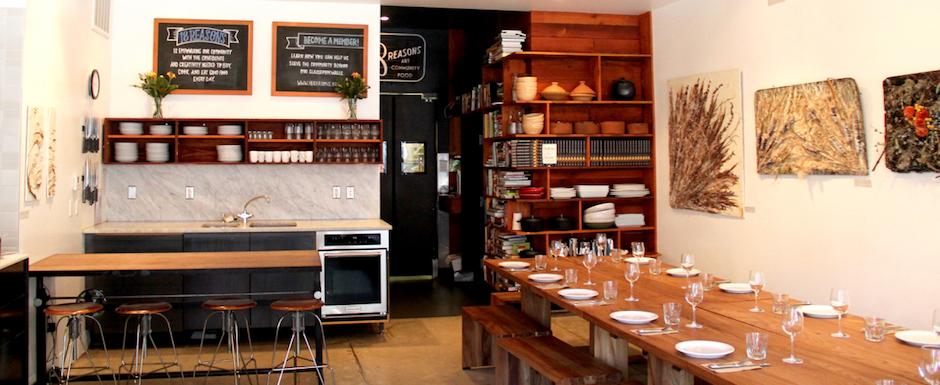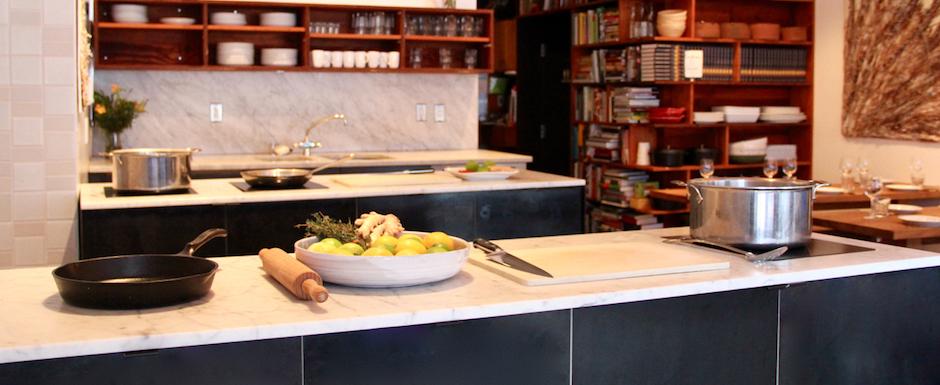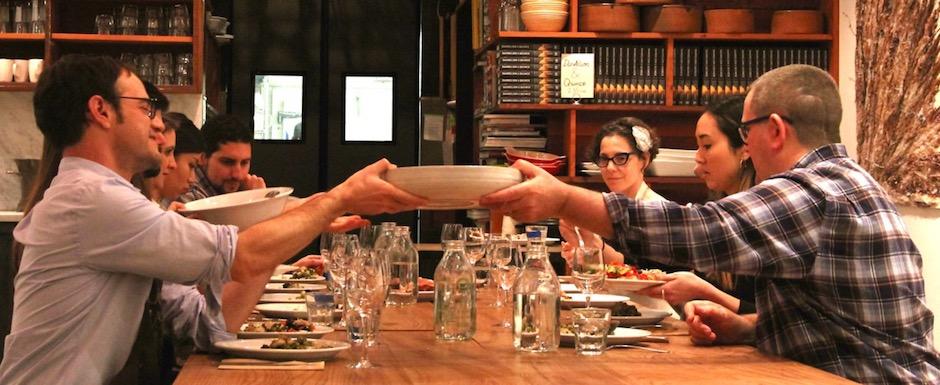 We are located in the heart of the Mission District in San Francisco. Our gallery space, with long wooden tables, marble and iron bar, cookbook library, and art, offers a beautiful setting for your party or gathering. We can accommodate up to 32 people for seated dinners and 49 people for parties. 
We partner with Bi-Rite Market to offer catered platters or passed appetizers at birthday parties, baby showers, rehearsal dinners, cocktail parties, and other gatherings. We also offer private cooking classes led by our regular instructors, as well as dinner parties prepared just for you by our in­-house chef. During the day, our space is available for meetings and retreats. 
We are best suited for small events (e.g., staff retreats, bridal showers, dinners, birthday parties, etc.) and larger cocktail parties with rolling attendance during the course of the event. The price of food is not included in the price of Catered Parties, Meetings, and Events. You may order catering through Bi-Rite Market, or arrange for outside food that is already prepared.
Your rental includes our space with a private restroom, tables, benches, dishes, silverware, glassware, cloth napkins, vases, votive candles, and access to our projector and sound system. Two staff members will be included in the price, who will handle set up, clean up and all service during the event. Our alcohol license allows beer and wine to be served.
Before selecting a date, please review our public calendar. We have one event space to offer; if we are scheduled for an event on our calendar, we are unable to host your event.
To request a private rental, please tell us more about your party and we will contact you within five days.
Photos above courtesy of Karey Green
Catered Parties, Events and Meetings
Prices include the rental of our 18th Street space, serveware rental, and 18 Reasons staff to set up, serve, and clean up. This does not include client use of the commercial kitchen located behind our event space. Limit: 49 standing people. 
Meetings: 8AM-4PM: $1000 (includes one staff member)
Events: Three-hour minimum. Daytime events start at $700 (ending by 3 pm), evenings at $850. Includes two staff members.
Additional hours: $150 each
Private Chef Dinners
Let us take care of you from start to finish. One of our private chefs will work with you to design and prepare the perfect menu for your occasion. We serve our meals family style at our communal tables up to 32 guests. Prices include the rental of our 18th Street space, serveware, private chef, 18 Reasons staff to serve the meal, and all food purchased from Bi-Rite Market. Alcohol not included. Click here for some of our sample menus.
Prices Start at $2,100
Private Cooking Classes
Class offerings are contingent upon teacher availability. An ideal size for a hands-on cooking class in our space is 15 people, but we can accommodate groups up to 30 people. Prices include the rental of our 18th Street space, serveware, 18 Reasons staff, all food purchased from Bi-Rite, and 2 glasses of wine or beer per guest. Please see the calendar on our home page to learn more about the types of classes we can offer, and click here for some sample menus.
Prices start at $1,800
Taxes included. Gratuity for staff is not included in our prices.