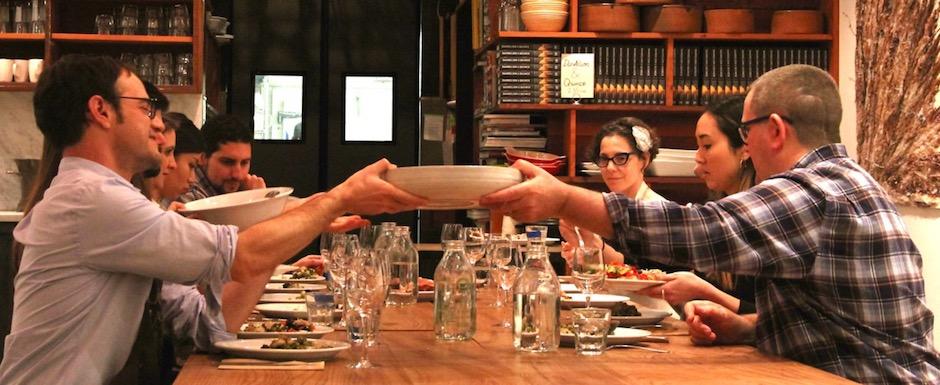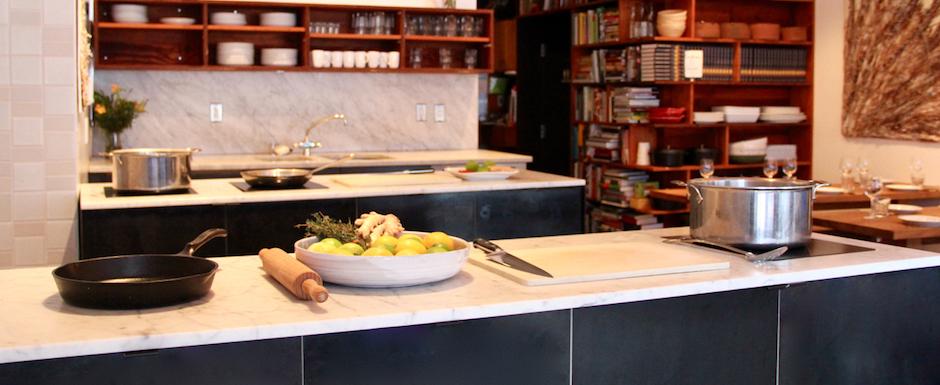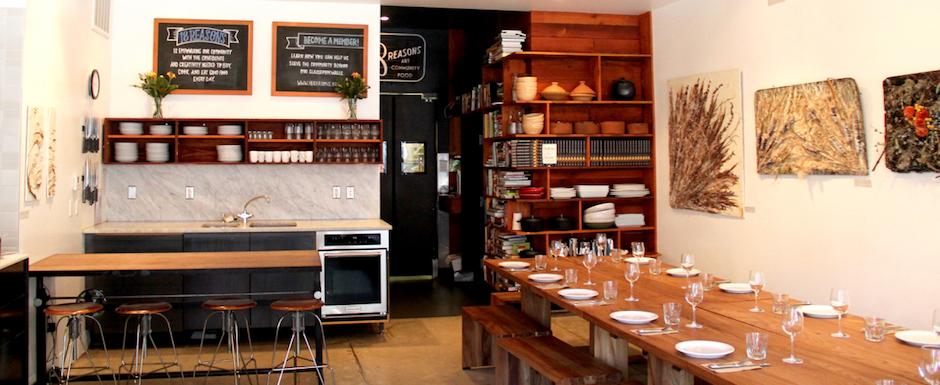 As we keep our 18th St. Classroom doors shut, we offer private online classes, perfect for teambuilding and for celebrating milestones. Our menus reflect fundamental cooking techniques, ingredients accessible in grocery stores, and joy! By cooking in real-time with our instructors, we can coach you through any questions or challenges that arise. If you're worried about the ability to cook along, our instructors can advise guests with ingredient substitutions and accommodations for allergies and dietary restrictions. We finish our classes with a fun competition and a toast to a job well done!
We will reopen our 18th St. Classroom for in-person events when it is prudent to do so. In the meantime, connect with friends and loved ones by cooking together in our online classes!
––––––––––––––––––––––––––––––––––––––––––––––––––––––––––
Our 18th St. Classroom is located in the heart of the Mission District in San Francisco. With long wooden tables, marble and iron bar, cookbook library, and art, our classroom offers a beautiful setting for your private party. We can accommodate up to 25 people in a cooking class, 32 people for seated dinners, or 49 people for standing parties. You may view recommended layouts of our classroom in this slideshow.
We offer private cooking classes led by our instructors, as well as dinner parties prepared just for you by our in­-house chef. You may host a party for a special occasion (e.g., showers, birthdays) and order in food from Bi-Rite Catering. During the day, it is an ideal space for meetings and teambuilding retreats. 
Your rental of our 18th St. Classroom includes a private restroom, tables, benches, dishes, silverware, glassware, cloth napkins, assorted vases, votive candles, and access to our projector, Wi-Fi, and sound system. Our alcohol license allows beer and wine to be served.
Before selecting a date, please review our public event calendar. We have one event space to offer; if we are scheduled for an event on our calendar, we are unable to host your event.
To request a private rental of our 18th St Classroom, please tell us more about your party and we will contact you within five days. Scroll down to complete the Google Form.
Photos above courtesy of Karey Green
Private Online Cooking Classes on Zoom
Cook with friends, family, or coworkers in the comfort of your home kitchen! Our classes range from 1.5 to 2.5 hours and can accommodate up to 40 screens participating in an interactive class. An instructor will create a custom menu for your tastes, and one facilitator will assist with class flow and ensure all guests' questions are attended to. We currently do not have the staff capacity for ingredient delivery; we can provide an ingredient and equipment list for the class with at least one week's notice. Click here to review suggested menus. Rental fee starts at $290.
Catered Parties, Events and Meetings
Rent our bright and naturally minimal classroom and design your own party or meeting. Price includes our 18th Street Classroom and staff. This does not include use of the kitchen behind our event space. Limit: 49 standing people. 
Parties and Events: Three-hour minimum. Daytime events start at $750 (ending by 3 pm), evenings at $950. Includes two staff members to set and clean up.
All Day Meetings: 8AM-4PM: $1000. Includes one staff member to set and clean up.
Additional time available at $75/half hour.
Private Cooking Classes
Cook with friends and colleagues for a special experience catered to your tastes. An ideal size for a hands-on cooking class in our space is 12-15 people, but we can accommodate groups up to 25 people for a more social experience. Price includes our 18th St. Classroom, staff, a lesson with ~4 menu items, ingredients purchased from Bi-Rite Market, and 2 glasses of our house wine per guest. Please see our calendar to see our range of classes, and click here for sample menus. Class offerings depend on teacher availability.
A typical 3-hour class accommodates the following cost structure:
For groups 5 or less: $900
For 6-8 guests: $195 per person
For 9-11 guests: $185 per person
For 12-14 guests: $175 per person
For 15-25 guests: The first 14 guests are $175 per person, with additional guests at $80 per person. 
Additional time available at $75/half hour
For private classes booked in Nov-Dec, there is an additional 10% charge.
Private Chef Dinners
Let us take care of you from start to finish. One of our chefs will work with you to design and prepare the perfect four-course menu for your occasion. We serve our meals family-style at our tables up to 32 guests. Price includes our 18th Street Classroom, chef, staff, a four-course menu and ingredients purchased from Bi-Rite Market. Alcohol not included. Click here for sample menus.
Prices Start at $2,150 for 10 guests
Taxes included. Gratuity for staff is not included in our prices.