Vegetarian South Korean Street Food - In Person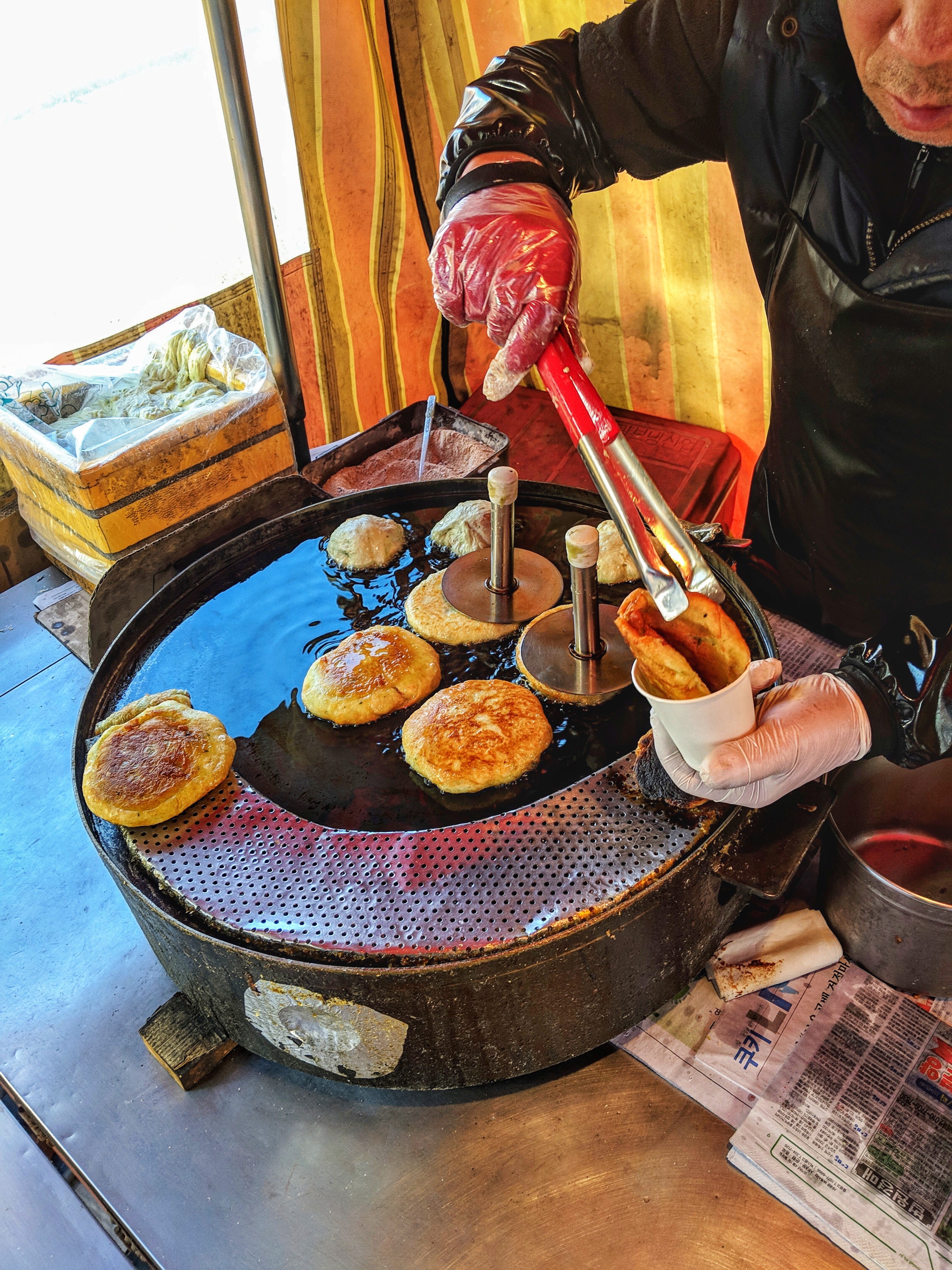 A hands-on in-person cooking class culminating in a dinner served with wine and beer. This class is limited to 12 students. Review our registration and cancellation policies here. Masks are welcome.
Street food is one of the delights and joys of travel. Anyone who has been to South Korea knows that the land of BTS does not disappoint in this area. However, Korea isn't the most vegetarian friendly country in the world. People who prefer a plant based diet may struggle to enjoy many dishes that seem vegetarian but, alas, are not. 
Marie spent many years in South Korea and considers it to be her second home. She loves the generous culture, the mountainous landscape and, of course, the food. Join Marie as she teaches you how to make her favorite street foods, all of which are 100% vegetarian and mostly vegan. You will learn a simple, protein rich pancake batter that will be your new favorite way to use up leftovers, how to create 2 kinds of dumpling fillings and 2 dipping sauces, as well as tips and tricks on how to turn all the recipes into healthier meals and snacks. 
MENU
Rice Cakes and Vegetables in a Spicy Sauce - Ddeokbokki - 떡볶이
Mung Bean Vegetable Pancakes - Bindaeddeok - 빈대떡
Assorted Dumplings - Mandu - 만두
Cabbage, Shiitake Mushroom, Ginger, Scallion
Kimchi and Tofu 
Sweetened Cinnamon & Peanut Filled Pancake - Hoetddeok - 호떡
This menu contains the following common allergens: Egg, Soy, Peanuts, Wheat. If you have allergies or dietary restrictions that concern your ability to cook along, please e-mail info@18reasons.org before purchasing a ticket.
Let's Cook Together! 
Marie Brennan is a vegetable enthusiast, keen fermenter and an avid traveler. Her explorations are fueled by the desire to find her next pantry staple and learn yet another way to use onions. Her culinary focus is vegetarian, Californian cuisine that is imbued with global flavors. Her classes are known for their healthyish and punchy flavors as well as her non-dogmatic and enthusiastic approach to food. 
Marie graduated from the University of Wisconsin with a degree in Dietetics and in 2014 moved to the Bay Area to attend culinary arts school. She stayed for the produce and the sunshine. Marie lives in Berkeley California and works as an educator, consultant, private chef and recipe developer. You can learn more about Marie at www.hedonistinmoderation.com
Photo credit: Marie Brennan