Community Dinner: Grandmother's Beef Salpicón with Chef Violeta Sandoval (Second Seating)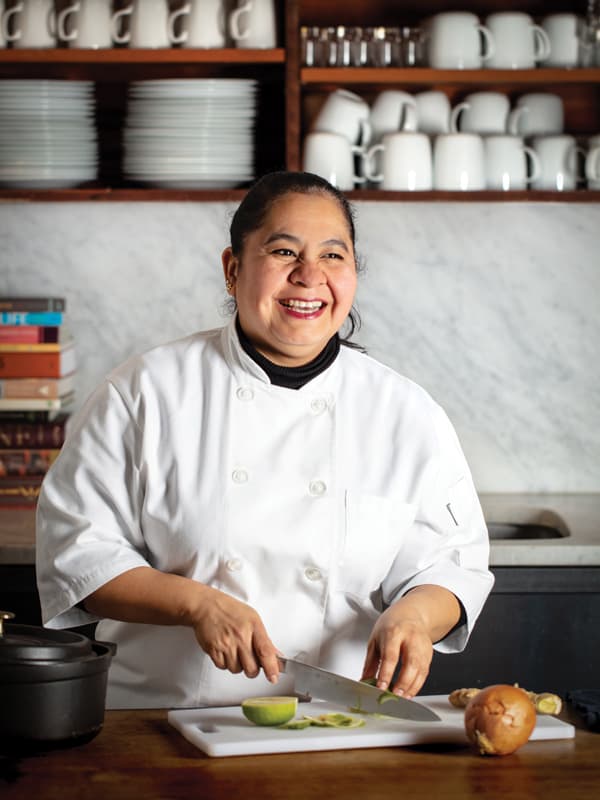 A one-plate dinner with beer and wine available for sale. This is not a cooking class. This seating is limited to 40 guests. Review our registration and cancellation policies here. Masks are welcome.
For May's Community Dinner, we are happy to welcome the return of Chef Violeta to 18th St. Kitchen. She is one of our longest serving Peer Health Educators in our Community Programs and is one of our most beloved teachers and chefs. She graduated from culinary school in El Salvador before emigrating to San Francisco, where she raised her beautiful family and shared her love of delicious food. Join us for a very special evening with Violeta as she cooks a meal to honor her grandmother's love.
Violeta shares this story behind the recipe:
The recipe for beef salpicón and its broth are very important to me, since as a girl it was my favorite food and my grandmother prepared it for me to celebrate my birthday. At this time, a food processor was not accessible, therefore my grandmother prepared everything the day before since it was a lot of work and she did it like this:

She cooked the beef loin with many spices and herbs to make a soup with it; she removed the meat and cooled it.

She would cut very finely: the already cold meat, onion, mint and radishes (she said that ground beef is not the same), then she would add lemon juice, salt, pepper and serve it to me with white rice, avocado, handmade tortillas and cheese.

With the broth, she made a delicious soup just by adding potatoes and noodles.
Everything was done with great love to celebrate my birthday and I waited very excited for that day because she let me eat everything I wanted.

This is one of the many recipes that she taught me to cook but this one is full of love and nostalgia because she reminds me of how important and special she made me feel by cooking with love for me.
Note: this ticket page is for the first seating from 6-7 pm. We do not have reserved seating and dining will take place at communal tables. For our second seating at 7:30 pm, please click here.
MENU
Caldo De Carne Con Papas—Meat Broth with Potatoes and Noodles
Salpicón De Carne De Res—Chilled Beef Salad with Fresh Herbs and a Lime Vinaigrette
                               ---Rice with Mixed Vegetables
This menu contains the following common allergens: Wheat If you have allergies or dietary restrictions that concern your ability to attend, please e-mail info@18reasons.org before purchasing a ticket. Because we are cooking in large batches, we are very limited in accommodating allergens and dietary restrictions.
ABOUT COMMUNITY DINNER
Once a month, we open our doors to friends new and old, welcoming all to our share a table and a delicious meal. Every month is something different, but tickets are always $18 and always tasty. Wine and beer are for sale at the event. Kids welcome!