South Koreanesque - In Person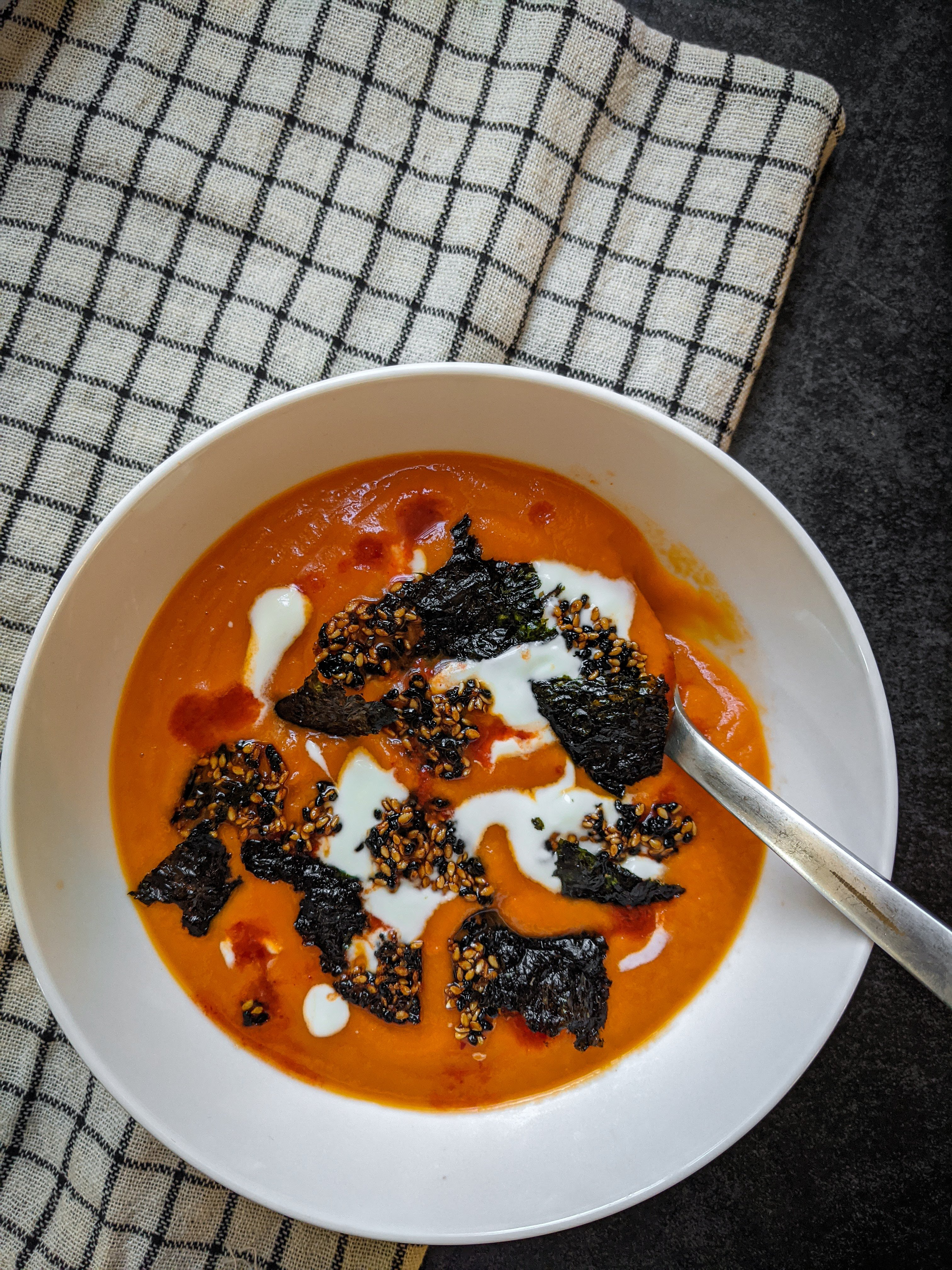 A hands-on in-person cooking class culminating in a dinner served with wine and beer. This class is limited to 12 students. Review our registration and cancellation policies here. Masks are recommended.
Marie spent many years in South Korea and considers it to be her second home. She loves the generous culture, the mountainous landscape and, of course, the food. South Koreanesque is a Korean ingredient focused class that features the flavors of The Land of the Morning Calm in ways that may be new to you.
You've likely had tomato soup before but have you had it infused with savory doenjang, Korea's answer to miso? Kimchi is all the rage these days and with good reason. Typically it's eaten either raw or simmered in a stew. Roasting it is a game-changer. The kimchi flavor deepens and the sugars present begin to caramelize. We'll combine it with roasted mushrooms, Brussels sprouts and topped with fresh mozzarella and you have a dish that will be permanently on your meal rotation. Finally, for dessert we will take the classic American pairing of peanut butter and chocolate and infuse some sassiness in the form of the much beloved fermented chile sauce, gochujang, with added depth from sesame. 
If you love the flavors of Korea cuisine and wish to play with these iconic pantry staples, then this is the class for you!
MENU
Ssamjang & Scallion Roasted Chickpeas (recipe only)
Tomato Soup with Rice Wine, Doenjang & Seaweed Chips (pictured)
Kimchi Roasted Brussels Sprouts, Mushrooms & Burrata
Seasonal Salad with Gochugaru Vinaigrette & Gochujang Toasted Sesame Brittle
Peanut Butter, Sesame & Gochujang Chocolate Cups
This menu contains the following common allergens: Soy, Sesame, Peanuts, Dairy (easily omitted), Wheat. If you have allergies or dietary restrictions that concern your ability to cook along, please e-mail info@18reasons.org before purchasing a ticket.
Let's Cook Together! 
Marie Brennan graduated from the University of Wisconsin with a degree in Dietetics. An avid traveler, she has explored and nurtured her love of food while on the road. Marie's travels have taken her to study cheese-making in Tasmania, raw food in Western Australia, tea and fermented foods in the mountains of Korea and Ayurvedic cuisine and herbology in Kerala. She moved back to the USA to attend a holistic culinary arts school in Berkeley, where she also worked and taught at for several years. Marie presently lives in the Bay Area and works as an educator, private chef and culinary consultant. You can find her at www.hedonistinmoderation.com and follow her IG @hedonistinmoderation 
Photo credit: Marie Brennan