Community Dinner: Beans with Marie and Rancho Gordo (To Go Option Only)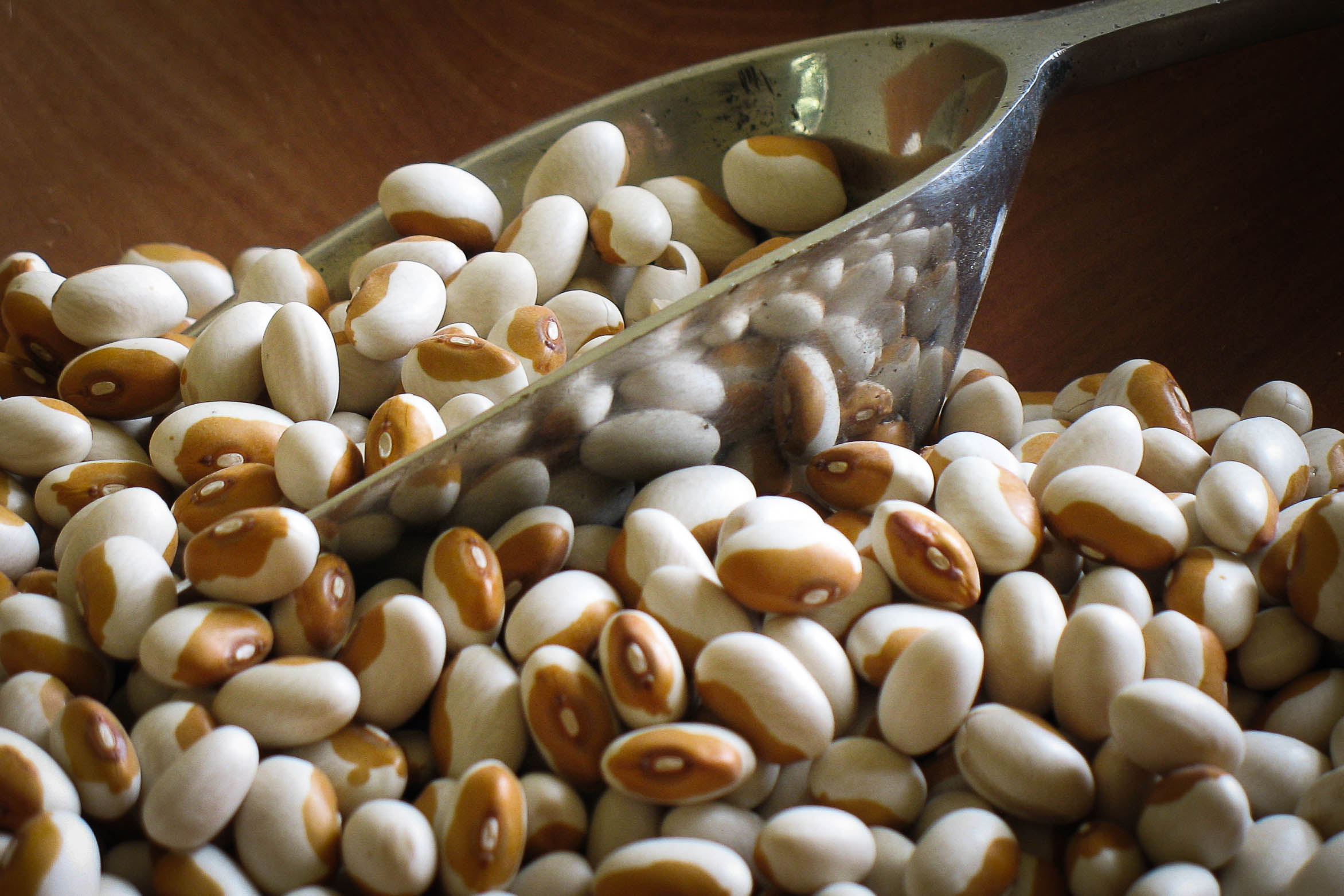 A one-plate dinner packed to go. Review our registration and cancellation policies here. 
You might have sung about beans, the magical fruit on the playground, but if beans aren't in your regular rotation in your diet, come to this month's Community Dinner for inspiration and great eats! Our chef instructor, Marie Brennan, is cooking up her first Community Dinner to reflect a few ingredients she loves dearly. If you haven't had a chance to take a class with chef instructor Marie, her classes feature plant-based recipes that are fun and bold, and this dinner is not an exception!  
Our dinner tonight features Rancho Gordo's Yellow Eyed Beans, which they have generously donated for this event. Beans are not only delicious, but also nutritious, affordable and versatile. Complementing the beans will be best of this season's produce, roasted to perfection and topped with a signature pop of texture and flavor: shiitake bacon. On the side will be freshly baked seeded bread, topped with butter boosted with one of Marie's favorite sources of umami: miso.
Join us for a full-flavored, action-packed party of a menu! 
A ticket will enable you to pick up a packed meal anytime between 6:30-8:30 pm by checking in at the front door.
If you prefer to dine-in, please book dine-in tickets for our first seating from 6-7 pm here and our second seating from 7:30-8:30 pm here. We are limiting our dine-in capacity at 35 people per seating; you are unable to transfer a "To Go Only" ticket for indoor dining if the dine-in tickets are sold out.
MENU
Rancho Gordo's Heirloom Yellow Eyed Beans in a Rich Tomato Broth and Pomegranate Molasses
Shiitake Bacon & Roasted Seasonal Vegetables
Quadri Seeded Bread
Umami Butter
*Note that this menu is vegetarian.
This menu contains the following common allergens: Wheat, Sesame, Soy, Dairy. If you have allergies or dietary restrictions that concern your ability to attend, please e-mail info@18reasons.org before purchasing a ticket. Because we are cooking in large batches, we are very limited in accommodating allergens and dietary restrictions.
Marie Brennan graduated from the University of Wisconsin with a degree in Dietetics. An avid traveler, she has explored and nurtured her love of food while on the road. Marie's travels have taken her to study cheese-making in Tasmania, raw food in Western Australia, tea and fermented foods in the mountains of Korea and Ayurvedic cuisine and herbology in Kerala. She moved back to the USA to attend a holistic culinary arts school in Berkeley, where she also worked and taught at for several years. Marie presently lives in the Bay Area and works as an educator, private chef and culinary consultant. You can find her at www.hedonistinmoderation.com and follow her IG @hedonistinmoderation 
Visit Rancho Gordo (click here) to read more about the story of their heirloom beans. Check out their recipes, books, and online shop! You can also listen and watch this video from Atlas Obscura on "How Rancho Gordo Helped Catapult An Heirloom Bean Revolution."
ABOUT COMMUNITY DINNER
Once a month, we open our doors to friends new and old, welcoming all to our share a table and a delicious meal. Every month is something different, but tickets are always $18 and always tasty. Wine and beer are for sale at the event. Kids welcome! 
Photo courtesy of Rancho Gordo