A Vegetarian in Korea - In Person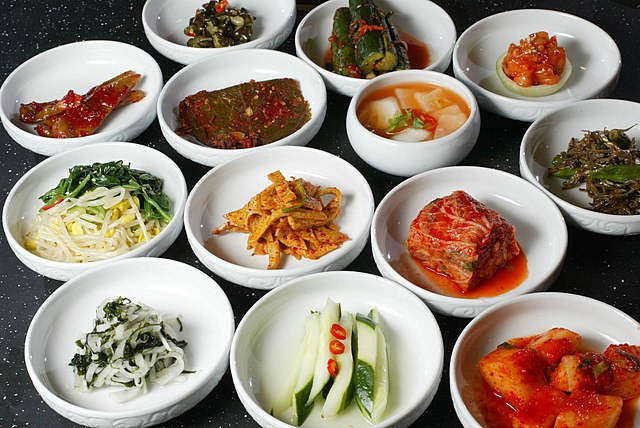 A hands-on in-person cooking class culminating in a dinner served with wine and beer. This class is limited to 14 students. Review our registration and cancellation policies here. Masks and proof of boosters are required.
Part of the magic of Korean food is the numerous banchan, or side dishes, that accompany your meal. They grace even the humblest restaurant tables. Side dishes are a huge draw and sometimes dictate the amount of business a restaurant receives. In this class, we will discuss the range of side dishes and how to make substitutions based on seasonality and preferences. 
A menu highlight is Dwenjang Jjigae - Korea's version of miso soup, which is found on tables all over the country. This highly customizable stew will feature tofu and assorted vegetables. It is easy to make, and can be considered a Korean pantry dish! 
Fresh from her summer in Korea, Marie is back in the Bay Area and is excited to share many of her favorite Korean dishes, all vegetarian and mostly vegan. Learn to use the most iconic Korean flavoring agents - toasted sesame oil, gochugaru chile flakes, and lots of garlic - to flavor all your new favorite banchan side dishes. 
MENU
Soybean Paste Stew - Dwenjang Jjigae - 된장찌개
Steamed Eggplant - Gaji Namul - 가지 나물
Pan-fried Zucchini -Hobak Jeon - 호박전
Braised Burdock - Ueong Jorim - 우엉 조림
Sauteed Potatoes and Korean Peppers - Gamja Gochu Bokkeum - 감자 고추 볶음
Mushroom Japchae - Beoseot Japchae - 버섯 잡채
This menu contains the following common allergens: egg, soy, wheat. If you have allergies or dietary restrictions that concern your ability to cook along, please e-mail info@18reasons.org before purchasing a ticket.
Let's Cook Together! 
Marie Brennan graduated from the University of Wisconsin with a degree in Dietetics. An avid traveler, she has explored and nurtured her love of food while on the road. Marie's travels have taken her to study cheese-making in Tasmania, raw food in Western Australia, tea and fermented foods in the mountains of Korea and Ayurvedic cuisine and herbology in Kerala. She moved back to the USA to attend a holistic culinary arts school in Berkeley, where she also worked and taught at for several years. Marie presently lives in the Bay Area and works as an educator, private chef and culinary consultant. You can find her at www.hedonistinmoderation.com and follow her IG @hedonistinmoderation 
Photo credit:Photo by charlesdeluvio on Unsplash