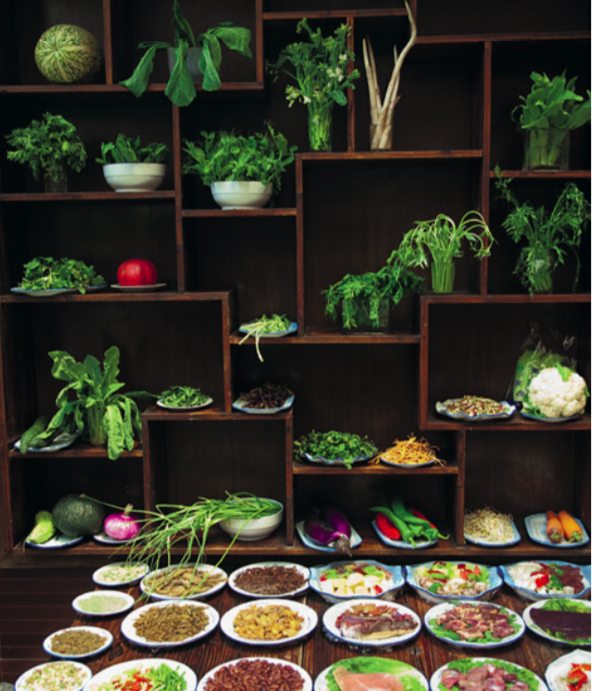 This is a live, interactive, hands-on cooking class held online via Zoom. See our event policies at the bottom of this webpage.
For thousands of years, Yunnan Province was China's "Wild West," a place defined by rugged, mountainous terrain where the dominant culture of China's Han majority gives way to the traditions of the country's minorities. In this subtropical region, the food on people's tables owes more to cross-border trade with Myanmar, Laos, and Vietnam than to the "eight culinary traditions" that define the cooking styles in the rest of the country. Today, cooks in Yunnan still forage in the mountains for greens, and many often grill over open fires or wrap ingredients in banana leaves instead of reaching for a wok.
In this class, we'll make classic dishes from Yunnan's western border—and practice a number of different cooking styles that are popular in the region. We'll make a hearty stir-fry, cook meat (or mushrooms) in a banana leaf, throw together a quick soup, and smash some cucumbers for a flavorful salad.
 
MENU
"Saving the Emperor's Life"—Stir-fried Rice Cakes with Pork Belly (optional), Tomato, and Greens
Pork (or Mushrooms) in Banana Leaf
Dali-Style Cucumber with Chile Sauce
Pea Greens or Carrot Greens Soup
Jasmine Rice (optional)
Equipment and Ingredient List for this class can be found here; please check before buying a ticket.
This menu contains the following common allergens: Egg, Soy, Wheat. If you have allergies or dietary restrictions that concern your ability to cook along, please e-mail info@18reasons.org before purchasing a ticket.
---
If you're new to 18 Reasons Online, please read this guide: How to Take an Online Class at 18 Reasons. Five calendar days before class, 18 Reasons may decide to cancel this class if not enough tickets are sold. We will notify registrants by email about cancellations.
---
Georgia Freedman is a freelance journalist based in the Bay Area and the author of two cookbooks: There's Always Room for Chocolate (co-written with the owners of The Chocolate Room, in Brooklyn), and Cooking South of the Clouds—Recipes and Stories from China's Yunnan Province. Georgia's writing has appeared in Food & Wine, Saveur, the Wall Street Journal, Martha Stewart Living, Afar, and other food and travel publications.
Photo credit: Georgia Freedman