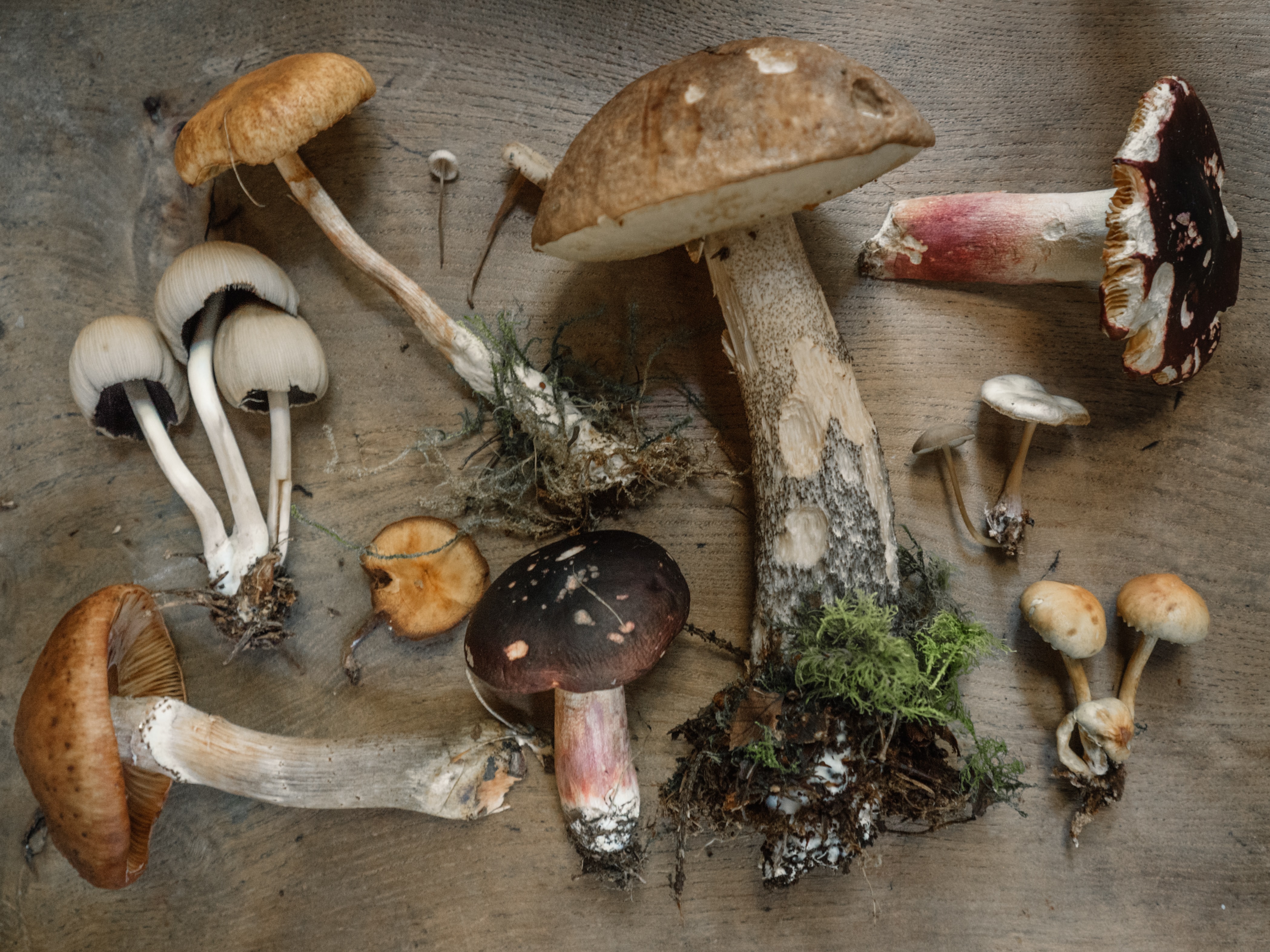 This is a live, interactive, hands-on cooking class held online via Zoom. See our event policies at the bottom of this webpage.
Mushrooms can be a divisive ingredient. There are camps of people who adore them, always have them in their refrigerator, and even grow them in their homes! Then there are people for whom mushrooms are a meal deal breaker. While Marie is firmly in the first camp, she used to be in the latter. This should surprise no one since her first experiences with mushrooms included gummy, canned white buttons in casseroles and insipid, raw criminis on salad bars. How is anyone supposed to love mushrooms in these circumstances? 
Good news! Through travels and experimentation she has learned the error of her previous ways and is eager to shepherd you through the mushroom world. Devalue these fungal friends no more with the 3 savory and adventurous recipes developed specifically to please both the mushroom-curious and the established mycophiles. Marie will teach you easy and clear methods for cooking mushrooms to maximize their inherent umami flavors and how to get the best textures. 
MENU
Roasted Oyster Mushroom and Cannellini Bean Soup with Paprika & Shiitake Bacon
Warm Farro, Maitake & Herb Salad with Chili Yogurt Sauce
Sweet & Savory King Trumpet & Cheese Shortbread
Note: We call for specific mushrooms in recipes but most can easily be substituted with other mushrooms if you have trouble procuring a specific type. Email info@18reasons.org if you are unsure and need guidance.
Equipment and Ingredient List for this class can be found here.
This menu contains the following common allergens: Dairy, Wheat. If you have allergies or dietary restrictions that concern your ability to cook along, please e-mail info@18reasons.org before purchasing a ticket.
---
If you're new to 18 Reasons Online, please read this guide: How to Take an Online Class at 18 Reasons. Five calendar days before class, 18 Reasons may decide to cancel this class if not enough tickets are sold. We will notify registrants by email about cancellations.
---
Marie Brennan graduated from the University of Wisconsin with a degree in Dietetics. An avid traveler, she has explored her love of food while on the road. Marie's travels have taken her to study cheese-making in Tasmania, raw food in Western Australia, tea and fermented foods in the mountains of Korea, Ayurvedic cuisine and herbology in Kerala and the kitchens of numerous meditation centers around the world. She moved back to the USA to attend a holistic culinary arts school in Berkeley, where she also worked and taught at for several years. Marie presently lives in the Bay Area and works as an educator, private chef and is the Culinary Creative Director for Café Umami. You can find her at www.hedonistinmoderation.com and follow her IG @hedonistinmoderation 
Photo by Andrew Ridley on Unsplash