Flavors of Korea: Jook Bar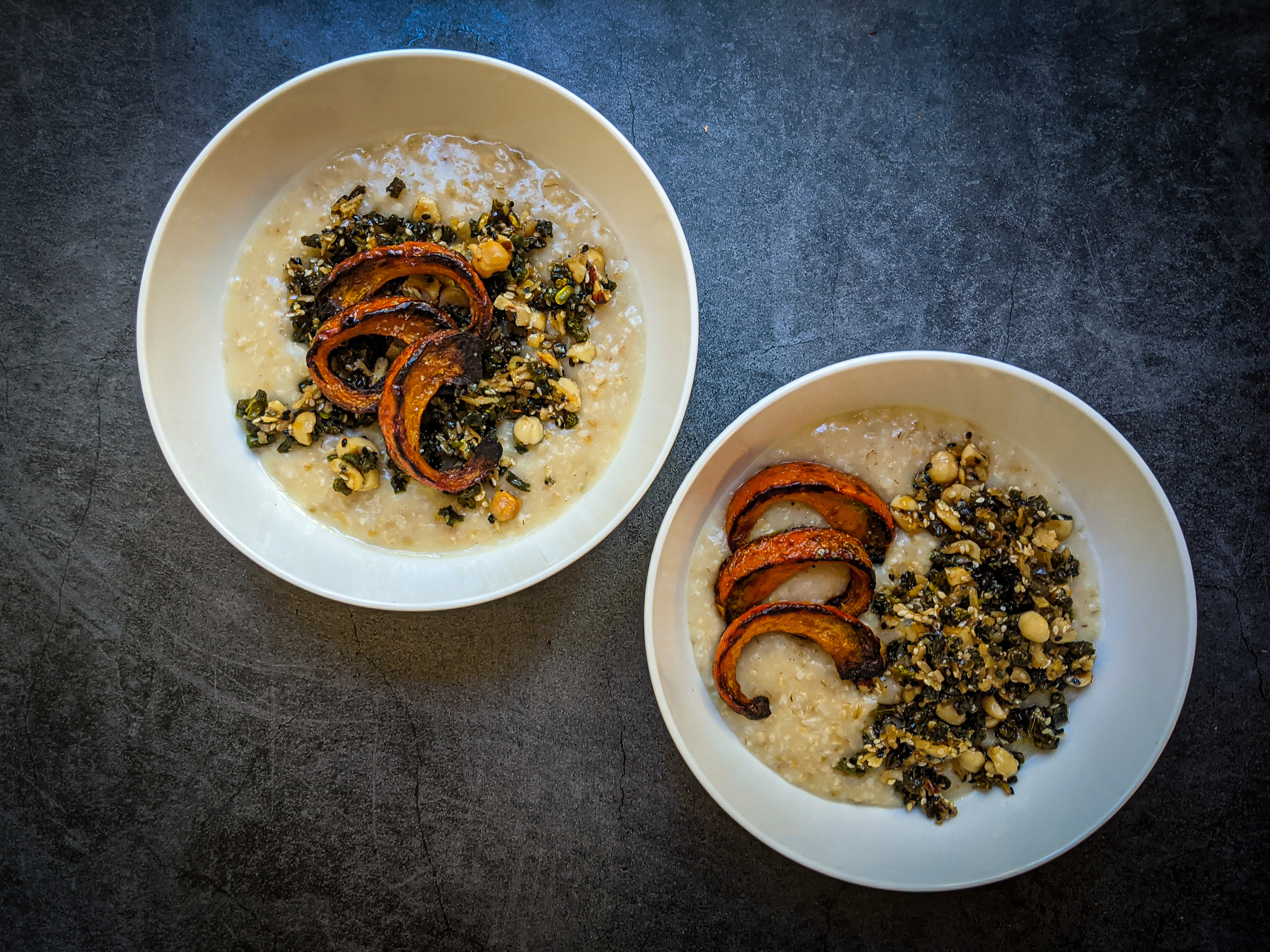 Where:
Zoom Video Live Stream PT
United States
This is a live, interactive, hands-on cooking class held online via Zoom. See our event policies at the bottom of this webpage.
When Marie moved to South Korea she knew one word and one word only: jook. Saying "hello" was 5 syllables long and out of the question. Ditto for "thank you". How far did knowing the word for porridge get her? You won't be surprised to learn that it got her nowhere except for chuckles and a friendly, but incredulous, head shaking. What is jook, exactly? Jook is similar to congee and is most often eaten for breakfast in Korea. It's a porridge that can contain anything from plain ol' rice and a bit of kimchi to a generous assortment of vegetables, seafood or meat. It has the consistency of oatmeal and is perfect for cold days. In this class we will take the humble and nourishing jook and elevate it with an assortment of sassy and avante garde toppings. This is a highly shareable and customizable dish; perfect for large households and backyard brunches. You are going to love having vegetables for breakfast.
MENU
Yachae (Vegetable) Jook - 야채죽  
Assorted toppings including:
Sesame Seaweed Chips
Spicy Quick Pickled Vegetables
Soy Sauce Egg* (egg can be substituted for tofu as a vegan option)
Shiitake Bacon
Scallions
*Please email info@18reasons.org in advance for Chef Marie to adequately accommodate vegan substitutions)
Equipment and Ingredient List for this class can be found here.
This menu contains the following common allergens: Egg, Soy.  If you have allergies or dietary restrictions that concern your ability to cook along, please e-mail info@18reasons.org before purchasing a ticket.
---
If you're new to 18 Reasons Online, please read this guide: How to Take an Online Class at 18 Reasons. Five calendar days before class, 18 Reasons may decide to cancel this class if not enough tickets are sold. We will notify registrants by email about cancellations.
---
Marie Brennan graduated from the University of Wisconsin with a degree in Dietetics. An avid traveler, she has explored her love of food while on the road. Marie's travels have taken her to study cheese-making in Tasmania, raw food in Western Australia, tea and fermented foods in the mountains of Korea, Ayurvedic cuisine and herbology in Kerala and the kitchens of numerous meditation centers around the world. She moved back to the USA to attend a holistic culinary arts school in Berkeley, where she also worked and taught at for several years. Marie presently lives in the Bay Area and works as an educator, private chef and is the Culinary Creative Director for Café Umami. You can find her at www.hedonistinmoderation.com and follow her IG @hedonistinmoderation 
Photo credit: Marie Brennan