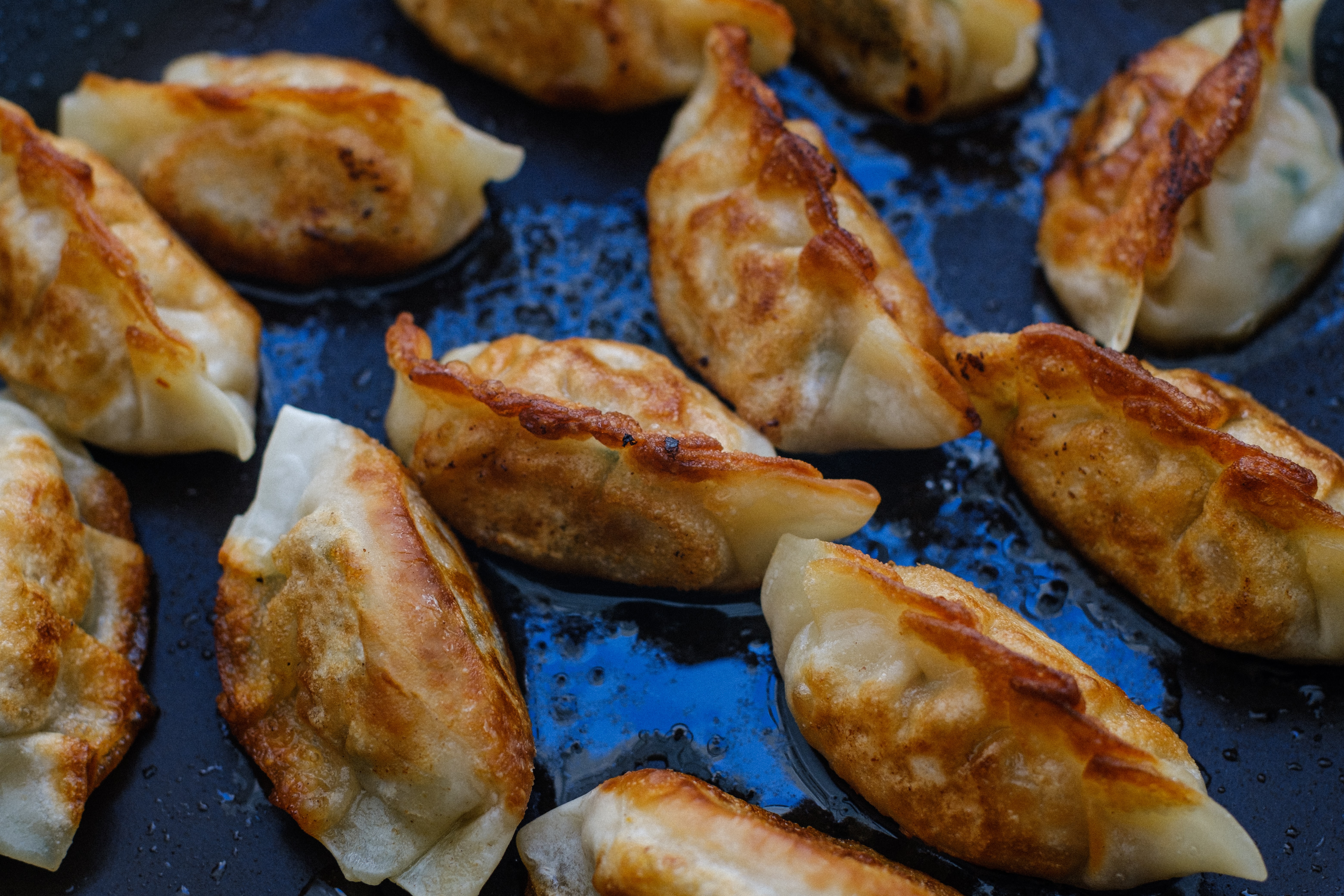 This is a live, interactive, hands-on cooking class held online via Zoom. See our event policies at the bottom of this webpage.
Who doesn't love dumplings? So many cultures around the world have their own version of these bready, flavor packed parcels. In this class we will make two kinds of mandu (만두), or Korean style dumplings, served two different ways. The steamed dumplings are sumptuous, slightly chewy bundles and will be served in a nourishing miso broth. This is a recipe for days when it is cold outside and you need an extra sweater in the form of food. The pan-fried dumplings have crisp, crunchy exteriors and will be plunged into two sassy sauces. Join Marie as she talks about all sorts of different flavor combinations, ways of folding as well as alternative ways of cooking. Grab your friend, spouse, children or anyone you want to spend some quality time with as you practice and hone your folding techniques.
MENU
Pan-fried Kimchi Tofu Mandu
Steamed Cabbage, Scallion and Mushroom Mandu in Miso Broth
Dipping Sauce Duo: Spicy Sesame and Tamari Garlic
Equipment and Ingredient List for the class found here; check before buying a ticket.
This menu contains the following common allergens: Soy, Wheat. If you have allergies or dietary restrictions that concern your ability to cook along, please e-mail info@18reasons.org before purchasing a ticket.
---
If you're new to 18 Reasons Online, please read this guide: How to Take an Online Class at 18 Reasons. Five calendar days before class, 18 Reasons may decide to cancel this class if not enough tickets are sold. We will notify registrants by email about cancellations.
---
Marie Brennan graduated from the University of Wisconsin with a degree in Dietetics. An avid traveler, she has explored her love of food while on the road. Marie's travels have taken her to study cheese-making in Tasmania, raw food in Western Australia, tea and fermented foods in the mountains of Korea, Ayurvedic cuisine and herbology in Kerala and the kitchens of numerous meditation centers around the world. She moved back to the USA to attend a holistic culinary arts school in Berkeley, where she also worked and taught at for several years. Marie presently lives in the Bay Area and works as an educator, private chef and is the Culinary Creative Director for Café Umami. You can find her at www.hedonistinmoderation.com and follow her IG @hedonistinmoderation 
Photo by Portuguese Gravity on Unsplash