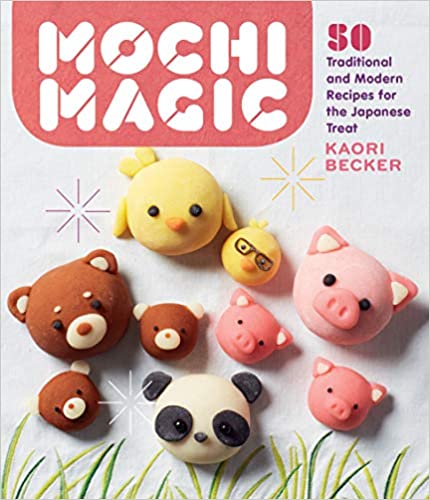 This is a live, online class with demos conducted by the teacher. Students are not expected to cook along due to the fast-paced nature of the class. Students are encouraged to ask questions during class. Recipes will be emailed a few days before class. The demo will be recorded and a link to view will be shared a week later with registrants.
18 Reasons is pleased to host Kaori Becker to share her knowledge about mochi with our students! Kaori and her mother have been teaching mochi classes in the Bay Area for years. In these classes, Kaori realized how few Americans know how easy it is to make mochi at home. With their classes selling out, Kaori learned people hungered to make mochi in various forms: daifuku mochi, mochi ice cream, and mochi donuts.
If you're unfamiliar with mochi, they are a traditional Japanese treat made of chewy rice dough. Mochi is a popular and versatile vehicle for all kinds of sweet and savory fillings, and easily molded into adorable shapes and characters that define Japan's culture of cuteness. 
Through teaching classes and tinkering in the kitchen, Kaori discovered how truly versatile mochi is. She experimented with different kinds of fillings for the traditional daifuku mochi. While most mochi is filled with sweet red bean, Kaori began to make mochi filled with homemade chocolate truffles, pudding, fresh fruit, and even a matcha cheesecake filling! She also dove deep into how to use mochiko (sweet rice flour) in sweets we enjoy daily, such as waffles, pancakes, cupcakes, and donuts.
Kaori's new book, Mochi Magic, is coming out on November 24th! Both traditional and uniquely modern, there is something for everyone in this cookbook. To celebrate her new book, Kaori will be leading a demo-style class for 18 Reasons. In this class, we will learn the technique of steaming mochi in the microwave and stovetop, and the technique of rolling hot mochi in starch, portioning it into pieces, and filling it with sweet red bean paste (or nutella) and strawberries. Kaori will teach 2 ways of filling mochi with fresh strawberries, the whole strawberry method and the sliced strawberry method. She will also show how to make mochi ice cream. To show just how simple it can be to bake with mochiko flour as a base, and highlighting the Japanese flavor of matcha, we will also make a mochi donut!
We highly recommend you buy Mochi Magic from our friends at Omnivore Books in Noe Valley, San Francisco. 
MENU
Daifuku Mochi with Red Bean and Strawberries 
Mochi Ice Cream
Mochi Donut with Matcha Glaze
Recipes will be sent to students a few days before class, including the Zoom link to access class. These recipes include the following common allergens: dairy.

Kaori Becker is the author of Mochi Magic and a cook specializing in Japanese cuisine. Growing up "hapa" (half-Japanese) in the Bay Area, she was drawn to her mother's Japanese home cooking, especially sweets and baked goods. Together with her mother, Becker runs Kaori's Kitchen, a Bay Area cooking school featuring popular mochi classes. Becker also co-owns The Mochi Shop in Columbus, Ohio.
Photo courtesy of Nordeck Photography, Inc.