Community Dinner: Congee (First Seating) - In Person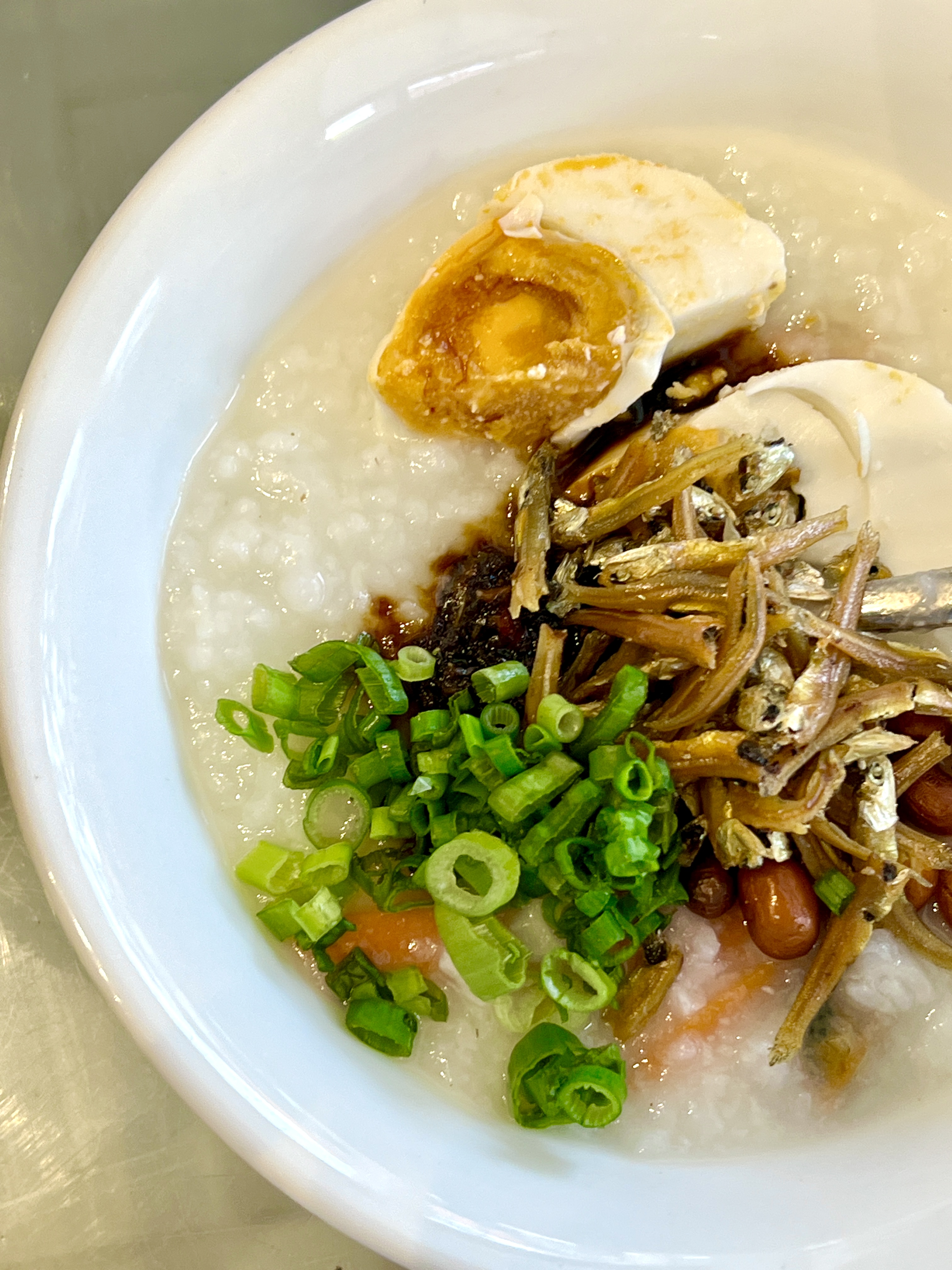 A one-plate dinner with beer and wine available for sale. This is not a cooking class. This seating is limited to 40 guests. Review our registration and cancellation policies here. Masks are welcome.
After a brief hiatus, we are excited to kick off our monthly Community Dinners once again by welcoming Chef Linda Tay Esposito back into the kitchen! As the cool weather besets us, come gather together for a comforting and soothing bowl of warm congee. Chef Linda will cook up both a chicken and a mushroom rice porridge (jook in cantonese, xi fan in Mandarin) along with a central bar of congee accoutrements for you to build your own perfect bowl.  There will also be a glistening plate of poached Asian greens since we must always eat our vegetables. And, if the evening has not been sweet enough already, we will end the meal with Chef Linda's homemade vegan mung bean cookies for everyone!
Note: this ticket page is for the first seating from 6:00-7:00 pm. We do not have reserved seating and dining will take place at communal tables. For our second seating at 7:30 pm, please click here.
MENU
Chicken Congee OR Mushroom Congee (vegan) 
**Upon registration, please indicate if you would like a chicken (-C) or vegan bowl (-V) after your name. Example: First name: Alex -C)
Pick your own toppings bar: pickled radish, you tiao chinese donut, salted duck eggs, century eggs, furu, crispy anchovies, peanuts, cilantro, sesame soy sauce and ginger scallion sauce
Poached Asian greens
Mung Bean Cookies (vegan) 
This menu contains the common allergens: Sesame (congee) Fish, Peanuts, Eggs, Soy, Wheat (served separately as toppings and can easily and selectively be omitted). If you have allergies or dietary restrictions that concern your ability to attend, please e-mail info@18reasons.org before purchasing a ticket. Because we are cooking in large batches, we are very limited in accommodating allergens and dietary restrictions.
Linda Tay Esposito is a teaching chef whose food represents a tribute and a commitment to the authenticity of the cuisines of the Pacific Rim. For the last two decades, Linda has shared her passion and knowledge of East and Southeast Asian cuisines by teaching at many notable cooking schools in the Bay Area. An all around food professional, Linda works on placemaking projects by building equitable food systems through the intersectional lens of food, sustainability and equity. She led the development of La Cocina's municipal marketplace as well as the food program at the Presidio Tunnel Tops. She currently works on ground floor activation initiatives at several affordable housing projects in San Francisco. Linda's specialties include Malaysian cuisine, Chinese cuisine, and various Southeast Asian cuisines. She teaches both public and private cooking classes and hosts pop-up dinners at 18 Reasons.
 
ABOUT COMMUNITY DINNER
Once a month, we open our doors to friends new and old, welcoming all to our share a table and a delicious meal. Every month is something different, but tickets are always $18 and always tasty. Wine and beer are for sale at the event. Kids welcome! 
Photo by Linda Tay Esposito