Cozy French Bistro - In Person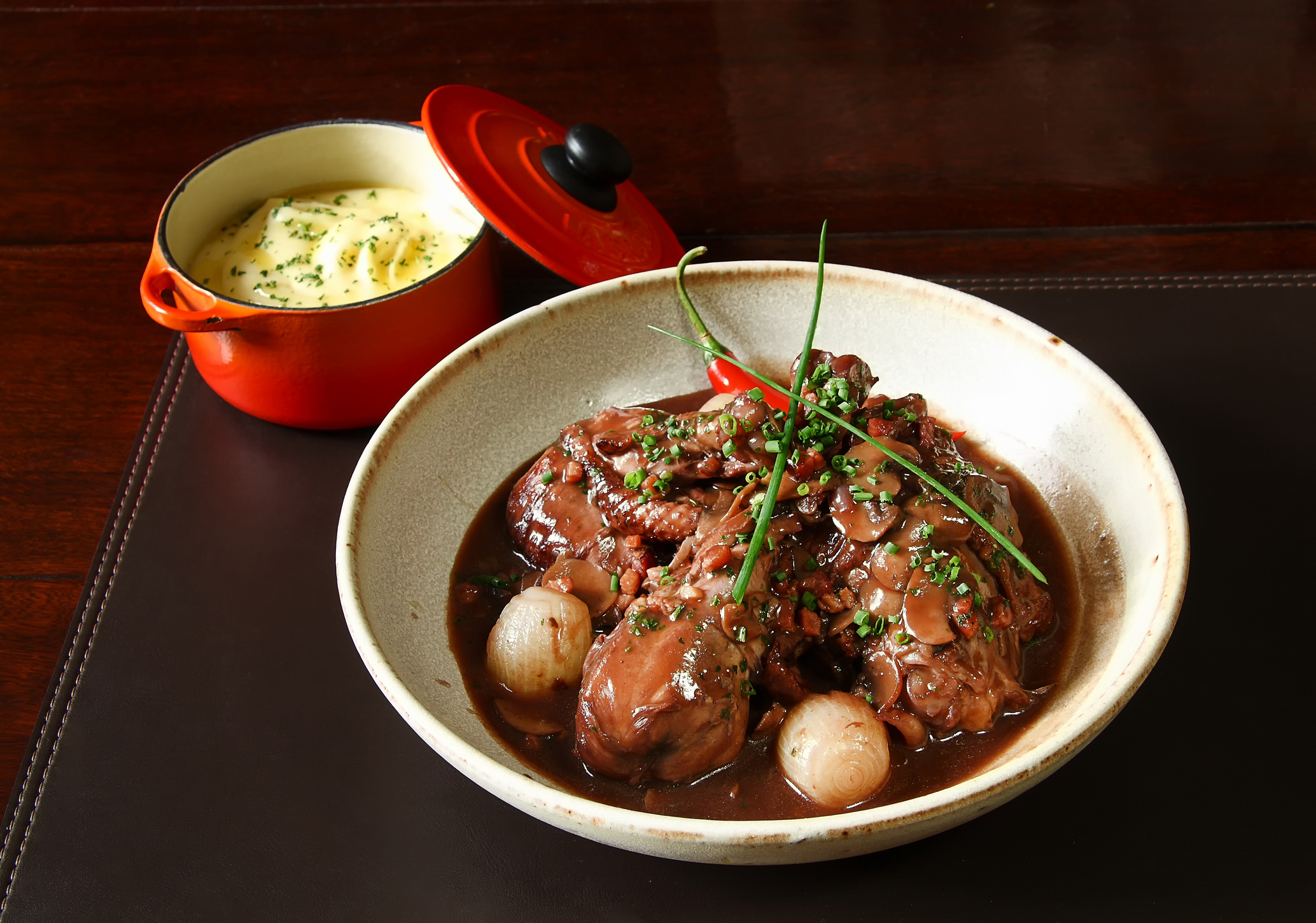 A hands-on in-person cooking class culminating in a dinner served with wine and beer. This class is limited to 12 students. Review our registration and cancellation policies here. 
 
France is a country famous for its history, art, fashion, language and, perhaps above all else, its food! Transport yourself to the streets of Paris on a cold winter night, ducking into a cozy side street bistro to find comfort in some of the most iconic French bistro fare. Together, with our resident French chef instructor, Zoé McLaughlin, you'll explore the secrets behind creating a rich coq au vin with all the fixings. 
We will start off the meal with frisé salad topped with a phylo dough wrapped goat cheese scented with basil & lemon zest topped with a classic Dijon vinaigrette. As the Coq Au Vin simmers away, we'll move into a Pomme Anna, a truly decadent side dish to accompany this iconic main course. Just when you think that nothing can be more satisfying than this layered potato dish with clarified butter, we'll end the evening with the grand finale: Chocolat Soufflét! 
Although many of the celebrated dishes of French cuisine are impressive, they needn't be intimidating. In this hands-on class featuring bistro classics, Zoé McLaughlin will teach you the tips and techniques required to be a confident chef de cuisine in your home kitchen.
MENU
Warm Goat Cheese Salad with Crispy Goat Cheese & Dijon Vinaigrette
Coq Au Vin - Slow Braised Chicken in a Red Wine Sauce 
Pommes Anna ~ Crispy Layered Potatoes with Compound Butter, Parmesan & Fresh Herbs
Chocolate Soufflé 
 
This menu contains the following common allergens: Tree Nuts, Dairy, Wheat. If you have allergies or dietary restrictions that concern your ability to cook along, please e-mail info@18reasons.org before purchasing a ticket.
Let's Cook Together! 
Zoé McLaughlin was born in Paris and raised in San Francisco. She graduated from Le Cordon Bleu in Paris and worked in restaurants in France while she wrote and published her first cookbook – a collection of family recipes influenced by her multicultural upbringing. She now lives in San Francisco, where she works in the non-profit culinary world and hosts online cooking demonstrations. She has a passion for bringing together the diverse flavors and culinary traditions of the Bay Area with the time tested techniques of classical French cooking.
Photo courtesy of Zoe McLaughlin