The Ultimate Steak with Chef Bruce Hill and the Chef's Press - In Person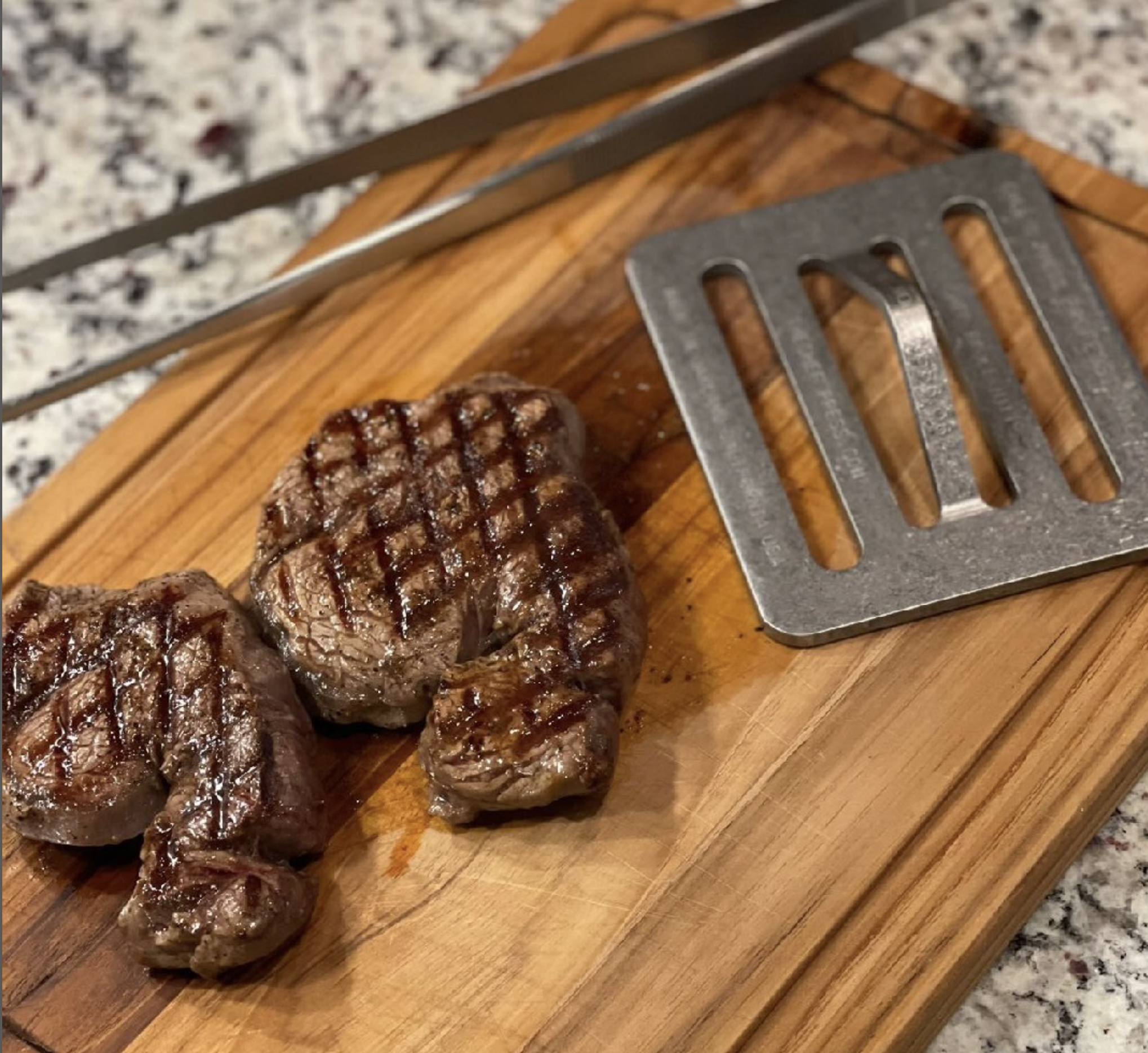 A hands-on in-person cooking class culminating in a dinner served with wine and beer. This class is limited to 12 students. Review our registration and cancellation policies here. Masks are welcome.
Do you want to make restaurant-quality steak in the comfort of your own home? Chef Bruce Hill and the Chef's Press are here to help you achieve that goal and impress your dinner guests/ You might know Chef Bruce from the many Bay Area restaurants he's steered: the Waterfront Restaurant, Bix, Picco, Pizzeria Picco, and Zero Zero. We're excited to welcome him to the 18th St. Kitchen to teach our students techniques he's mastered and taught chefs in his restaurant kitchens. Over dinner, Bruce will regale you with stories from his career: the early days of Californian cuisine at Jeremiah Tower's Stars restaurant, his experiences as an executive chef and restaurant owner, and his journey to invent an innovative tool for home cooks and restaurant chefs alike, the Chef's Press. He's eager to connect with and inspire home cooks to eat great food without having to make a restaurant reservation!
While this menu is ready for Father's Day or any special occasion, every recipe features timeless cooking techniques. Upon arrival at 18 Reasons, you'll snack on Kimchi Grilled Cheese Bites; the Chef's Press makes an excellent grilled cheese and is one of the easily satisfying ways to use this tool. After finishing the gooey, spiced snack, you'll don an apron and make tartines, learning how to make the best grilled bread which support perfectly fanned avocado slices, boquerones and quick pickled onions. Next, you'll make perfectly crisped skin-on duck breasts, with spiced nectarine chutney to celebrate stone fruit season. Finally, the star of the show: New York strip steaks, seared to perfection and served with charred scallion salsa verde and grilled lemon. All you need to make Chef Bruce's favorite steaks are an oven and the chef's press; we're confident you'll be making this at home immediately!
All students will be given a pair of locally manufactured Chef's Presses to take home!
MENU
Grilled Tartine of Avocado, Boquerones and Pickled Red Onions
Pan Roasted Duck Breast with Spiced Nectarine Chutney
Chef Bruce's New York Steaks with Charred Scallion Salsa Verde and Grilled Lemon
Grilled Asparagus with Extra Virgin Olive Oil and Lemon
This menu contains the following common allergens: Wheat, Dairy. If you have allergies or dietary restrictions that concern your ability to cook along, please e-mail info@18reasons.org before purchasing a ticket.
Let's Cook Together! 
San Francisco-based Chef Bruce Hill's goals are simple: cook with the best seasonal ingredients, employ and teach great technique, and design dishes that best suit the unique atmosphere of his restaurants. Hill's first job in San Francisco was at Jeremiah Tower's "ground breaking" Stars restaurant in 1985. From there, the self-taught Hill began to implement the tenets that have since earned him a spot on the roster of the Bay Area's most groundbreaking chefs: use the best local seasonal ingredients.
After opening Aqua with Michael Mina in 1990 and bringing Oritalia to fame in 1993, Hill transformed the Waterfront Restaurant in 1997, receiving a Rising Star Chef award by Wine Spectator Magazine. In 2002, Hill revived Bix Restaurant as a partner and executive chef. Under Hill's direction, Bix garnered its first 3-star review from the San Francisco Chronicle. Chef Hill opened Picco and Pizzeria Picco in 2005, quickly becoming a top Marin County restaurant, with Pizzeria Picco earning multiple honors, including Zagat's Top 10 US Pizzerias in 2012. 2010 marked the opening of Zero Zero, a "Calipolitan" restaurant featuring artisan pastas, seasonal crudos and organic soft-serve ice cream. Due to the downturn from COVID-19, Hill has sold his restaurant partnerships, and is solely focused on teaching and promoting The Chef's Press.
The Chef's Press was born out of true necessity in the tiny kitchen of Bix Restaurant down a secret alley in San Francisco, where Chef Bruce Hill was at the helm of the stoves. In a small kitchen like that, every second counts. The old cast iron bacon presses used by his cooks trapped steam and were too heavy for many dishes. In 2006, Chef Hill created The Chef's Press – a weight adjustable tool that allows food to cook 20-30% faster, and is vented to release moisture, yielding better results with greater ease. The Chef's Press was manufactured in China and sold at Williams-Sonoma from 2008 to 2016.
In 2016, Chef Hill decided to stop manufacturing in China, and began producing the Chef's Press Professional line in Oakland California. The new version is made from USA forged steel and sourced from Mid-American Stainless in Cleveland, Ohio. The steel is stamped into the Chef's Press by Rago & Son in Oakland, using a 100-ton press, just the way Rago has stamped steel since the 1940's. The custom tooling was designed and built by Precision Metal Tooling, Inc. in Oakland. The presses are then de-burred by DougCo in Oakland. The de-burring removes most of the rough edges caused by the stamping process. Lastly, Chef Hill drives the presses to his workshop in San Francisco, where each press is personally inspected by Chef Hill himself.
Photo credit: The Chef's Press