Flavors of China: Restorative Chinese Recipes - In Person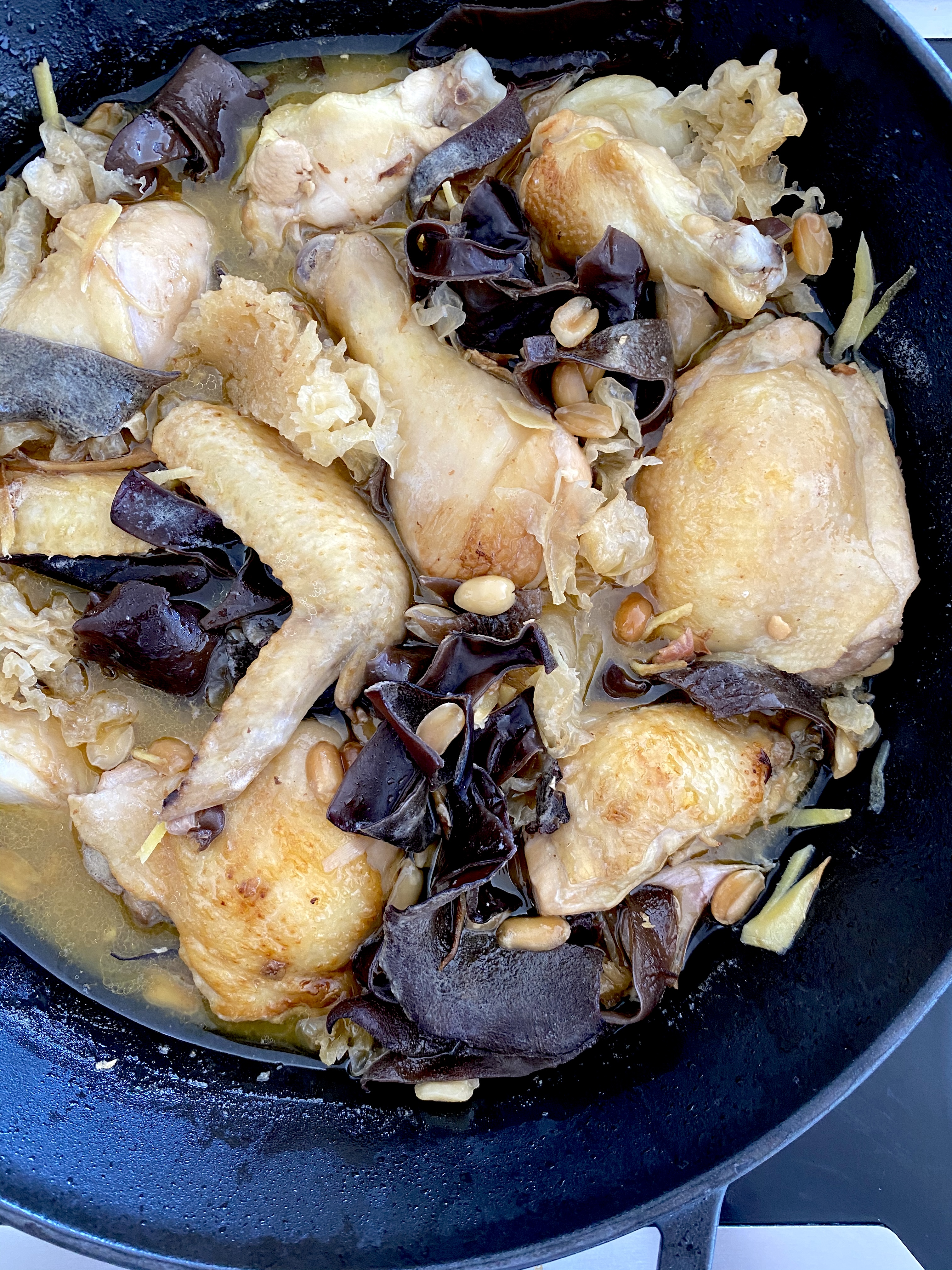 A hands-on in-person cooking class culminating in a dinner served with wine and beer. This class is limited to 12 students. Review our registration and cancellation policies here. Masks are welcome.
In traditional Chinese beliefs, eating is about balancing the nutritional benefits and energy properties of certain foods. When done right, eating these foods can restore, recuperate, and maintain one's health. Many of these dishes balance the yin and yang in the body - the theory of cold and hot properties is the basic theory of Traditional Chinese Medicine.  Some ingredients are used to reinforce lost nutrients and minerals, amp up protein intake, or improve hormonal balances. Let's make traditional comfort food that is delicious no matter how you feel!
MENU
Sesame Oil Chicken—Quick Braised Chicken Thighs with Ginger and Aromatic Sesame Oil, to repel yang
Chicken with Rice Wine, Peanuts & Wood Ear Mushrooms—Stew of Chicken with Fermented Sweet Rice Wine, softened Peanuts and crunchy Mushrooms, to improve yin
Pork Leg, Trotters and Egg in Black Vinegar—Fall off the bone Pork Shanks in Gingery and Aromatic Rice Vinegar, containing high collagen for better skin, and ginger to repel winds 
Gai Lan, Flank Steak and Brandy—Tender, Velvety Beef Flash Fried with Bitter Chinese Broccoli and a dash of XO, to improve yin and increase iron
Jacob's Tears with Yuba, Gingko, Egg, Jiu Niang Fermented Rice and Tang Yuan—Sweet Soup with full of protein and galactagogues for new mothers 
Savory Date Rice—Sticky Rice, Red Dates, Goji Berries, Lotus Seeds, Mushroom, Chinese Sausage, Chestnuts, Salted Egg to improve red blood cells
This menu contains the following common allergens: Egg, Soy, Tree Nuts, Peanuts, Wheat. If you have allergies or dietary restrictions that concern your ability to cook along, please e-mail info@18reasons.org before purchasing a ticket.
Let's Cook Together! 
Linda Tay Esposito is a teaching chef whose food represents a tribute and a commitment to the authenticity of the cuisines of the Pacific Rim. For the last 18 years, Linda has shared her passion and knowledge of East and Southeast Asian cuisines in the Bay Area by teaching at many notable cooking schools in the Bay Area. An all around food professional, Linda expanded the distribution for artisan tofu maker, Hodo Soy, and led the development of La Cocina's municipal marketplace, where she uses food as a creative approach to economic development. Linda's specialties include Malaysian cuisine, Chinese cuisine, various Southeast Asian cuisines, and private classes and dinners at 18 Reasons.
Photo credit: Linda Tay Esposito