Community Dinner: Balkan Cevapcici and Potato Salad (To Go Only)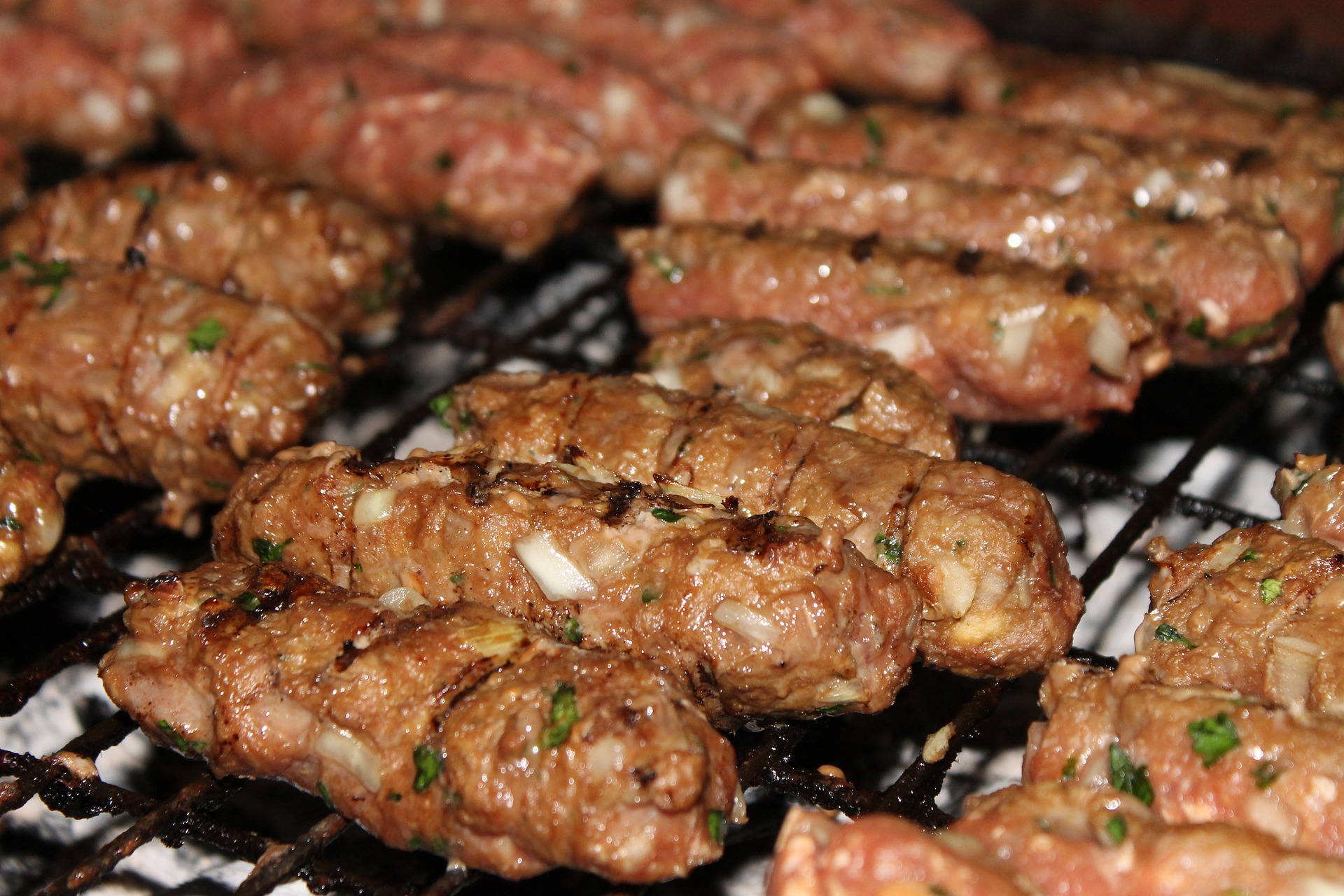 A one-plate dinner packed to go. Review our registration and cancellation policies here. 
For this month's Community Dinner, we're featuring a chef from our passionate and hand-working crew of volunteers at 18th St Kitchen: Tijana (TJ) Kaitovic. While TJ loves to explore cuisine that ranges from hyper-local to very global, this menu represents some of the traditional and comfort food from her childhood in Belgrade. You'll find these foods at a family barbeque, or a casual meal with friends; however, you'll also find that every family has their own approach to the recipe. TJ learned how to cook this meal from her grandparents, aunt, and parents.
The centerpiece of the menu is ćevapčići, a star of Balkan cuisine. It's a grilled dish of minced meat, in this case beef and lamb, and available anywhere from your friend's barbecue to the kafana (tavern) down the street. The Balkan-style potato salad is a recipe from TJ's grandma, prepared with vinegar and oil, rather than the American potato salad's use of mayo. Served cold, the salad is tangy and refreshing. The meal's garnish, of course, is sour cream. Together with her close friend and sous-chef Sara Bajor, they will guide your taste buds through a Balkan menu with lots of heart and rooted in childhood memories.
Note: A ticket will enable you to pick up a packed meal anytime between 6:30-8:30 pm by checking in at the front door. If you prefer to dine-in, please book dine-in tickets for our first seating from 6-7 pm here and our second seating from 7:30-8:30 pm here. We are limiting our dine-in capacity at 35 people per seating; you are unable to transfer a "To Go Only" ticket for indoor dining if the dine-in tickets are sold out.
MENU
Balkan Potato Salad with Onion 
Ćevapčići—Grilled Minced Beef and Lamb  
Sour Cream
This menu contains the following common allergens: Dairy. If you have allergies or dietary restrictions that concern your ability to attend, please e-mail info@18reasons.org before purchasing a ticket. Because we are cooking in large batches, we are very limited in accommodating allergens and dietary restrictions.
Tijana (TJ) Kaitovic's mission is to create positive change in the world by building communities that are supportive, inclusive, and thriving. She was born and raised in Belgrade, Serbia in a multigenerational household, and has worked around the world with social enterprises. Though her day job involves working with technology and nonprofits, TJ's favorite method of building community is through her love of baking and cooking. She believes hosting people and bringing them together fosters a sense of belonging, and is very excited to do just that with 18 Reasons with her first Community Dinner. Dobrodošli/Welcome!
ABOUT COMMUNITY DINNER
Once a month, we open our doors to friends new and old, welcoming all to our share a table and a delicious meal. Every month is something different, but tickets are always $18 and always tasty. Wine and beer are for sale at the event. Kids welcome!