Community Dinner: Hong Kong's Portuguese Chicken Rice (Pick Up Only)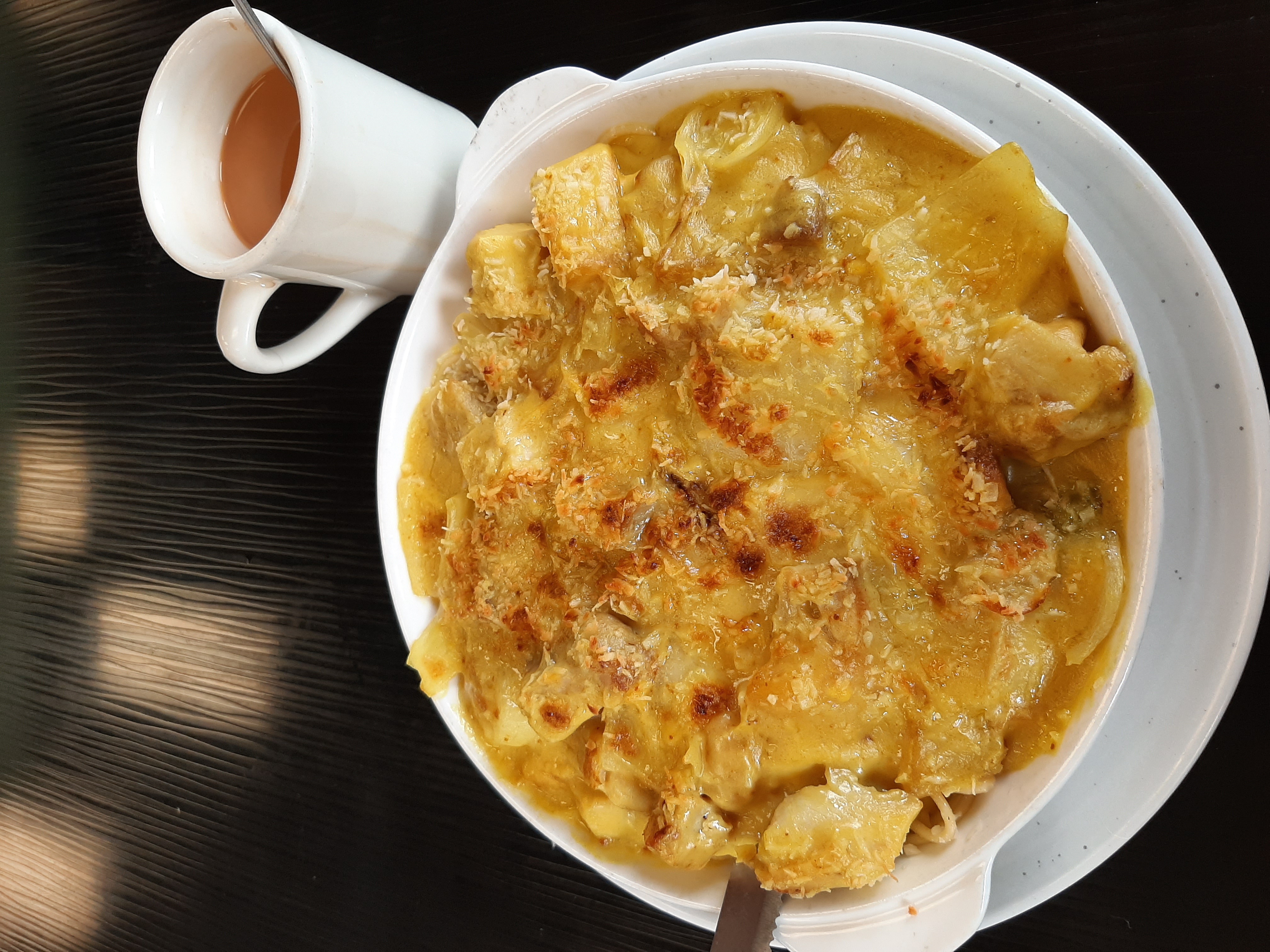 A one-plate dinner with beer and wine available for sale. This is not a cooking class. This seating is limited to 35 guests. See our registration policies here and our rules for in-person events here. 
In early 2020, Valerie Ng and Henry Hsu prepared to cook a Hong Kong Cha Chaan Tang pop-up at 18 Reasons, presenting a menu of dishes reflecting Hong Kong's colonial history. Unfortunately, we had to cancel the pop-up due to the pandemic. This month, they're excited to finally bring the main course for that event, Portuguese Chicken Rice, to 18 Reasons' communal tables in our February edition of Community Dinner. This beloved comfort dish, which arrived in Hong Kong via neighboring Macau, a former Portuguese colony, is a warming coconut curried chicken and rice dish that brings together ingredients from Portugal's colonies.
A ticket will enable you to pick up a to go box anytime between 6:30-8:30 pm by checking in at the front door; no vaccination proof is required for to go orders, though we ask that you mask up during the pick up process. 
If you prefer to dine-in, please evaluate our latest rules for in-person events here and book dine-in tickets for our first seating from 6-7 pm here and our second seating from 7:30-8:30 pm here. We are limiting our dine-in capacity at 35 people per seating; you are unable to transfer a "Pick Up Only" ticket for indoor dining if the dine-in tickets are sold out.
MENU
Portuguese Chicken Rice: a coconut chicken curry with a touch of chili, baked and served with rice
This menu contains the following common allergens: Coconut (tree nut). If you have allergies or dietary restrictions that concern your ability to attend, please e-mail info@18reasons.org before purchasing a ticket. Because we are cooking in large batches, we are very limited in accommodating allergens and dietary restrictions.
Henry Hsu is a former architect, anthropologist, designer & public health advocate who slowly came to the food world through an equally circuitous geographic manner. Born in Taiwan, raised in Texas & educated in Iowa, his gastronomic predilections range from rice porridge for breakfast, chili con queso midday to chicken fried steak by night.
While living in Ecuador, working for a design NGO, Henry was known for his dumpling making skills, and eventually started a small catering company. He decided to immerse himself in the food world and to return stateside. He now spends his days working for local tofu maker, Hodo, and prior to the pandemic, spent all of his free time working with food in other ways: catering small events, teaching dumpling making classes under the auspices of @OramasamaDumplings, led food tours around the Bay Area for Edible Excursions, as well as farmers' market time working the stand at the Ferry Building for Green Gulch Farms for six years before they left the market!
Valerie Ng's interest in food began during her study abroad days in Spain and France, where she ate her weight in tortilla española and croissants. Several years after that seminal experience, a heritage trip through China, Hong Kong, and Taiwan, where she learned to cook regional specialties, inspired her to share the cuisines of the Chinese diaspora with others. These experiences led her to pursue a career in the culinary field, which has included stints at Hodo Foods, Torani, and now La Cocina's Municipal Marketplace. She has also worked as a culinary assistant at various cooking schools in the Bay Area for over a decade, helping students as they acquire new skills in the kitchen. In her culinary pop-ups at 18 Reasons, she is passionate not only about sharing delicious food but also the history behind it. You can follow her culinary adventures on Instagram: @valerieng317. 
ABOUT COMMUNITY DINNER
Once a month, we open our doors to friends new and old, welcoming all to our share a table and a delicious meal. Every month is something different, but tickets are always $18 and always tasty. Wine and beer are for sale at the event. Kids welcome! 
Photo Credit: Valerie Ng