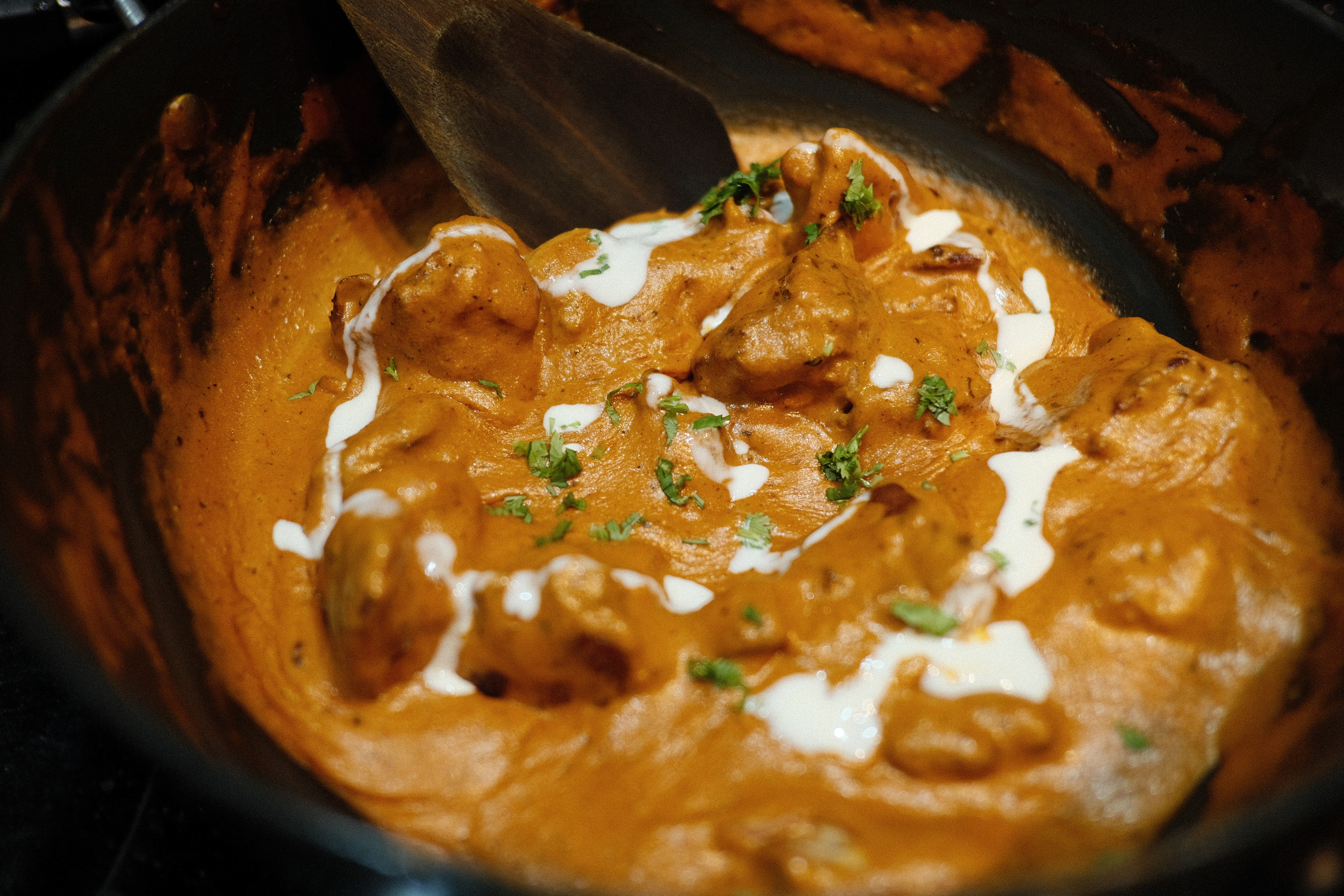 This is a live, interactive, hands-on cooking class held online via Zoom. See our event policies at the bottom of this webpage.
Indian food is popular rotation when ordering takeout. The food keeps well and reheats well, but might not be the healthiest when cooked in a restaurant. This class demystifies a few of the popular takeout dishes and gives you the skills to make the same dishes in the comfort of your home, for you to personalize and make it your own! In this class, you'll make butter chicken, a takeout favorite! It's the original chicken tikka masala: a buttery, creamy tomato sauce with spiced grilled chicken. To soak up the delicious sauce, you'll make your own homemade bread: tandoori roti. This is an unleaveaned, whole wheat neighbor to the popular naan, which you can make with a cast iron skillet (no clay oven needed!). Lastly, a refreshing sweet drink to end the meal: mango lassi, featuring mango and yogurt.
MENU
Butter Chicken
Tandoori Roti
Mango Lassi
Equipment and Ingredient List for this class can be found here; please check before buying a ticket.
This menu contains the following common allergens: Dairy, Wheat, Tree Nuts. If you have allergies or dietary restrictions that concern your ability to cook along, please e-mail info@18reasons.org before purchasing a ticket.
---
If you're new to 18 Reasons Online, please read this guide: How to Take an Online Class at 18 Reasons. Five calendar days before class, 18 Reasons may decide to cancel this class if not enough tickets are sold. We will notify registrants by email about cancellations.
---
Through her company, Crimson Kitchen, Meghna Agarwal teaches Indian cooking classes, caters parties, runs her private chef business, and occasionally feeds the hungry souls of San Francisco's numerous startups. When asked about her culinary background, Meghna notes with a smile that she comes from a culture that has been focused on food for the past five thousand years! With a heritage of food as the epicenter of most occasions, she is driven to find and replicate the countless traditional tastes of India – from Mumbai's modern restaurants to the street food of tiny villages.
Meghna regularly visits India, where she works with Indian restaurateurs and chefs to keep abreast of their evolving cuisine. Upon return to her San Francisco kitchen, she infuses the latest trends with ancient traditions and techniques to pass along to her students. Meghna can now be found  teaching cooking classes in collaboration with 18 Reasons, San Francisco Cooking School, The Civic Kitchen and her own company Crimson Kitchen. You can find more information on her at www.crimsonkitchen.com or follow her food journey on instagram @crimsonkitchen.
Photo by Abhi Bakshi on Unsplash