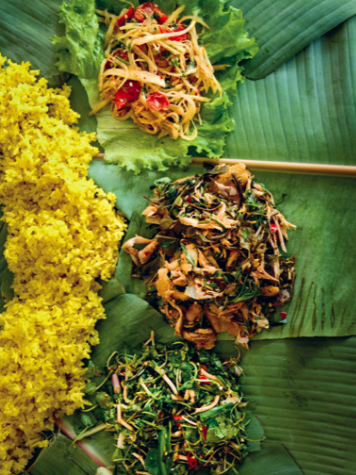 This is a live, interactive, hands-on cooking class held online via Zoom. See our event policies at the bottom of this webpage.
Forget those "Chinese" chicken salads you had at chain restaurants in the '90s. The cold vegetable-filled dishes served in China (what we in the US would call "salads") are flavorful, nuanced, and extremely varied. While they're usually served as accompaniments to other dishes, many of these bright, punchy dishes can happily stand on their own—and an assortment of them, served together, makes a wonderful meal. 
For this class, we'll make a variety of salads that you can find in the southwestern provinces of Yunnan and Sichuan, a semi-tropical area with an abundance of unique ingredients. We'll have a poached chicken salad flavored with lime juice, chiles, and lots of fresh herbs; a subtle combination of dense tofu and celery; a fragrant plate of blanched carrot greens with vinegar, and a deeply flavorful mix of rehydrated mushrooms and cilantro. 
MENU
Dai Lime Chicken with Fresh Herbs
Carrot Greens Salad
Dried Mushroom Salad
Steamed Eggplant Salad
Steamed Rice (Optional but encouraged)
Equipment and Ingredient List for this class can be found here.
This menu contains the following common allergens: Soy (there can be wheat in some soy sauces, so check if you're sensitive). If you have allergies or dietary restrictions that concern your ability to cook along, please e-mail info@18reasons.org before purchasing a ticket.
---
If you're new to 18 Reasons Online, please read this guide: How to Take an Online Class at 18 Reasons. Five calendar days before class, 18 Reasons may decide to cancel this class if not enough tickets are sold. We will notify registrants by email about cancellations.
---
Georgia Freedman is a freelance journalist based in the Bay Area and the author of two cookbooks: There's Always Room for Chocolate (co-written with the owners of The Chocolate Room, in Brooklyn), and Cooking South of the Clouds—Recipes and Stories from China's Yunnan Province. Georgia's writing has appeared in Food & Wine, Saveur, the Wall Street Journal, Martha Stewart Living, Afar, and other food and travel publications.
Photo courtesy of Georgia Freedman