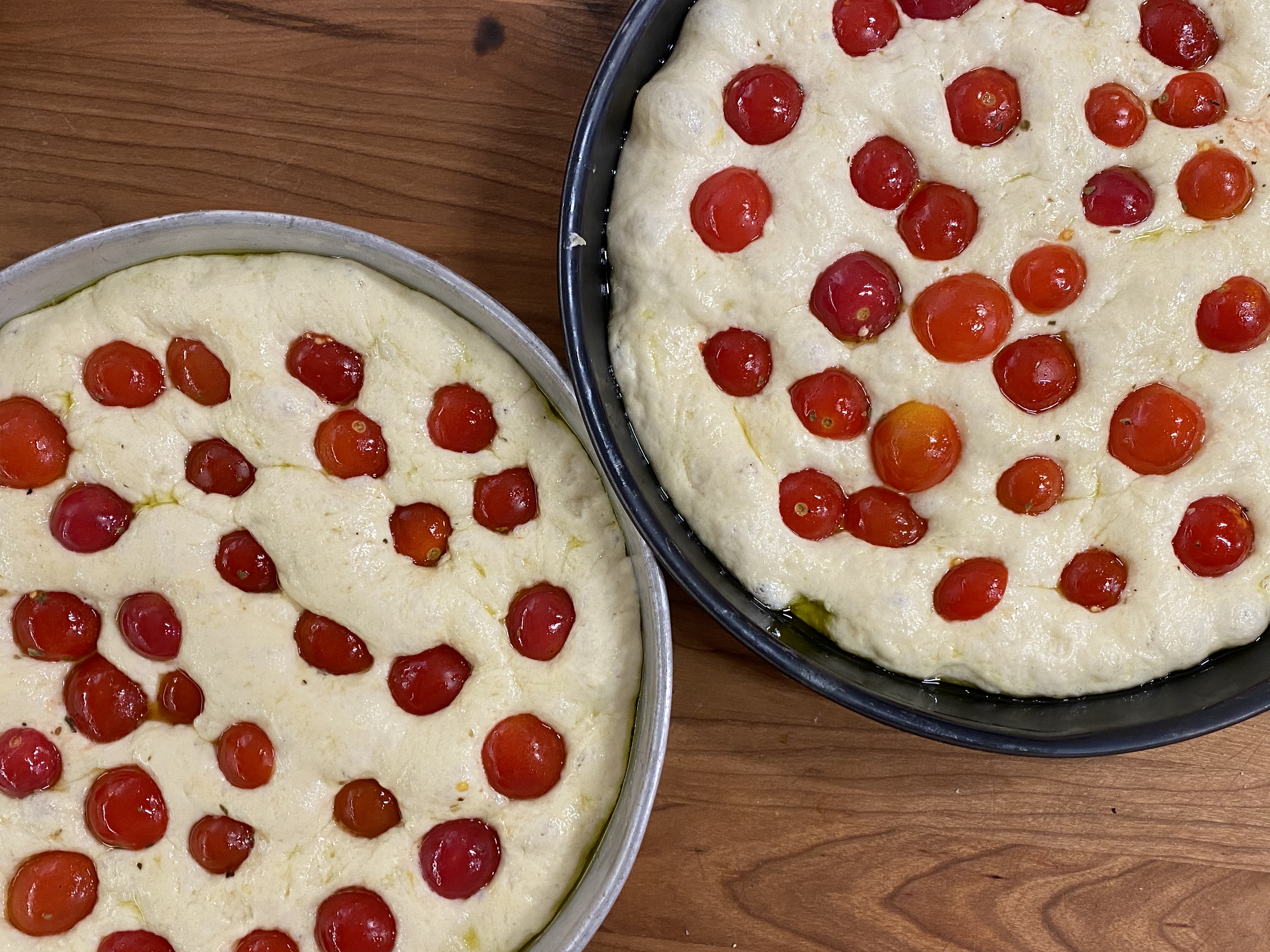 This is a live, interactive, hands-on cooking class held online via Zoom. See our event policies at the bottom of this webpage.
Did you know? Our resident Italian instructor made a vow that she would conquer her fermentophobia and master focaccia if the 2020 elections went her way. . . and so they did! Right after President-Elect Biden officially starts his mandate, Viola will teach her newly acquired skill. Because fermentation takes time, this workshop starts on a Friday evening and reprises on Saturday morning. During rising and baking time on Saturday morning, Viola will hold a crostata demo.
MENU
Focaccia al parmigiano–Focaccia with parmigiano
Focaccia alle cipolle e salvia–Focaccia with onions and sage
Focaccia ai pomodorini e origano–Focaccia with cherry tomatoes and oregano
SCHEDULE
Schedule for Friday, 1/22: The class lasts from 6-8:30 pm PST. There will be a dinner break from 7-8 pm PST. You will need to prepare your own dinner before class starts; the in-class work you do on Friday 1/22 will not result in cooked food to eat for dinner.
Schedule for Saturday, 1/23: The class lasts from 10 am-12:15 pm PST. Your focaccia will be piping hot as class ends on the 2nd day!
Equipment and Ingredient List for this class can be found here. You will need a stand mixer in order to make this recipe.
This menu contains the following common allergens: Dairy, Wheat. If you have allergies or dietary restrictions that concern your ability to cook along, please e-mail info@18reasons.org before purchasing a ticket.
---
If you're new to 18 Reasons Online, please read this guide: How to Take an Online Class at 18 Reasons. Five calendar days before class, 18 Reasons may decide to cancel this class if not enough tickets are sold. We will notify registrants by email about cancellations.
---
Viola Buitoni, chef instructor and food writer, was born in Rome and raised in Perugia, Italy. With stories and knowledge from six generations, her dishes cross the best of California agriculture with the finest Italian food imports. After moving to the US to attend NYU, Viola started Buitoni & Garretti, a catering kitchen and Italian fine foods shop in New York City. She later moved to San Francisco where she began lecturing and teaching Italian food tradition workshops at the SF Italian Cultural Institute and Italian Consulate. She teaches Italian cooking at 18 Reasons, The Civic Kitchen, and Milk Street year-round, and at the Puglia Culinary Center in the summer. In October of 2021, she will lead an immersive fall foraging workshop in Le Marche. She is a regular contributor to La Cucina Italiana US. She lives in the Mission District with her husband, son and tiny dog.
Photo credit: Viola Buitoni