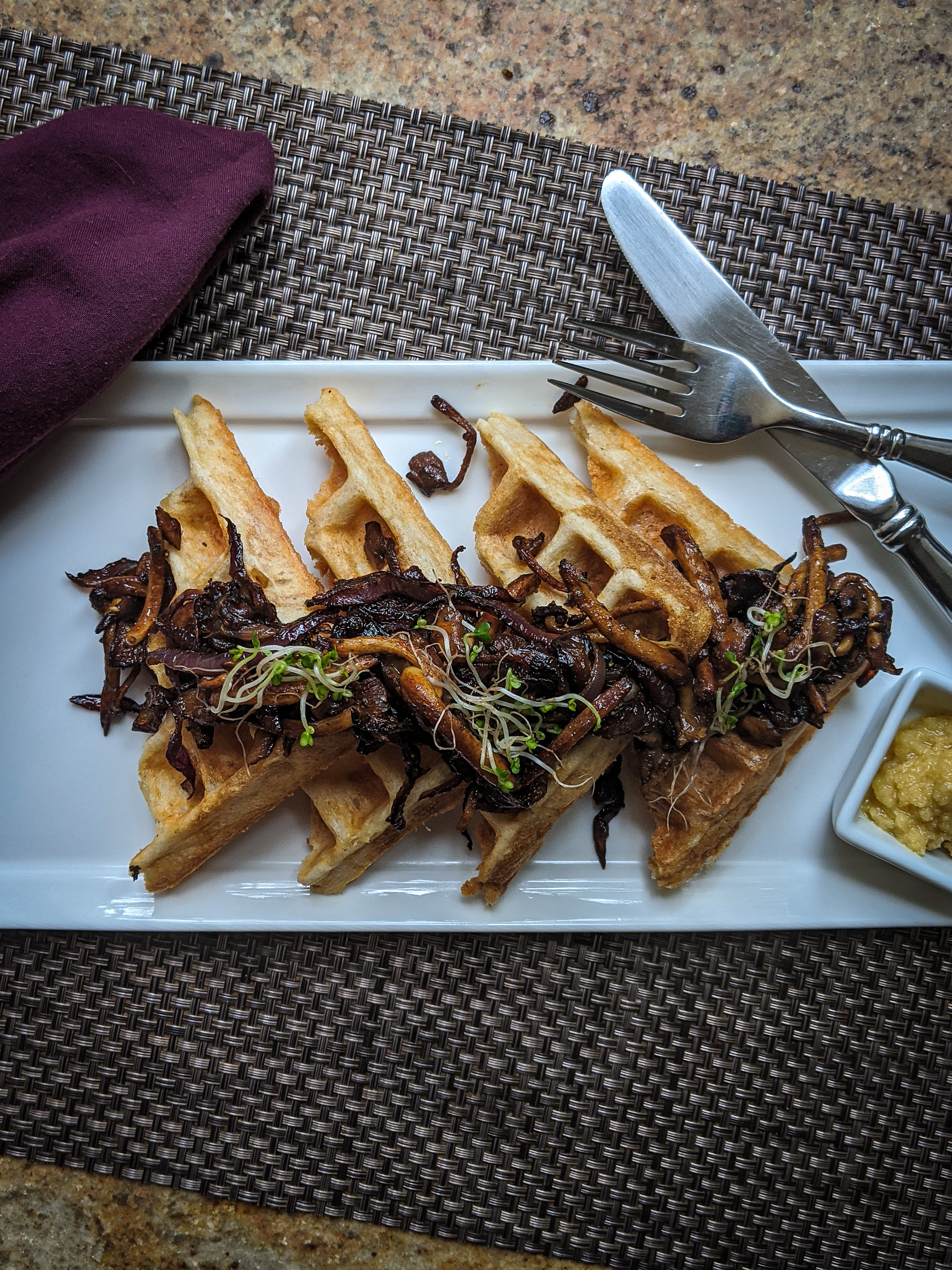 This is a live, hands-on cooking class held online via Zoom. This is an interactive experience; if online learning is new to you, please read this guide on How to Take an Online Class at 18 Reasons.
Registered students should take at least 30 min before class begins to do the following: download and set up Zoom, test audio and video, wash and prep ingredients, and bring out equipment in the kitchen, per the list linked below. 18 Reasons staff will e-mail registrants one message containing class recipes and a Zoom meeting link; check your junk/spam/event folder in case you do not see the e-mail. Search for any email from 18 Reasons, looking for a subject line containing the full title of the class. 
Typical brunches focus on sweet items, like buttermilk pancakes drenched in maple syrup, or egg dishes, like sturdy frittatas and cheese omelettes. What about the vegetable enthusiasts? The produce prone? The dairy free?
In this elegant and veggie-laden menu, you will use key umamilicious ingredients to imbue your brunch dishes with sass and savoriness.
MENU
Mochi Sourdough Waffles with Sauteed Greens & Mushrooms with a Miso Caramelized Onion Spread 
*You don't own a waffle iron? The same batter can make pancakes!
Koji-Roasted Root Vegetable Medley with Fresh Herbs
Radicchio and Fennel Salad with Tamari Spiced Walnuts and Shiitake Bacon 
Equipment and Ingredient List for the class found here - check before signing up for the class. 
This menu contains the following common allergens: Soy, Tree Nuts, Wheat. If you have allergies or dietary restrictions that concern your ability to cook along, please e-mail info@18reasons.org before purchasing a ticket.
Marie Brennan graduated from the University of Wisconsin with a degree in Dietetics. An avid traveler, she has explored her love of food while on the road. Marie's travels have taken her to study cheese-making in Tasmania, raw food in Western Australia, tea and fermented foods in the mountains of Korea, Ayurvedic cuisine and herbology in Kerala and the kitchens of numerous meditation centers around the world. She moved back to the USA to attend a holistic culinary arts school in Berkeley, where she also worked and taught at for several years. Marie presently lives in the Bay Area and works as an educator, private chef and is the Culinary Creative Director for Café Umami. You can find her at www.hedonistinmoderation.com and follow her IG @hedonistinmoderation 
Photo credit: Marie Brennan