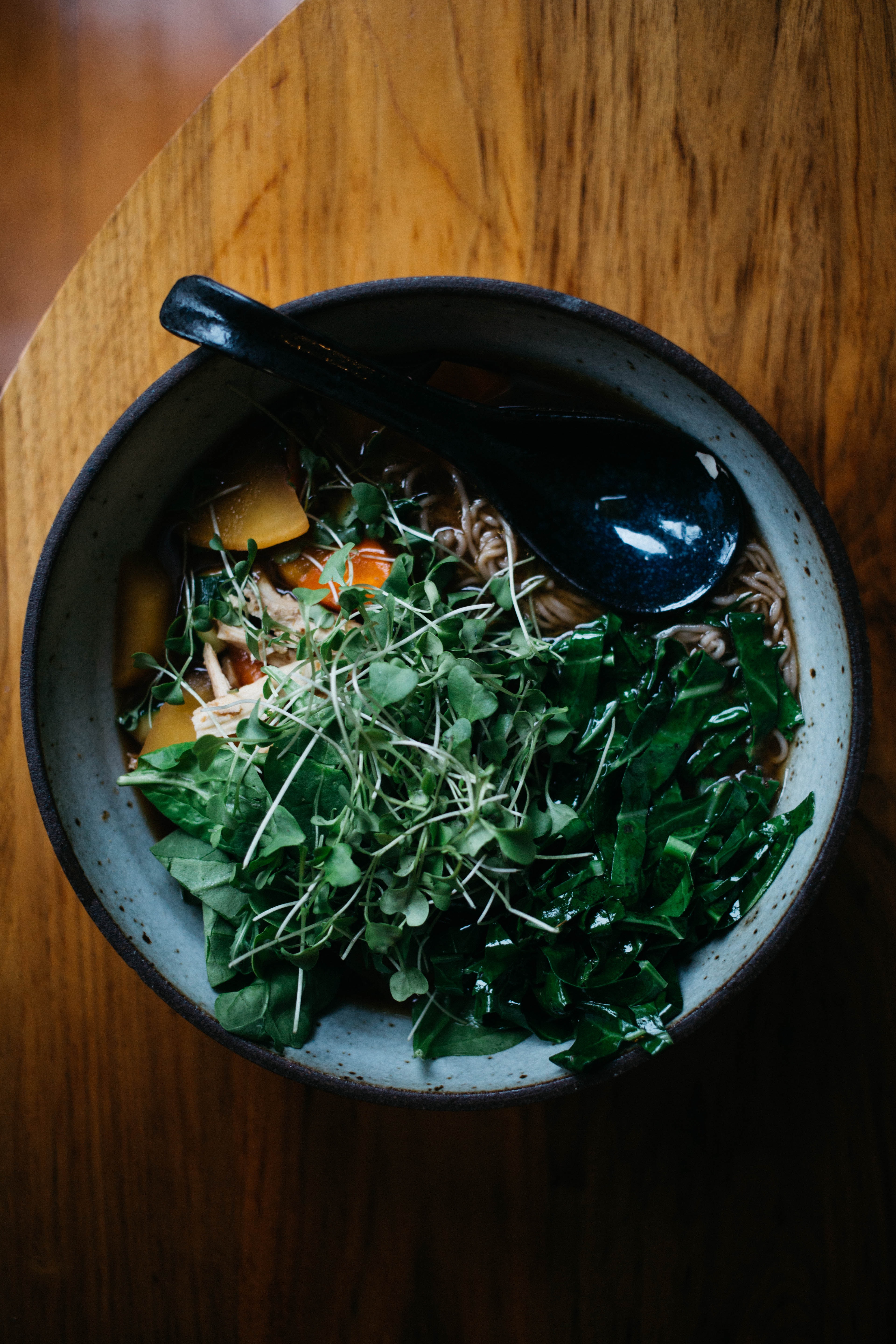 This is a live, hands-on cooking class held online via Zoom. This is an interactive experience; if online learning is new to you, please read this guide on How to Take an Online Class at 18 Reasons.
Registered students should take at least 30 min before class begins to do the following: download and set up Zoom, test audio and video, wash and prep ingredients, and bring out equipment in the kitchen, per the list linked below. 18 Reasons staff will e-mail registrants one message containing class recipes and a Zoom meeting link; check your junk/spam/event folder in case you do not see the e-mail. Search for any email from 18 Reasons, looking for a subject line containing the full title of the class. 
Marie is on a mission to teach home cooks about umami, the fifth taste known as savoryiness. Dishes high in umami are lip-smackingly delicious and craveable, though we often think about animal-based sources of umami, like meat and cheese. Umami isn't just for omnivores, though! Through one dish, Marie will share her passion for plant-based umami.
Across the world people turn to ramen when they want comfort food. Ramen is a Japanese take on Chinese wheat noodles that originated in the late 19th century. What started as a thoughtfully prepared bowl of fresh noodles, homemade broth, fresh vegetables, and minimally processed kinds of proteins has undergone alterations in the modern, industrialized world. Today, the majority of the ramen at home comes from a packet. It's become a junk food because of its high salt, refined carbohydrate content, and low vegetable content. Does a speckle of dehydrated onion and carrot even count?
It doesn't need to be this way! In this fun and informative class, we will focus on two aspects of ramen: the noodles and the broth. You will learn how to build a savory, rich broth that is 100% plant based as well as fresh noodles. This will be a joy to make and eat!
MENU
Fresh, Handmade Wheat Noodles
Savory Vegan Broth
Assorted Ramen Toppings
Equipment and Ingredient List for the class found here - check before signing up for the class. If you feel intimidated by the noodle making or you don't have a pasta roller, you can buy pre-made noodles and just watch the process in class.
This menu contains the following common allergens: Soy, Wheat. If you have allergies or dietary restrictions that concern your ability to cook along, please e-mail info@18reasons.org before purchasing a ticket.
Marie Brennan graduated from the University of Wisconsin with a degree in Dietetics. An avid traveler, she has explored her love of food while on the road. Marie's travels have taken her to study cheese-making in Tasmania, raw food in Western Australia, tea and fermented foods in the mountains of Korea, Ayurvedic cuisine and herbology in Kerala and the kitchens of numerous meditation centers around the world. She moved back to the USA to attend a holistic culinary arts school in Berkeley, where she also worked and taught at for several years. Marie presently lives in the Bay Area and works as an educator, private chef and is the Culinary Creative Director for Café Umami. You can find her at www.hedonistinmoderation.com and follow her IG @hedonistinmoderation 
Photo by Rachael Gorjestani on Unsplash