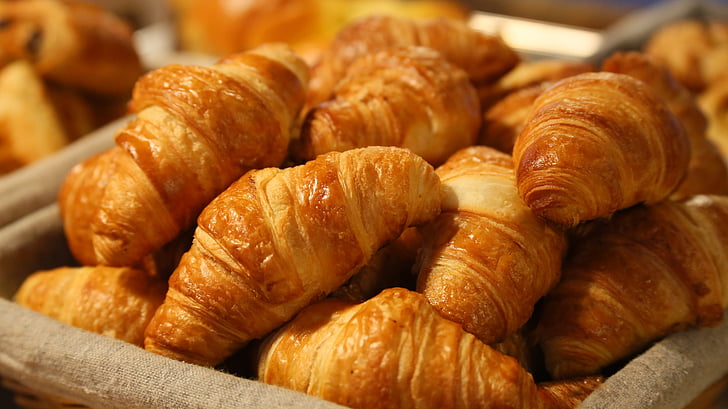 This is a live, hands-on cooking class held online via Zoom. This is an interactive experience; if online learning is new to you, please read this guide on How to Take an Online Class at 18 Reasons.
Registered students should take at least 30 min before class begins to do the following: download and set up Zoom, test audio and video, wash and prep ingredients, and bring out equipment in the kitchen, per the list linked below. 18 Reasons staff will e-mail registrants one message containing class recipes and a Zoom meeting link; check your junk/spam/event folder in case you do not see the e-mail. Search for any email from 18 Reasons, looking for a subject line containing the full title of the class.
Buttery. Flaky. Decadent. Gone are the days where we can carelessly stroll into our neighborhood cafe for a freshly baked croissant that's begging to be devoured with our favorite seasonal jam. Instead, they'll be coming straight out of your own home oven! Join Elise to demystify the process behind creating laminated doughs and to prove that you CAN make croissants at home! This will be a series with three 1-hr sessions with Elise, a small amount of homework, and an extra Sunday afternoon to troubleshoot your flaky creations and to share your successes with the class!
Menu
Butter croissants
Pain au chocolat
Summer vegetable and caramelized onion tart 
Equipment and Ingredient List posted here!
This menu contains the following common allergens: dairy, wheat, eggs If you have allergies or dietary restrictions that concern your ability to cook along, please e-mail info@18reasons.org before purchasing a ticket.
Schedule of Events:  
Session 1: Friday, June 12, 8-9pm PST:
Elise will intoduce you to laminated doughs and we will start creating the dough (detrempe) and butter (beurre) foundation of our croissants.
Session 2: Saturday, June 13, 10-11am PST
After our doughs (and us!) have had a good night's rest, we will begin rolling out and folding our detrempe and beurre to create the luscious layers.
Session 2 homework: complete the last fold and turn of the dough 30 minutes after the session has ended
Session 3: Saturday, June 13, 4-5pm PST
Phew! Our doughs finally had some time to chill out so they are rested (again) and ready to be formed into croissants, pain au chocolat, and, because a croissant dough is a small step away from a puff pastry, we'll turn the rest of our dough into a vegetable tart for dinner! 
Session 3 homework: the dough will need to rest again overnight. It's quite a sleepy dough. In the morning it will be ready to proof for 2-3 hours and bake on Sunday to fill your kitchen with the aroma of buttery greatness!
Sunday Office Hours: June 14, 2-3pm
*Optional but highly recommended* Log into this last session to chat with Elise and to show of your creations to the rest of the class! 
Born and raised in Colorado, Elise Hayashi grew up in a family where knowing how to use a paring knife was more important than riding a bicycle. This sparked her passion for food and cooking at an early age, and she enthusiastically relocated to the Bay Area to study nutrition science at UC Berkeley. Outside of the classroom, Elise helped implement childhood obesity and exercise research, and worked as a pastry assistant to fill her free time with galettes and mousses. She also broadened her experience with food by studying and cooking her way through the Mediterranean diet in Italy, and working on an organic farm in Japan. Now, she is excited to merge her gastronomic backgrounds to share her love of food with the 18 Reasons community. During the rare moments when she is not eating, Elise can be found trying out new sports, playing and listening to live music, or wandering the aisles of grocery stores and farmers' markets.
Photo from PickPik