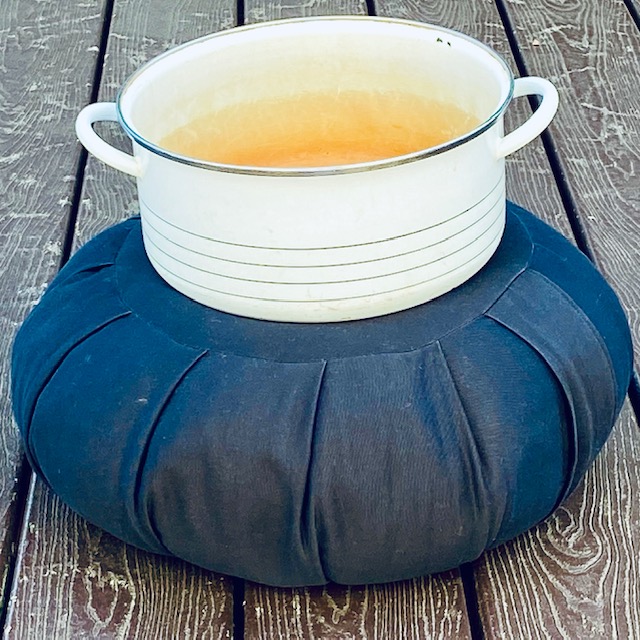 This is a live, hands-on cooking class held online via Zoom. Class is limited to 12 students to create an interactive, dynamic experience. The Instructor will be assisted by a remote 18 Reasons staffer who will facilitate conversation during class and ensure all students are attended to. We will be recording the class and we hope to make the recording available to students after an editing process to protect the privacy of our students' homes.
Registered students should take at least 30 min before class begins to do the following: download and set up Zoom, test audio and video, wash and prep ingredients, and bring out equipment in the kitchen, per the list linked below. 18 Reasons staff will e-mail registrants one message containing class recipes and a Zoom meeting link; check your junk/spam/event folder in case you do not see the e-mail. Search for any email from 18 Reasons, looking for a subject line containing the full title of the class. 
Join Annie and her years of experience cooking at San Francisco Zen Center for an evening in a Zen kitchen, where food meets meditation. The quiet mind extends beyond your mediation cushion. Settle into stillness against the backdrop of cutting boards, pots, and pans. Essential to monastic life is cultivating mindfulness in each and every activity. This interactive class will include meditation instruction and discussion as well as culinary technique. We will discuss excerpts from Tenzo Kyōkun or "Instructions to the Cook" an ancient document written by Dōgen, founder of Sōtō Zen, to inspire our evening in this Zen kitchen together. All levels of experience in cooking and meditation are more than welcome! 
MENU
The Only Lentil Soup You'll Ever Need – with lentils, tomatoes, and balsamic
How to Build a Perfect Salad
Glorious Grain
Equipment and Ingredient List for the class found here - check before signing up for the class. 
No major allergens are in this menu, and it is highly customizable to your preferences. If you have allergies or dietary restrictions that concern your ability to cook along, please e-mail info@18reasons.org before purchasing a ticket.
A San Francisco native, Annie Obermeyer grew up in a family who loved to eat and cook in this vibrant food mecca of a city. Since childhood, storytelling, food, and Zen Buddhism were the three legs of Annie's barstool and remain so to this day. While working at the Public Theater in New York, Annie started her own private chef business called Impossible Tomato, the name her Italian teacher gave her as a child – the shoe fit! Shortly after that, Annie lived, studied, and cooked at San Francisco Zen Center for three years. There, she learned what cooking mindfully truly means, managing the kitchen and supporting students and guests in their meditation practice as well as their culinary training. Annie spent the summer of 2018 as a guest cook at Tassajara Zen Mountain Center. This past fall she cooked for a group of spectacular playwrights as resident chef at SPACE on Ryder Farm, an artist in residency program on the grounds of a 223-year-old working organic farm in Putnam County, New York. Annie believes that food has the power to transform, heal, unite, and delight. She is thrilled that nourishing others allows her to explore life fully through myriad lenses. By gathering around a table, we discover the world, ourselves, and each other. She feels blessed to be a part of 18 Reasons!
Photo credit: Annie Obermeyer