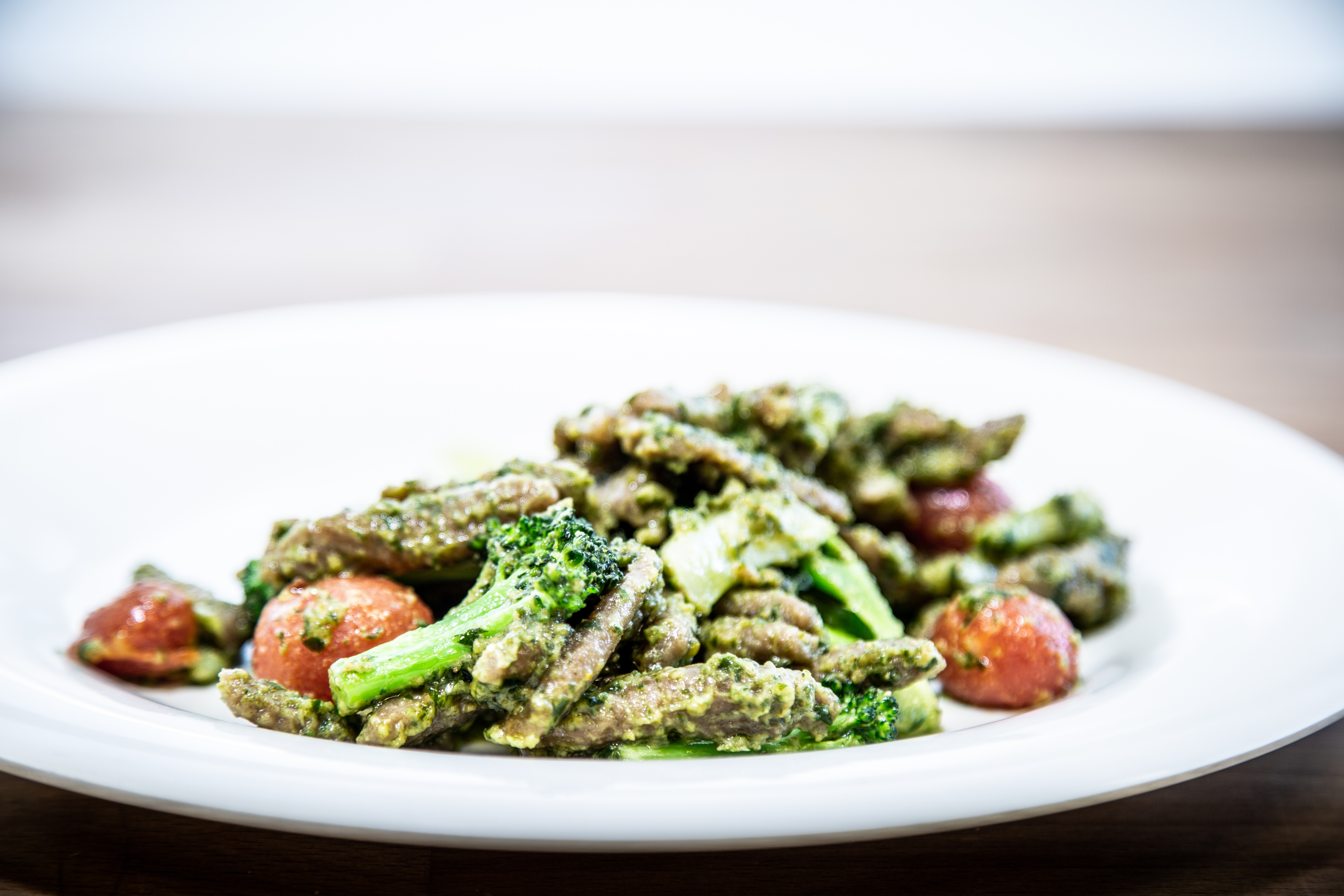 A hands-on class culminating in a family-style dinner served with wine and beer.
We're welcoming back our friends at ReGrained to step out of the kitchen, and share their passion and knowledge for food upcycling with our community! ReGrained's mission is to better align the food we eat with the planet we love. By partnering with some of the Bay Area's favorite craft breweries, ReGrained rescues the nutritious grain that is created every time beer is brewed and crafts their delicious, sustainable, and versatile SuperGrain+ flour. With Chef Phil at the helm of the class, you will learn basic techniques for making plant-based "crab" cakes, fresh pasta at home, a classy carrot cake, all while using ingredients that will help reduce waste in your home kitchen. In class, you will use ReGrained SuperGrain+ to create three unique dishes. Though at home, you can easily replicated these recipes with traditional food items from the grocery store. 
How can upcycled ReGrained SuperGrain+ make your dinner? The plant-based "crab" cake will use chickpeas and ReGrained SuperGrain+ as binders to Old Bay seasoned green jackfruit. The main course will be a wholesome ReGrained cavatelli pasta, a short-form southern Italian pasta that requires no special equipment or pasta roll attachment and can be hand rolled and shaped with a fork. You'll pair the cavatelli with some of our favorite waste-to-taste ingredients that will give us a finished dish, worthy of fine dining: carrot top pesto, broccoli stems blanched and seasoned well, a spare parmesan cheese rind to add umami, plus garlic anchovy breadcrumbs made from day old bread for a savory, crunchy finish. For dessert, you will use the canned chickpea water to make a vegan meringue, then add ReGrained SuperGrain+ with shredded carrots to make a cake. You'll upcycle spent coffee grounds with ReGrained SuperGrain+ to make a simple streusel. Candied orange zest bowties and chocolate twigs add pop to the final cake.
We'll teach classic techniques, but offer a fresh spin to help you get the most out of what's in your fridge and your pantry! Join us, and Eat Up!
MENU
Root vegetable salad, croutons, citrus vinaigrette
"Crab" cake, chickpeas, Old Bay spiced jackfruit, carrot top mousseline
ReGrained Cavatelli, carrot top pesto, broccoli stems, parmesan rind, garlic-anchovy breadcrumbs (you can opt out of the breadcrumbs for a vegetarian dish)
Aquafaba carrot cake, spent coffee ground streusel, candied orange zest bowties, chocolate twigs
This menu contains the following common allergens: dairy, fish, wheat. If you have allergies or dietary restrictions please e-mail us at info@18reasons.org before purchasing a ticket.
Founded by Daniel Kurzrock and Jordan Schwartz, ReGrained looks to create new life for overlooked, underutilized ingredients. As college home brewers, Jordan and Dan were left with 1 pound of grain, for every 6-pack they brewed, and looked to find a solution for breweries who found themselves in the same predicament. Their lines of award winning snack bars and soon to be released savory puff snacks feature their SuperGrain+ flour made from nutritious grain that is harvested and upcycled from breweries around the Bay Area. Their brand has given this worthy ingredient a platform to stand on as they seek to push the boundaries of sustainable AND delicious. 
Phil Saneski is the VP of Product and head chef for ReGrained. With a background in Michelin starred restaurants and culinology, Phil brings experienced culinary acumen into the world of ingredient innovation. Phil has a deep love for food that pushes the boundaries but also feels familiar and hits home. When not in the kitchen, he dreams of all things root-to-stem. How many vegetables can he really fit into dessert? 
Photo credit: ReGrained