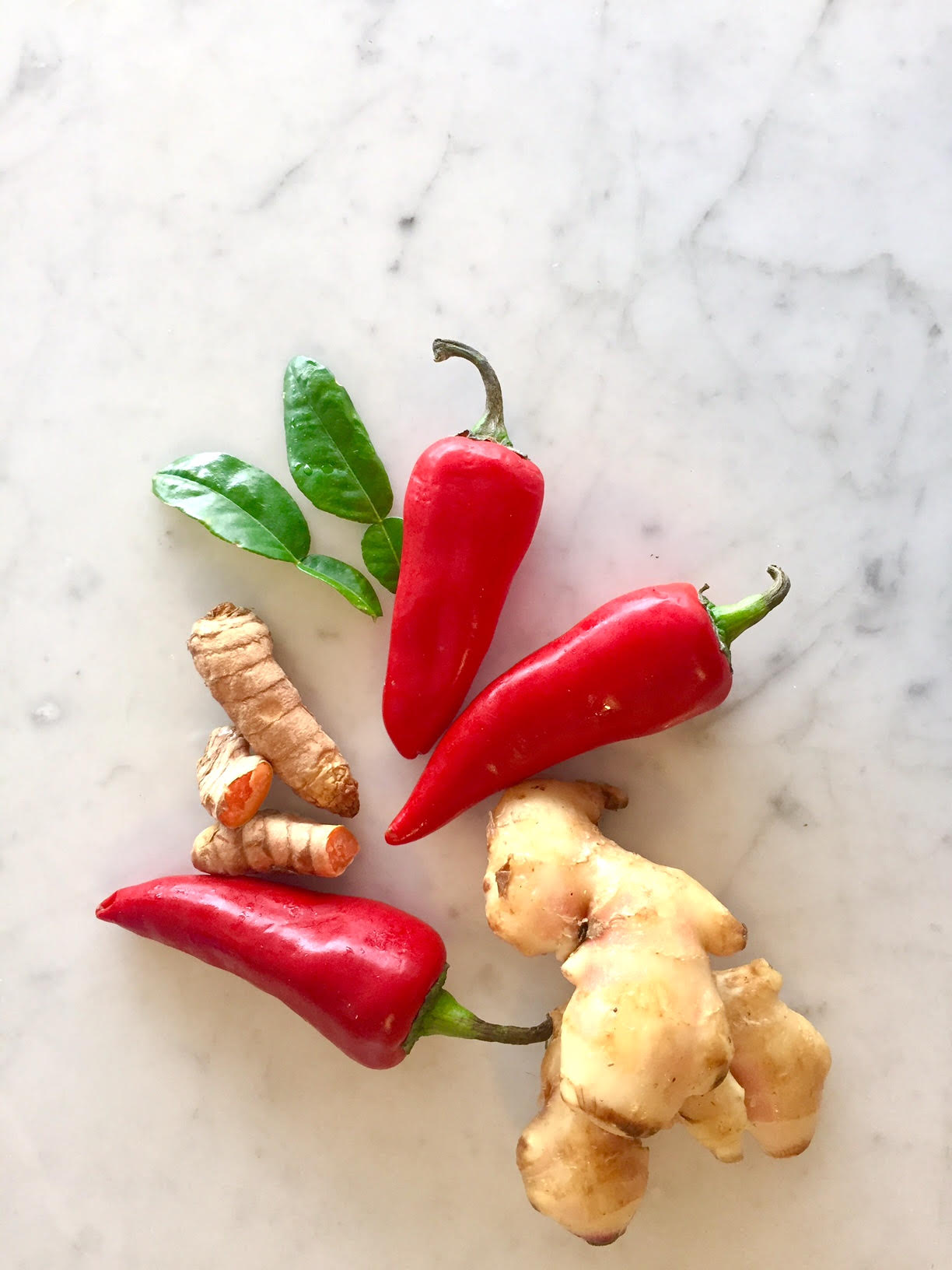 A hands-on cooking class culminating in a family-style dinner served with wine and beer.
We know that some guests love the fiery, herbaceous, and coconut creamy flavors prevalent in Thai cuisine, but would rather avoid the preserved seafood products (fish sauce, dried shrimp, etc.) that give many Thai dishes umami and salt. To help students feel more confident in cooking a meat and dairy free Thai meal at home, Linda chose this menu. We'll still get to celebrate the heat from chilies, the fragrant scent of chiffonaded lime leaf, sliced lemongrass and galangal, but with other sources of savoriness to create a well-balanced, mouth-watering meal. 
MENU
Hor Mok Hed with Khao Tang - Mushroom Dip with Crispy Rice
Yum Tua Plu - Wing Beans Salad
Phad Sator Kreung Kaeng - Spicy Stinky Bean Stir Fry
Phad Taohoo Thod Krob - Crispy Tofu & Seaweed in Red Curry
Phad Thai Wun Sen - Stir Fried Mung Bean Noodles*
Thai Tea*
*Denotes vegetarian dishes, but we can buy the necessary ingredients to make a vegan batch in class. Just let us know by emailing us at info@18reasons.org so we can buy the right amounts of food!
Linda Tay Esposito is teaching chef whose food represents a tribute and a commitment to the authenticity of the cuisines of the Pacific Rim.  For the last 15 years, Linda has shared her passion and knowledge of South East Asian cuisine in the Bay Area and her work had been featured in KQED Bay Area Bites, the New York Times, etc. Linda taught at the The Cooking School at Cavallo Point and at Sur La Table Cooking School, and was a lead chef at Parties That Cook where she taught global cuisines in a team building setting. She started her teaching career at Whole Foods Market. Most recently she was the head of operations and chef at Bay Area's artisan tofu maker, Hodo. She currently leads the development of La Cocina's municipal marketplace – using food as a creative approach to economic development by offering affordable, healthy food options and safe spaces while providing assessable business opportunities for low income, immigrant, women food entrepreneurs. She writes a food blog at www.flavorexplosions.com and you can follow her on Instagram @flavor_explosions
Photo courtesy of Linda Tay Esposito