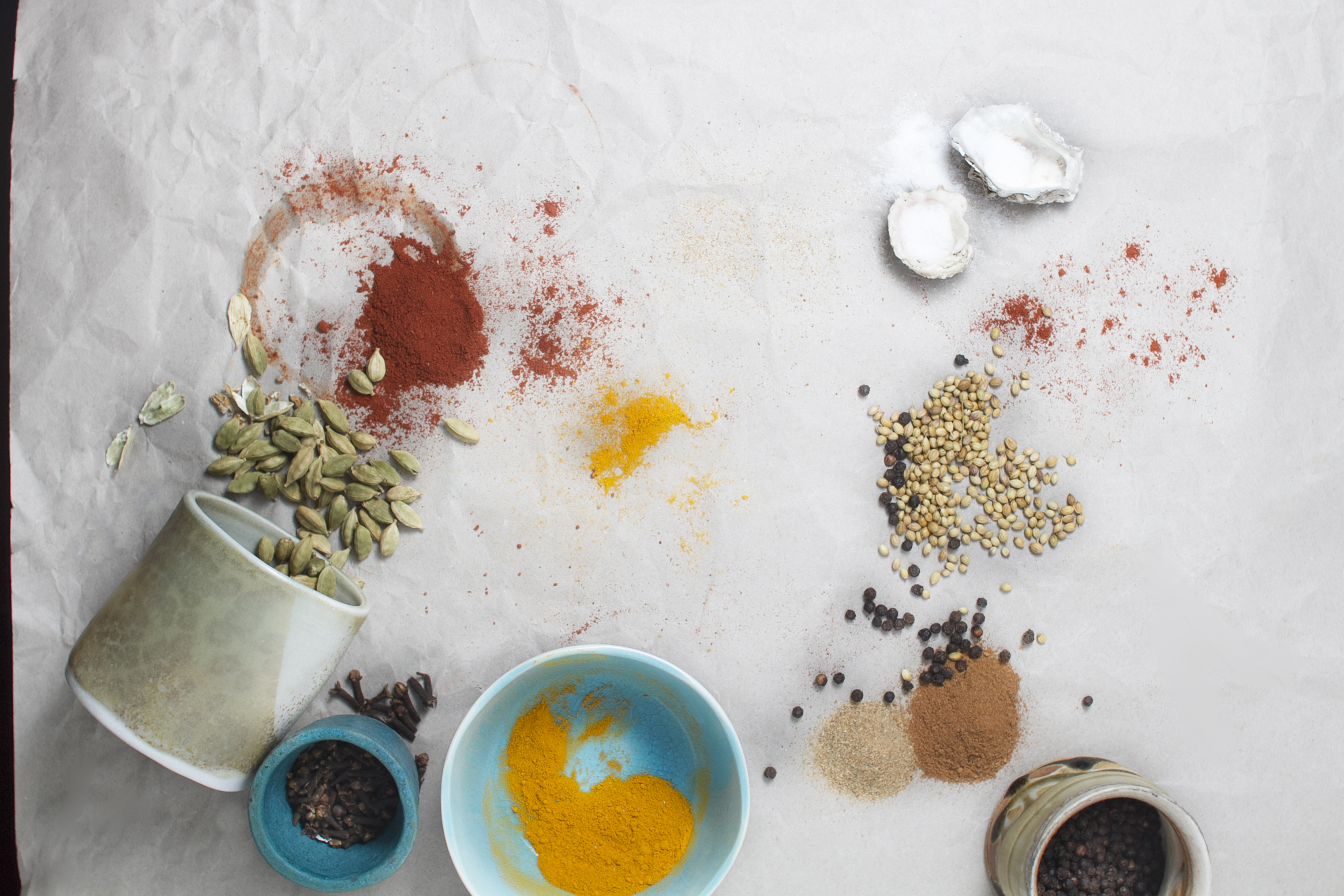 A hands-on cooking class culminating in dinner served with a glass of wine and beer.
Indian cooking often intimidates home cooks because of the variety of spices it requires. This class will demystify popular Indian spices and teach you how to use them in a variety of dishes. We will make four spice blends together featuring family recipes and cook simple everyday Indian dishes with them. With this hands-on practice, you'll leave this class confident in your knowledge of spices and ability to use them at home. Additionally, you'll be taking home a few tablespoons of extra spice mix to start cooking immediately!
MENU
Papaji's Garam Masala—a blend of ground spices used extensively in Northern Indian cuisine. Every family has their own blend, and this is Simran's grandfather's recipe. This spice mix will be used in ground lamb kebabs and served with coriander chutney, mint raita, and pickled onions. 
Madras Curry Powder—a versatile Southern Indian spice mix which can be used whenever a recipe calls for curry powder. This spice mix will be used in vegetable korma.
Panch Poran—a Bengali mixture of five whole-seed spices. This mix will be used to flavor a pot of dahl.
Mom-in-Law's Chai Masala—Simran's mother in-law's fabulous chai masala recipe will be used to make pots of creamy sweet chai, the perfect end to the meal!
Roop's Famous Zeera Rice will also be served with the meal.
Simran Singh and Stacie Dong
 are San Francisco moms with a passion for cooking, eating and exploring the world through food. On their blog, A Little Yumminess (
www.alittleyum.com
)
, they share recipes from around the world, favorite foodie destinations in the Bay Area and ideas for bringing up adventurous eaters. Throughout the year the run very successful day and week-long "around-the-world" cooking camps and classes for youth aged from K- 12. They also teach regional Indian and Asian cooking classes at 18 Reasons and other venues around the Bay Area. They are also regular contributors to the San Jose Mercury News food section, Sunset Magazine's blog, Bay Area Parent Magazine, and other websites and publications.
Roop Soni grew up in Kashmir and Punjab in a family of both professional chefs and talented home cooks and from a young age she began learning essential techniques and treasured family recipes. These days Roop splits her time between New Delhi and San Francisco. She continues to cook amazing meals for her family and friends, document family recipes, and occasionally teach and cook for public events like this one.