New Orleans Pop-Up Dinner - In Person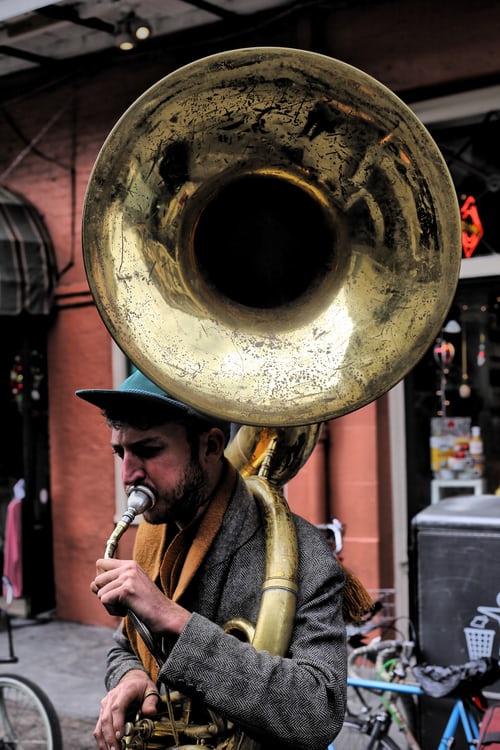 A multi-course dinner with wine and beer available for sale, or BYOB (wine and beer only). This is not a cooking class. This dinner is limited to 24 guests. See our registration policies here and our rules for in-person events here.
Laissez le bon temps rouler! Let the good times roll! Chef Mike is serving dinner at 18 Reasons, celebrating the city of his culinary heroes and the place where he fell in love with his wife. Our first aim with this meal: have a great time eating great food, with an "elbows on the table" kind of fun! We want to celebrate some of the refinement Mike has picked up at various places in his career. Also, we want this meal to cause a lot of joy (perhaps some Instagram thrown in). But whatever you do, do not let your food get cold because you are clicking pictures!
Join Mike for a night for delicious indulgences and laughter.
MENU
Amuse
BBQ Shrimp
Deep Fried Cajun Spiced Shrimp Head; Poached Prawn; Creole Beurre Blanc; Tiny Dunkin' Biscuit
Appetizer
Egg Sardou
Baby Artichoke; Poached Quail Egg; Truffled Hollandaise; Bed of Asparagus Brunoise; Tasso Essence
Soup
Duck and Sausage Gumbo
Andouille Sausage; Duck Breast; Trinity Centerpiece Salad; Tableside Gumbo Broth
Entree
Surf and Turf
NY Steak Roast, Crayfish Sausage Stuffing; Dirty Rice; Maque Choux; Blackened Shallot Demi-Glace
Dessert
Bananas Foster
Bananas Flambe; Spiced Rum; Pecan Tart; Bi-Rite Creamery's Vanilla Ice Cream 
This menu contains the following common allergens: Wheat, Egg, Dairy, Shellfish, Tree Nuts. If you have allergies or dietary restrictions that concern your ability to attend, please e-mail info@18reasons.org before purchasing a ticket.
Born in the Haight Ashbury neighborhood of San Francisco, Mike Weller grew up in the suburbs of San Jose, where he discovered cooking as his first profession and lifetime passion. After wandering through typical teenage jobs at pizza joints and ice cream parlors, Mike's first "restaurant" job was with Sambo's Coffee Shops, slinging hash and cooking eggs for the bar rush and Sunday breakfast crowds.  He moved on to help open several restaurants, attend the California Culinary Academy, and study under European chefs with Michelin backgrounds. Later, Mike served as an executive chef for catering companies, wineries and country clubs.  When his son was born, Mike transitioned his career into teaching, returning to the CCA where he eventually became the Executive Chef and Director of Academics. Mike also returned to school for training in his new field, earning a Master's Degree in Education. Having taught for Le Cordon Bleu North America in both online and brick and mortar schools, Mike is thrilled to return to teaching in a neighborhood-based community.  When he is not teaching he reaps the benefits of his backyard garden, kept in perfect order by his Master Gardener wife. 
Photo by Nathan Bingle on Unsplash