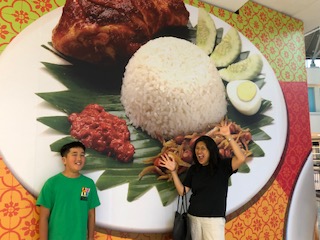 This is a live, interactive, hands-on cooking class held online via Zoom. If you're new to 18 Reasons online, please read this guide: How to Take an Online Class at 18 Reasons. Five calendar days before class, 18 Reasons may decide to cancel this class if not enough tickets are sold. We will notify registrants by email about cancellations.
It's Hari Merdeka! Aug 31 is Malaysia's Independence Day, so we're celebrating it with a dressed up version of the country's most iconic dish, nasi lemak. If you've been to Malaysia, you've likely eaten this banana leaf wrapped, multi-component meal for breakfast, where various textures, colors, and flavors all complement each other to make a perfect bite. In this class, Linda is making a fancier version of your everyday nasi lemak, by including a rich, braised spiced beef rendang. You're in for a treat!
MENU
Nasi Lemak - Coconut Rice, Sambal, Egg, Cucumbers, Peanuts, and Baby Anchovies in Banana Leaves
Beef Rendang - Aromatic Slow-Cooked Dry Beef Curry
Equipment and Ingredient List for the class found here - check before signing up for the class.  Not interested in shopping? Buy the ingredient kit here.
This menu contains the following common allergens: Fish, Shellfish, Egg, Tree Nuts, Peanuts. If you have allergies or dietary restrictions that concern your ability to cook along, please e-mail info@18reasons.org before purchasing a ticket.
Linda Tay Esposito is teaching chef whose food represents a tribute and a commitment to the authenticity of the cuisines of the Pacific Rim.  For the last 15 years, Linda has shared her passion and knowledge of South East Asian cuisine in the Bay Area and her work had been featured in KQED Bay Area Bites, the New York Times, etc. Linda taught at the The Cooking School at Cavallo Point and at Sur La Table Cooking School, and was a lead chef at Parties That Cook where she taught global cuisines in a team building setting. She started her teaching career at Whole Foods Market. Most recently she was the head of operations and chef at Bay Area's artisan tofu maker, Hodo. She currently leads the development of La Cocina's municipal marketplace – using food as a creative approach to economic development by offering affordable, healthy food options and safe spaces while providing assessable business opportunities for low income, immigrant, women food entrepreneurs. She writes a food blog at www.flavorexplosions.com and you can follow her on Instagram @flavor_explosions
Photo credit: Linda Tay Esposito