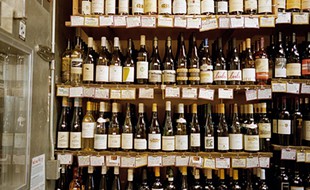 This is a live tasting seminar held online via Zoom. Class is limited to 12 students to create an interactive, dynamic experience. The Instructor will be assisted by a remote 18 Reasons staffer who will facilitate conversation during class and ensure all students are attended to.
Registered students should take ~30 min before class begins to do the following: download and set up Zoom, test audio and video, gather ingredients per the list below. 18 Reasons staff will e-mail registrants one message containing a Zoom meeting link and any class materials; check your junk/spam/event folder in case you do not see the e-mail. Search for any email from 18 Reasons, looking for a subject line containing the full title of the class. We also strongly suggest eating a meal or heavy snack before tasting.
In this short and sweet session, our resident wine and cheese expert and former wine bar manager Kirstin Jackson will teach you how to taste wine. We'll cover the famous swirl and sniff, but more importantly, we'll talk about how to break down a wine's components like aroma and body to perfectly describe what it is you're tasting in your glass, and what you want at wine shops and restaurants. After the class, you'll be able to talk about aromas (and how to further workout your palate), and what people mean when they talk about acid, body, tannin, texture, and acidity. It's a mini Wine 101!
This at-home tasting will require you to have three wines. These styles are described below and are easily found at wine shops and have inexpensive options. To demonstrate elements of taste, we're also asking students to gather spices and some fun things like candy that we hope everyone has nearby during these times. 
Required Wines:
Sauvignon Blanc from Loire Valley, France (Sancerre, Quincy, Touraine, for example)
California Pinot Noir (from anywhere)
Tuscan Sangiovese from Chianti, or, a Bordeaux (any type) 
Spices & Other Ingredients:
Note: Awesome to have all, but focus on having at least 2 from Spices & Herbs, and 1-2 from Other Fun Stuff. 
Spices & Herbs
Ground cinnamon, cinnamon stick, nutmeg, cardamom, or cloves (any or all)
Thyme or rosemary (fresh or dried)
Vanilla (bean fine, too)
Other Fun Stuff
Jam, jelly, preserves: seriously, whatever you have at home from strawberry to blueberry
Fruit candy or sweet fruit stuff! Pop tarts, sweet tarts, gummies, whatever!
Fresh fruits: lemon, apples, strawberry, etc. Whatever!
Chocolate. Doesn't matter which!
 
We're doing two identical sessions in one evening, back to back. Enrolling on this current page will admit you to the second seating from 8:15-9:15 pm. If you'd like to enroll in the earlier seating, click here.