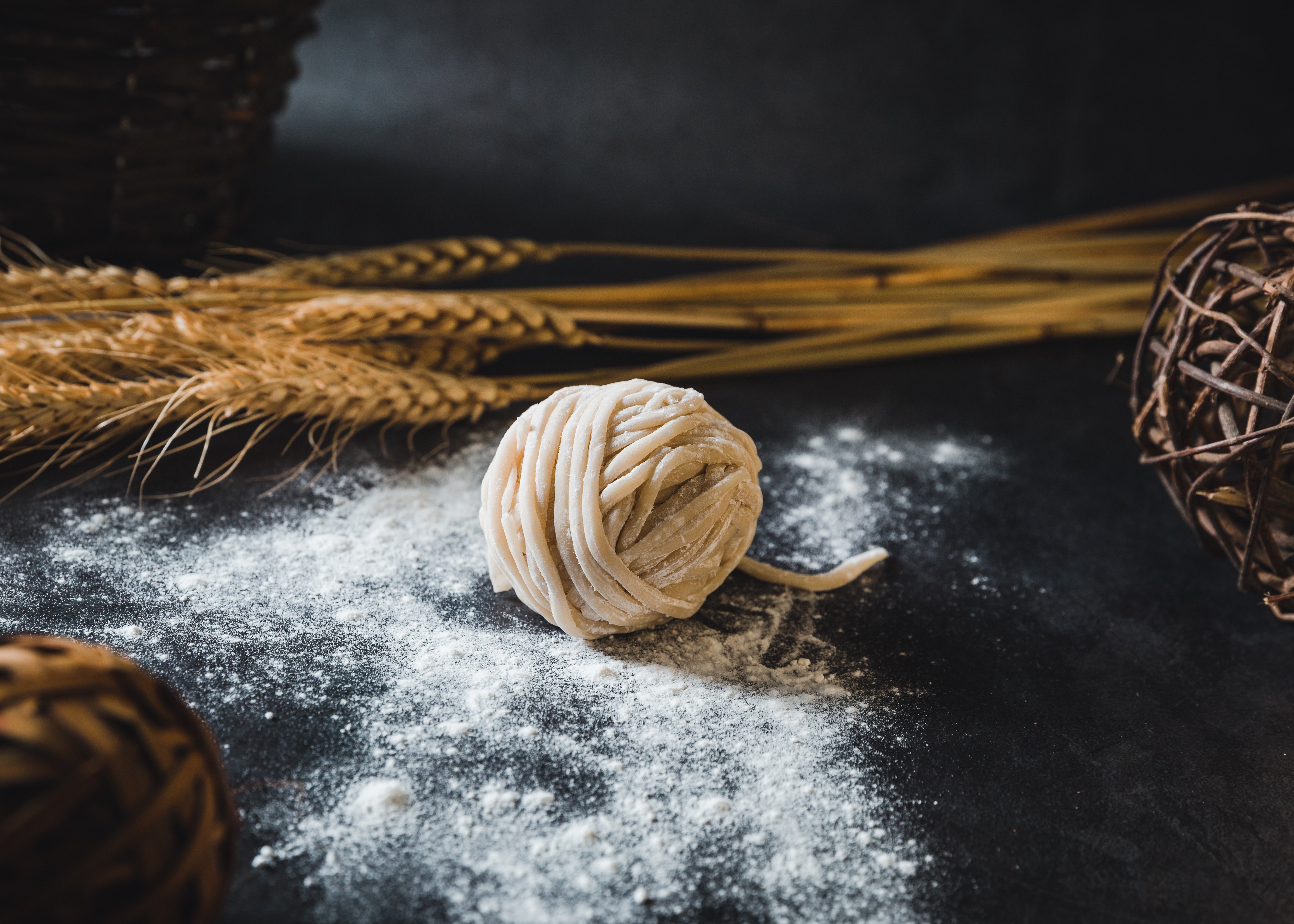 A hands-on cooking class culminating in a family-style dinner served with wine and beer.
With just flour and water, you will use these two simple ingredients to make two kinds of Asian noodles and one dumpling.
SJB is a relatively unknown cousin to the popular XLB, just doughier and pan-fried. Mee pok is a yellow flat noodle dish of Teochew origin, and served throughout Southern China, Malaysia, and Singapore. Contrasting with the delicate flat shape of mee pok, your biang biang mian are thick, belt-like noodles. You will practice gently stretching and banging the dough on the table to shape them; trust us, it's quite fun! 
Tuck into a delicious plate of noodles and dumplings with Linda as your guide!
MENU
Sheng Jian Bao—Pan Fried Pork Soup Dumplings 
Mee Pok—Alkaline Noodles with Minced Pork, Mushrooms, Crispy Garlic, Anchovies & Egg
Big Plate Chicken: Uyghur Chicken Stew with Potato, Carrot, Peppers and Warm Spices served with wide "Biang Biang" noodles
Sichuan Fish-Flavored Eggplant to accompany the Biang Biang Mian
This menu contains the following common allergens: wheat, eggs, fish, soy. If you have allergies or dietary restrictions please e-mail us at info@18reasons.org before purchasing a ticket.
Linda Tay Esposito is teaching chef whose food represents a tribute and a commitment to the authenticity of the cuisines of the Pacific Rim.  For the last 15 years, Linda has shared her passion and knowledge of South East Asian cuisine in the Bay Area and her work had been featured in KQED Bay Area Bites, the New York Times, etc. Linda taught at the The Cooking School at Cavallo Point and at Sur La Table Cooking School, and was a lead chef at Parties That Cook where she taught global cuisines in a team building setting. She started her teaching career at Whole Foods Market. Most recently she was the head of operations and chef at Bay Area's artisan tofu maker, Hodo. She currently leads the development of La Cocina's municipal marketplace – using food as a creative approach to economic development by offering affordable, healthy food options and safe spaces while providing assessable business opportunities for low income, immigrant, women food entrepreneurs. She writes a food blog at www.flavorexplosions.com and you can follow her on Instagram @flavor_explosions
Photo credit Mae Mu, Foodies Feed