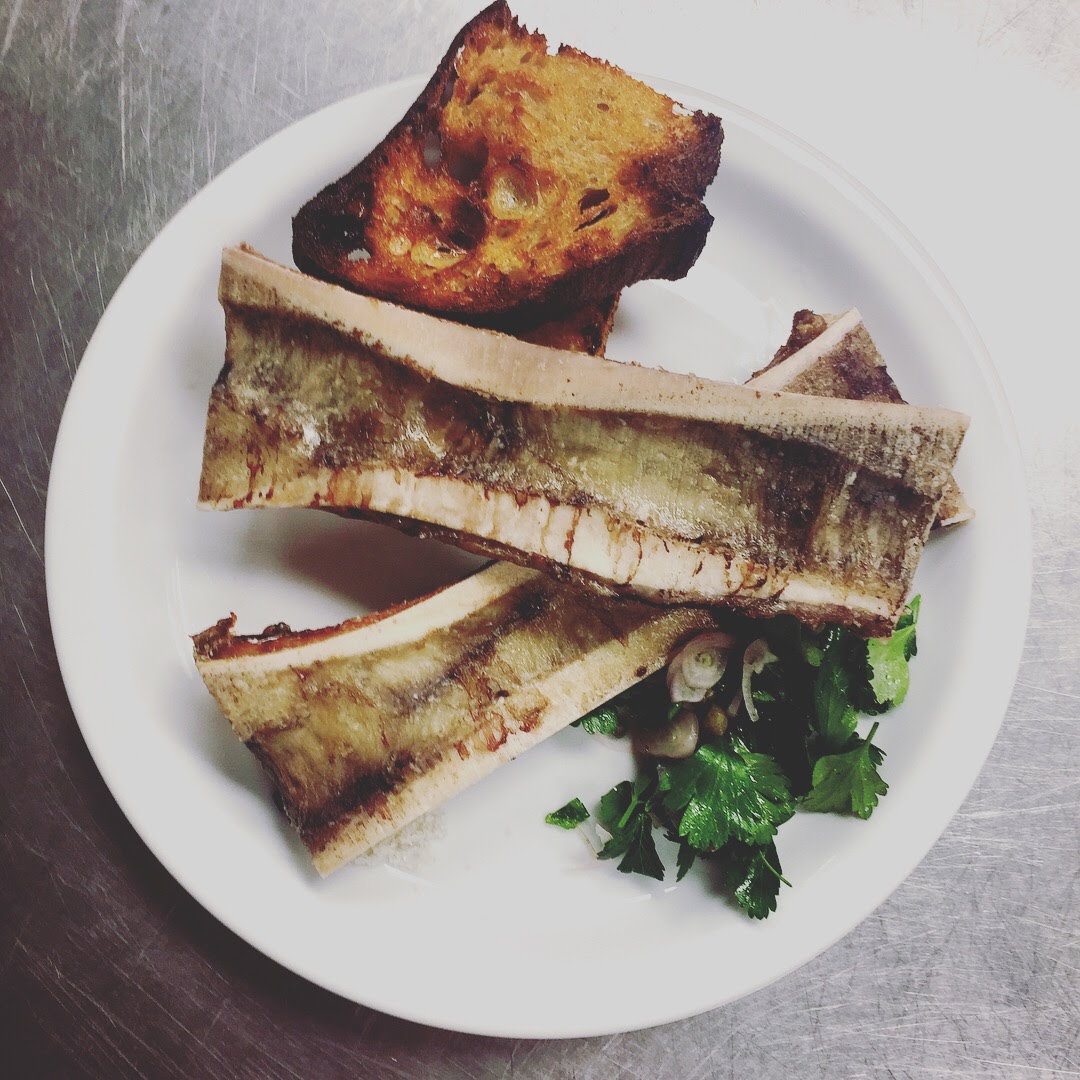 A hands-on cooking class culminating in dinner served with wine and beer.
The Bordeaux region of France is known for their fine wine, but what about the food? 
Standing beside award-winning wines is an equally prestigious cuisine, sourcing from the Atlantic Ocean coastline to feature seafood, as well as hearty lamb roasts and beef stews. Bordeaux's most famous dish is Entrecôte A La Bordelaise, a rib steak cooked in a rich sauce made from Bordeaux wine, shallots, butter, herbs and bone marrow. In this hands-on class featuring Bordeaux cuisine classics, Zoe McLaughlin will teach you the tips and techniques required to be a confident chef de cuisine in your home kitchen.
MENU
L'Os À Moelle Et Persillade — Roasted Bone Marrow With Parsley Salad and Toasts (pictured)
Mouclade — Mussels with Lemon & Saffron Sauce
Entrecôte à la Bordelaise — Rib Steak Cooked In Bordeaux Wine, Butter, Shallots, Herbs & Bone Marrow
Purée De Céleri-Rave — Celery Root Purée
Bi-Rite Creamery's Seasonal Fruit Sorbet
This menu contains the following common allergens: dairy, wheat, nuts, and shellfish. If you have allergies or dietary restrictions please e-mail us at info@18reasons.org before purchasing a ticket.
Zoé McLaughlin was born in Paris and raised in San Francisco. She graduated from Le Cordon Bleu in Paris andworked in restaurants in France while she wrote and published her first cookbook – a collection of family recipes influenced by her multicultural upbringing.  She now lives in San Francisco, where she works in the non-profit culinary world and hosts online cooking demonstrations.  She has a passion for bringing together the diverse flavors and culinary traditions of the Bay Area with the time tested techniques of classical French cooking.
(Photo courtesy of Theresa Salcedo)