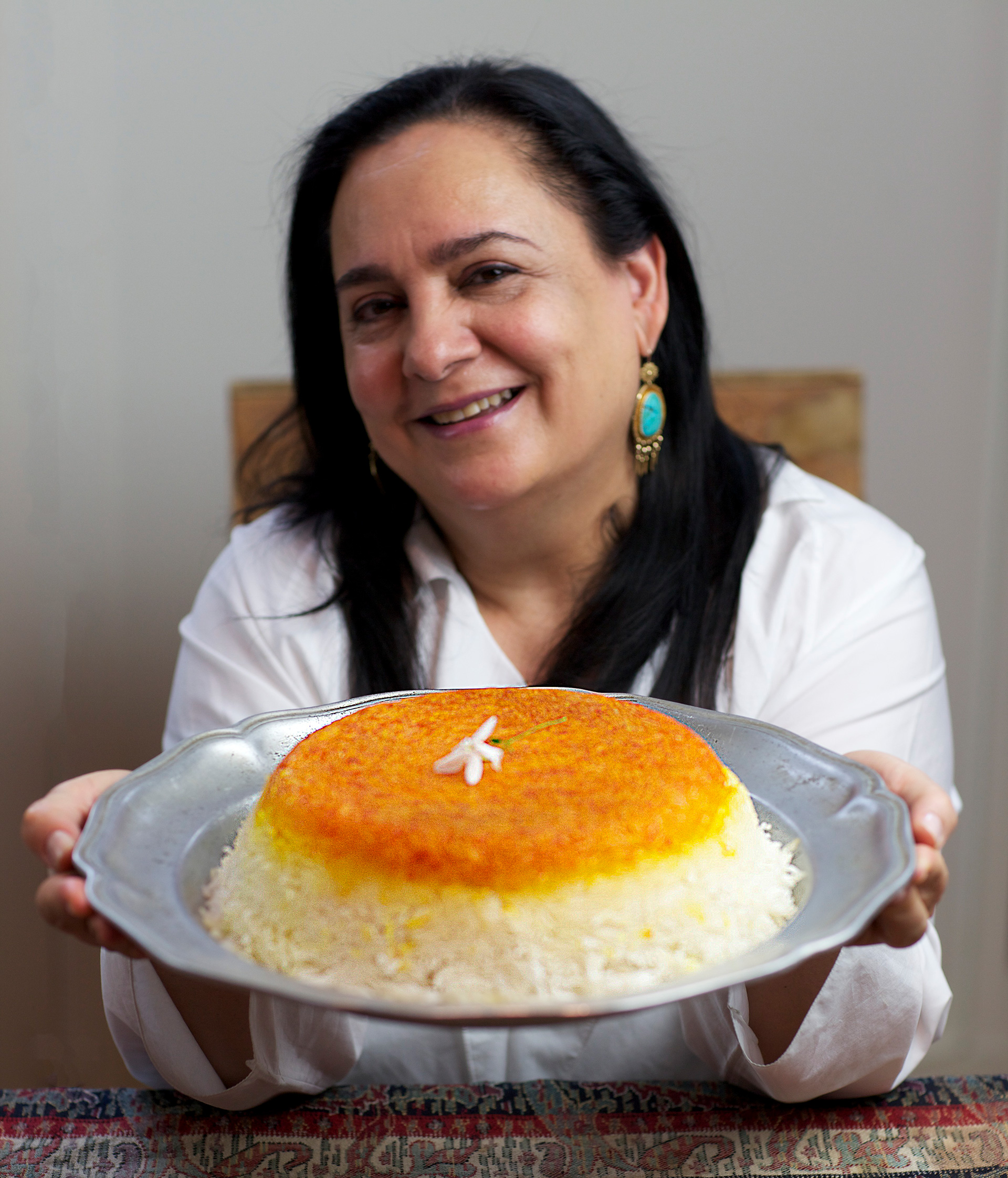 A hands-on cooking class culminating in dinner served with wine.
Please join us for a hands-on cooking class in celebration of Cooking in Iran: Regional Recipes and Kitchen Secrets by "The Grande Dame of Iranian Cooking" according to The Washington Post. Najmieh's book takes us with her on an extraordinary culinary journey. She will share tales of her travels, cooking with local grandmas and much more, while leading the class in cooking several of the book's original recipes, perfect for our autumn season. You and your classmates will sit down to enjoy the dishes you've created together. Najmieh's books will be available for purchase and signing during class.
MENU
Pistachio + Pomegranate Turkeyballs (kufteh-ye pesteh-o anar)
Spicy Sweet and Sour Salmon with Dates (qaliyeh-ye khorma)
Steamed Rice with Golden Crust—Crispy Rice (chelow ba tah dig)
Onion, Cucumber + Coriander Quick Pickle (torshi-e piaz-e- hazeri)
Green Salt (dalar) (a Persian herb sauce, something like chimichurri but not spicy)
Rose + Yogurt Love Cake (cayk-e eshq)
Najmieh's Tea

NAJMIEH BATMANGLIJ, hailed as "The Grande Dame of Iranian Cooking" by The Washington Post, has spent the past 40 years cooking, traveling, and adapting authentic Persian recipes to tastes and techniques in the West. The 25th Anniversary Edition of her book Food of Life: Ancient Persian and Modern Iranian Cooking and Ceremonies was called "A classic cookbook made even better…Gorgeous expanded edition" by Russ Parsons in the Los Angeles Times. Her Silk Road Cooking: A Vegetarian Journey was selected as "One of the 10 best vegetarian cookbooks of 2004" by The New York Times, and also, her most recent book, Cooking in Iran: Regional Recipes and Kitchen Secrets was selected as one of the 18 best cookbooks of Autumn 2018 by The New York Times, where Julia Moskin called it, "Magisterial...An engrossing visual feast of modern Iran…An essential new book"; and Evan Kleiman of KCRW Radio selected it as her "Cookbook of 2018." Najmieh is a member of Les Dames d'Escoffier and lives between Washington, DC and California, where she teaches Persian cooking, and consults with restaurants around the world.