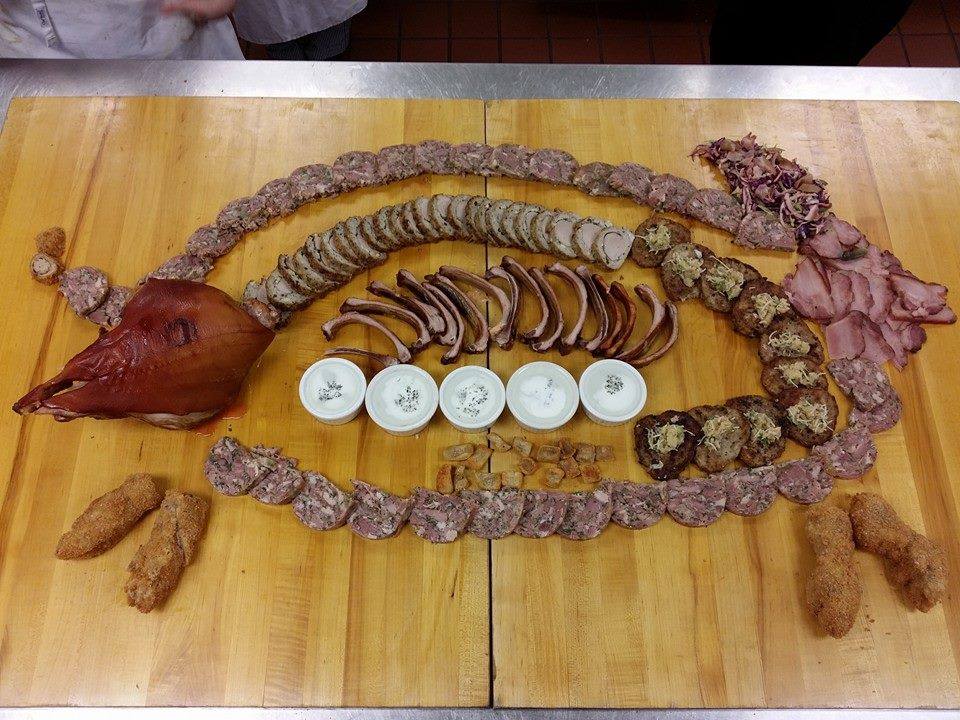 A hands-on cooking class culminating in a dinner served with wine and beer.
For this special class, Bi-Rite Market Butcher, Htet, will team up with Chef Mike at 18 Reasons for a celebration of the incredible pig. It is Hogust, after all! We will use a pressure cooker to quickly cook down some lesser-used pieces of pork, then assemble into a fantastic appetizer terrine. We will learn some San Francisco-friendly smoking techniques to assemble a delicious entrée salad for the summer. Then Htet will take you on an adventure with pork caul fat as you assemble classic French crepinettes. Htet will show us all how to open up a double-cut chop for stuffing, so we can assemble a delicious Cajun-inspired chop with "smothered" gravy. You'll finish the class with a dinner, where the conversation can continue and Htet will discuss high-quality pork and the secrets of whole animal butchery.
MENU
Pig Ear Terrine with Chilies, Herbs, and Ginger
Smoked Pork Tenderloin and Grilled Stonefruit Salad with Herb Vinaigrette
Crepinettes of Ground Pork and Summer Figs
Toulouse Sausage and Cornbread Stuffed Double Cut Pork Chop Etoufée
Born in the Haight Ashbury neighborhood of San Francisco, Mike Weller grew up in suburbs of San Jose, where he discovered cooking as his first profession and lifetime passion. After wandering through typical teenage jobs at pizza joints and ice cream parlors, Mike's first "restaurant" job was with Sambo's Coffee Shops, slinging hash and cooking eggs for the bar rush and Sunday breakfast crowds.  He moved on to help open several restaurants, attend the California Culinary Academy, and study under European chefs with Michelin backgrounds. Later, Mike served as an executive chef for catering companies, wineries and country clubs.  When his son was born, Mike transitioned his career into teaching, returning to the CCA where he eventually became the Executive Chef and Director of Academics.  Having taught for Le Cordon Bleu North America in both online and brick and mortar schools, Mike is thrilled to return to teaching in a neighborhood-based community.  When he is not teaching he tends to his backyard garden, helps his wife to can and preserve food, and loves to cook for his friends and family.
Photo courtesy of Mike Weller