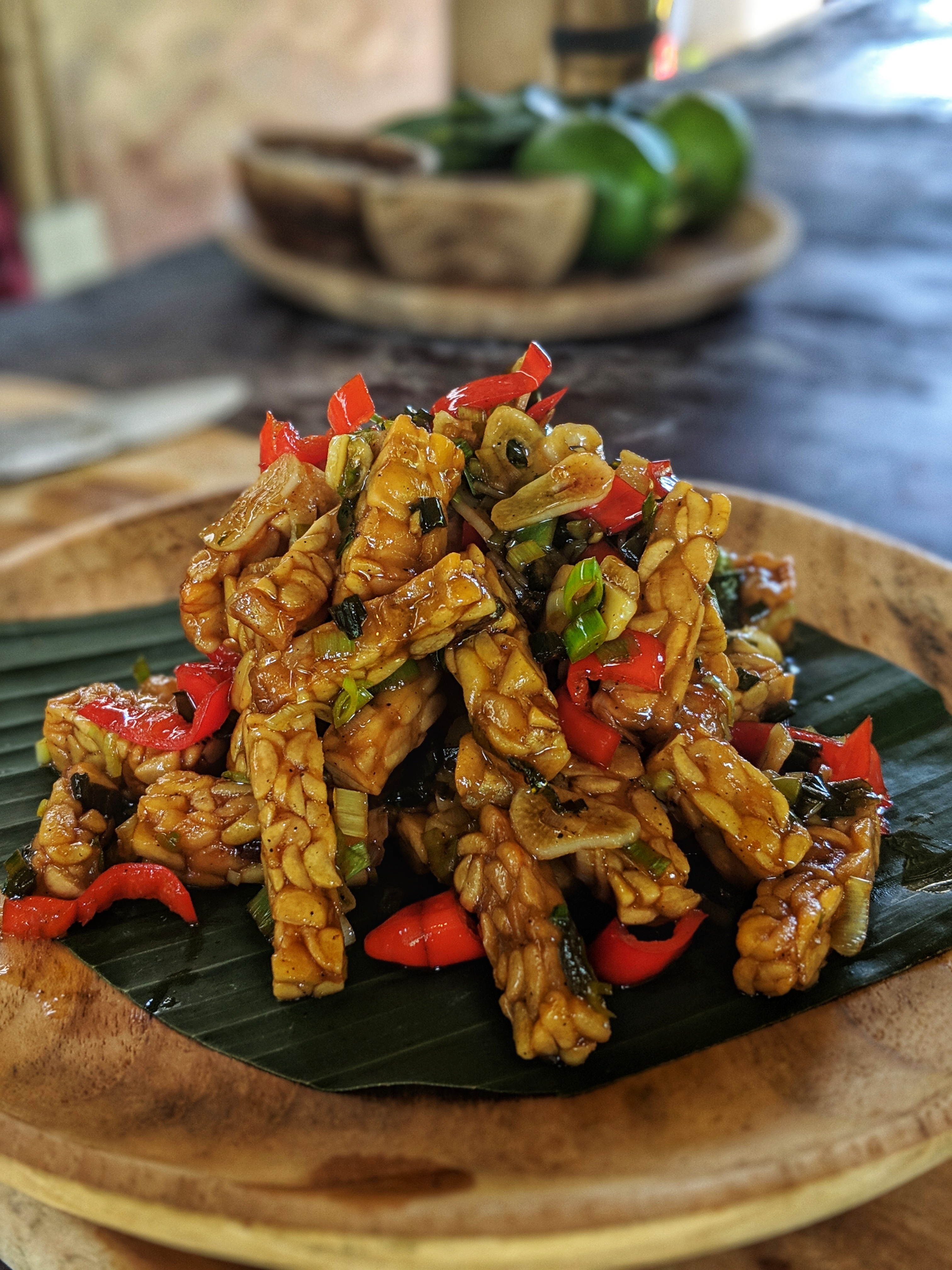 A hands-on cooking class culminating in a dinner served with wine and beer.
Bali is one of the 17,000 islands that make up the archipelago of Indonesia. Although Indonesia is predominantly Muslim, Bali is unique in that it is mostly Hindu. This difference in religion translates into Bali having more Indian influences and being more amenable to vegetarian options. In this class we will discuss prominent and unique ingredients found in Balinese cuisine like rice, galangal, turmeric and kaffir lime as well as key preparation techniques.
Chef Marie recently returned from a 7-month creative sabbatical around the world, spending two of those months in Bali. During that time she took cooking classes, explored hidden markets and peppered the kind chefs at her local warung (restaurant) with questions about the nuances of the dishes. She looks forward to bringing this unique and lesser known cuisine to 18 Reasons.
MENU
Tempeh asam manis with rice: stir-fried tempeh in a sweet soy sauce (pictured)
Bumbu spice paste: one of the foundational pastes in Balinese cooking
Tofu curry with seasonal vegetables
Gado gado: Indonesian salad of fresh & cooked vegetables, tofu, eggs and peanut sauce. Literally means "mix mix."
Nasi goreng: vegetable fried rice
Coconut black rice pudding with coconut agar agar
*Menu is vegetarian (but can be made vegan) and gluten free
Marie Brennan graduated from the University of Wisconsin with a degree in Dietetics. An avid traveler, she has explored her love of food while on the road. Marie's travels have taken her to study cheese-making in Tasmania, Thai cuisine in Bangkok, tea and fermented foods in the mountains of Korea, raw food in Western Australia and the kitchens of numerous meditation centers around the world. She moved back the the USA to study in the Natural Chef program at Bauman College, where she also worked and taught for several years. Marie presently lives in the Bay Area and works as an educator, private chef and consultant. You can find her at www.hedonistinmoderation.com and follow her IG @hedonistinmoderation
Photo courtesy of Marie Brennan