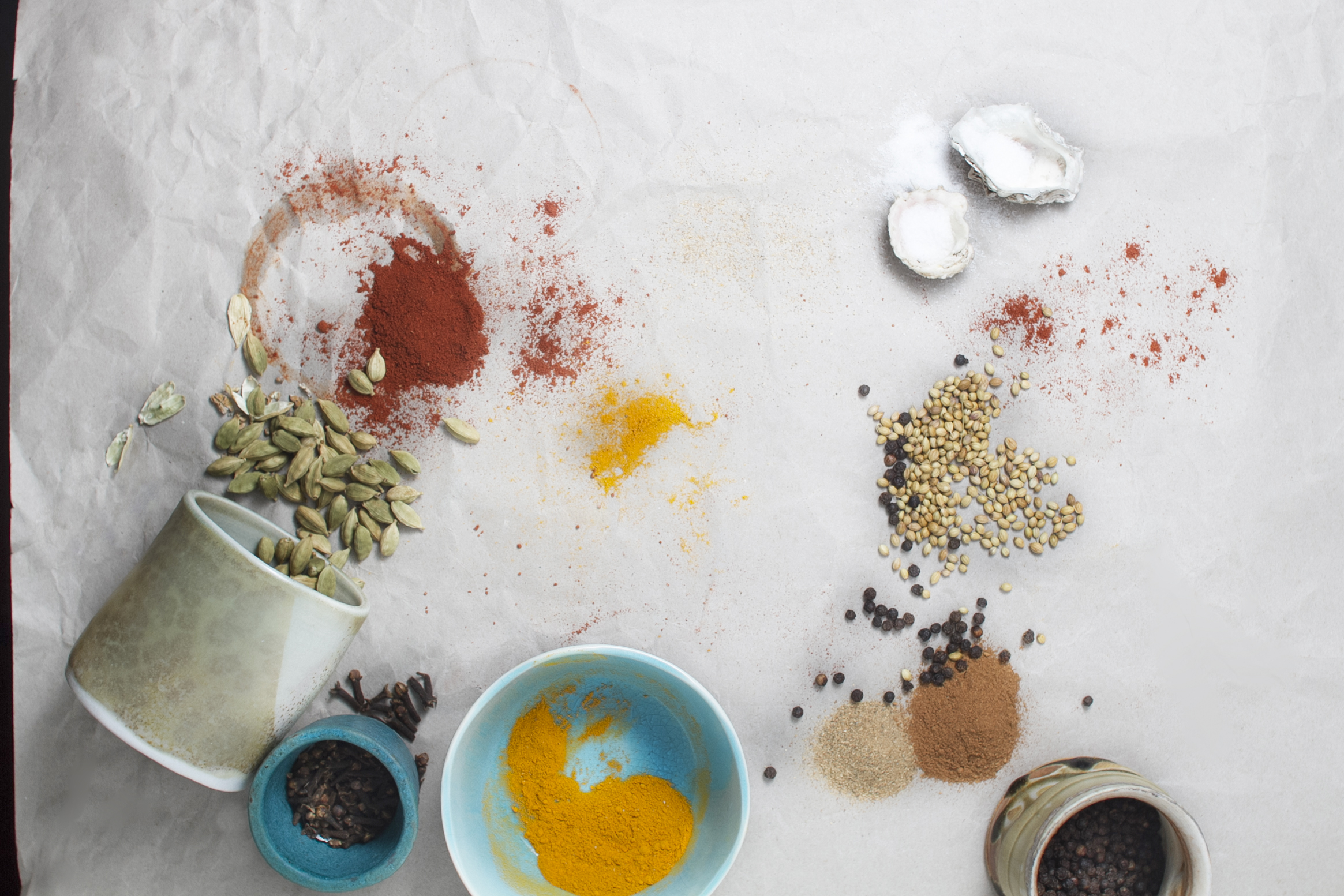 A hands-on cooking class culminating in a family-style meal served with wine.
We know the spice aisle and the herb shelf are intimidating areas to shop. We all have our "comfort zone" spices and herbs: basil, thyme, black pepper, chili powder and cinnamon, just to name a few. There's too many options that we don't know well and as our herbs and spices languish on our shelves and fridge, we aren't motivated to try new varieties. To help cooks get out of their rut, Justin designed this class to teach how to use a variety of dried spices and fresh herbs to enliven your home cooking. Justin selected several spices and herbs he thinks home cooks can be using more often: saffron, lime leaf, dried chilies, and more. In class, you'll smell and taste the difference between pre-ground vs. whole spices and dried vs. fresh herbs. Justin will share strategies on shopping and storage. You'll overcome your hesitation by cooking with your fellow classmates and sit down to a flavor-packed lunch!
MENU
Burrata, herbed green goddess, dry spiced bread crumbs
Saffron and coconut braised mussels, shallots, lime leaf, guajillo chilis, cilantro
Dry rubbed espresso BBQ pork ribs with coriander, fennel, star anise, and smoked paprika
Turmeric panna cotta, green cardamom, candied ginger, seasonal berries
Originally from Illinois, Justin Fertitta began working in professional kitchens at the age of 15. After graduating from The Culinary Institute of America in 2004, Justin honed his craft in the trenches of the New York City restaurant scene for over a decade, working in many renowned kitchens including Aquavit, The Waldorf Astoria, Five Leaves and Desnuda. Throughout his career as a Chef, teaching those around him has always been a primary focus and passion.  Justin loves to travel abroad whenever the opportunity presents itself. He's traveled extensively throughout Southeast Asia, exploring the many regional cuisines and wet markets, where he draws much of his culinary inspiration. In 2015, he developed the first ever Chef-in-Training Program at The Doe Fund, a nonprofit that provides job training opportunities for individuals with a history of homelessness, addiction, and incarceration. His experience leading the course for two years solidified a passion for teaching culinary arts. A recent transplant to the Bay Area, he splits his time as a private chef and a freelance culinary instructor. Justin is excited to explore California cuisine and share his experience and passion with those at 18 Reasons.