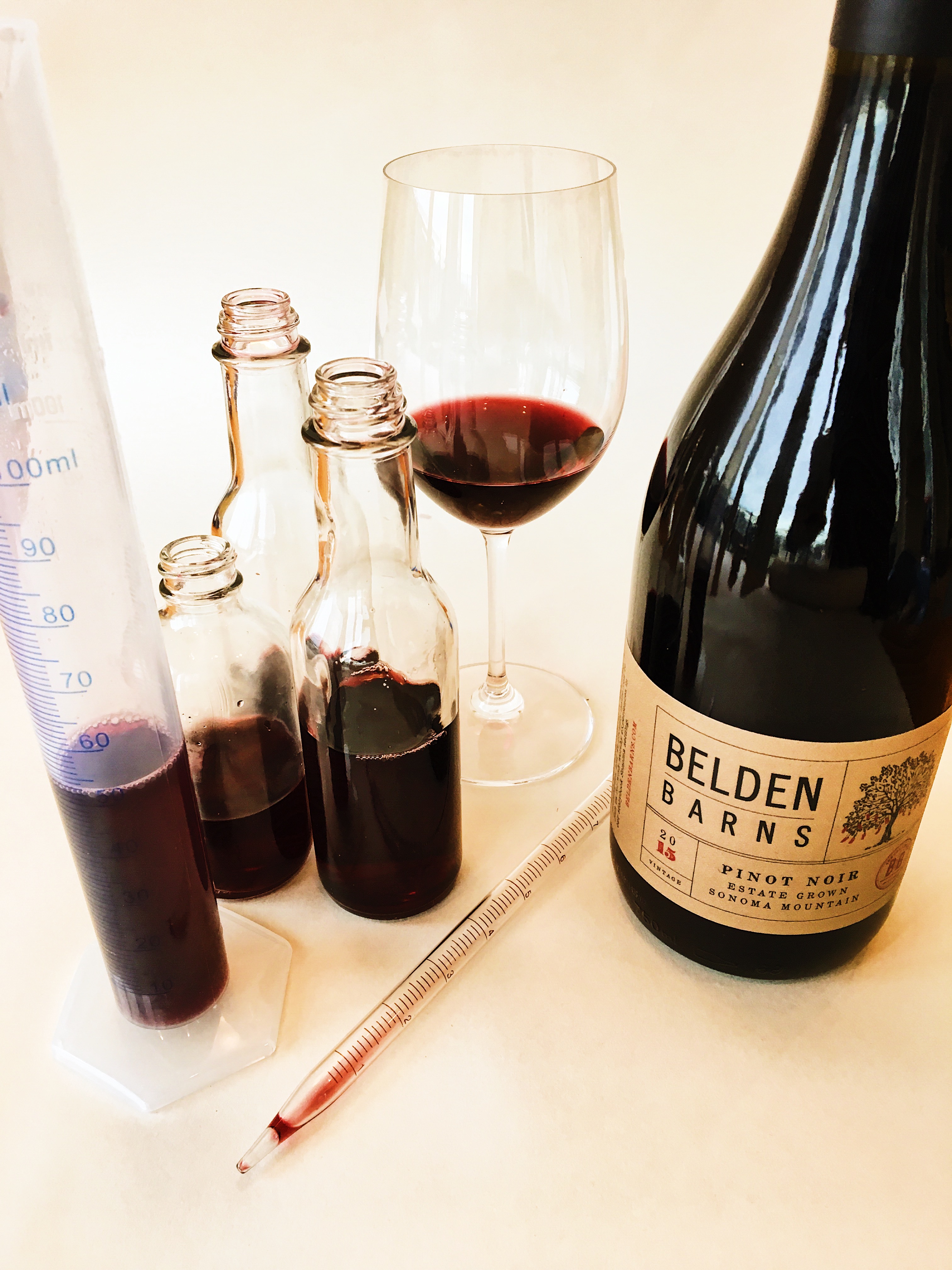 A wine blending workshop for couples. One ticket admits two people to work together to blend one bottle of wine to take home. 
Ah, Valentine's Day…. Love it or hate it, we can all agree that toasting the one you adore over an overpriced meal rarely lives up to expectations. Introducing Belden Barns' Bottle Your Love Valentine's Day Event!
What better way to celebrate everything that makes your relationship unique than by creating a special bottle of wine with the one you love? Imagine a blend designed exactly to your personal tastes - complete with a label that the two of you design. Picture yourselves creating that blend together at cozy 18 Reasons while you enjoy delicious bites paired with Belden Barns wines.
One ticket admits two people to the event and includes delicious bites from 18 Reasons' Chef Mike Weller, one glass of Belden Barns wine per guest, and one bottle of custom-blended wine that each couple will bring home. Please note that the member price is for 18 Reasons Members only. Membership information can be found here.
Though we will provide art supplies for decorating your wine bottle, feel free to bring personal photos and other sentimental items you may want to incorporate onto your label.
MENU
Salmon Cake, Crab Rangoon, Lemongrass Skewered Prawns
Beet, Arugula, Goat Cheese and Rye Panzanella
Mushroom Stuffed Roast Chicken Ballotine, Chicken Liver Crostini, Pomme Puree, Jus 
Lemon Almond Cake
Vegetarian options available upon request before the event. As you purchase a ticket, please email info@18reasons.org if you have restrictions/allergies, so we can take care of you. 
This is for the first seating at 6 pm. If you'd like a ticket to the 8 pm seating, click here.
About Belden Barns
A New York City girl and a Colorado farm boy fall in love, say goodbye to their travel-heavy day jobs, birth a couple of munchkins, and follow their dreams to create a family wine business.  Lauren and Nate Belden have been growing grapes on Sonoma Mountain for over a decade and selling their grapes to some of Sonoma's highest regarded boutique labels.  Wanting to create a brand that celebrated life's magical possibilities, the Beldens harvested fruit in 2012, released those wines in 2014, and have been enjoying the ride ever since. 
Born in the Haight Ashbury neighborhood of San Francisco, Mike Weller grew up in suburbs of San Jose, where he discovered cooking as his first profession and lifetime passion. After wandering through typical teenage jobs at pizza joints and ice cream parlors, Mike's first "restaurant" job was with Sambo's Coffee Shops, slinging hash and cooking eggs for the bar rush and Sunday breakfast crowds.  He moved on to help open several restaurants, attend the California Culinary Academy, and study under European chefs with Michelin backgrounds. Later, Mike served as an executive chef for catering companies, wineries and country clubs.  When his son was born, Mike transitioned his career into teaching, returning to the CCA where he eventually became the Executive Chef and Director of Academics.  Having taught for Le Cordon Bleu North America in both online and brick and mortar schools, Mike is thrilled to return to teaching in a neighborhood-based community.  When he is not teaching he tends to his backyard garden, helps his wife to can and preserve food, and loves to cook for his friends and family.
Photo courtesy of Belden Barns