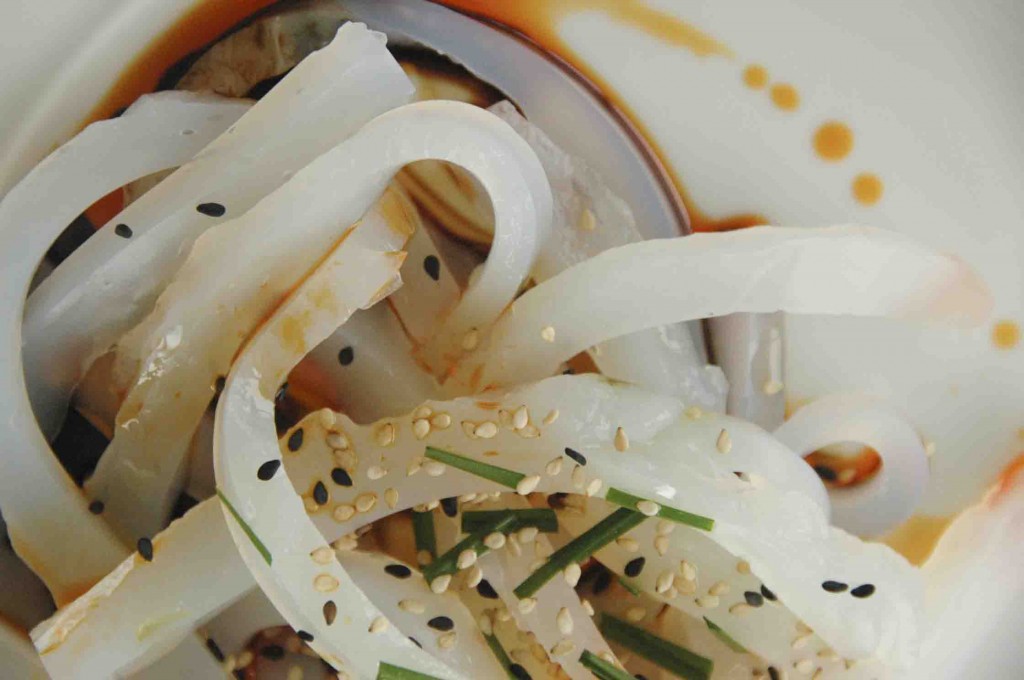 A hands on cooking class culminating in a lunch served with wine and beer.
Making Asian noodles from scratch is fun. And it is easier than you may think. Continuing our series on making Asian noodles, this class focuses on non-pulled noodles (i.e. through a pasta machine), which is a staple in many homes. Chewy rice cakes, bouncy mung bean cakes, and hand-formed torn noodles. You will be making the dough for the noodles from scratch, and cooking up dishes to enjoy with them. 
MENU
Korean Rice Cake Dak Galbi — Spicy Chicken, Sweet Potatoes, Shiso and Tteok Rice Cakes 
Sichuanese Liang Fan Cold Noodles — Jelly Noodles with Cucumber and Housemade Mala Red Oil (pictured)
Hakka Mee Hoon Kueh / Pan Mee — Hand Torn Wheat Noodles with Pork, Shrimp, Crispy Lard, Crunchy Anchovies and Garlic Oil
Teochew Chai Tow Koay — Rice Cakes, Fresh and Pickled Radish, Bean Sprouts, Shrimp, Eggs
Linda Tay Esposito is a self-taught chef whose food represents a tribute and a commitment to the authenticity of the cuisines of the Pacific Rim. She grew up in Malaysia, lived in China and Hong Kong and traveled extensively in the region exploring the vast culinary offerings and traditions, and capturing the essence of the local cuisines. She brings these exciting flavors, passion and knowledge to the classroom. Her style of teaching makes even the most complex of curries simple to make and a gastro-adventure experience of "Flavor Explosions."
A freelance culinary educator, Linda teaches at the The Cooking School at Cavallo Point and at Sur La Table Cooking School. Previously, she was a lead chef at Parties That Cook where she teaches global cuisines in a team building setting.  She started her teaching career at Whole Foods Market Culinary Center. Most recently, she was head of operations and chef at Bay Area's artisan tofu maker, Hodo Soy. She writes a food blog at www.flavorexplosions.com
(Photo courtesy of Linda Tay Esposito)