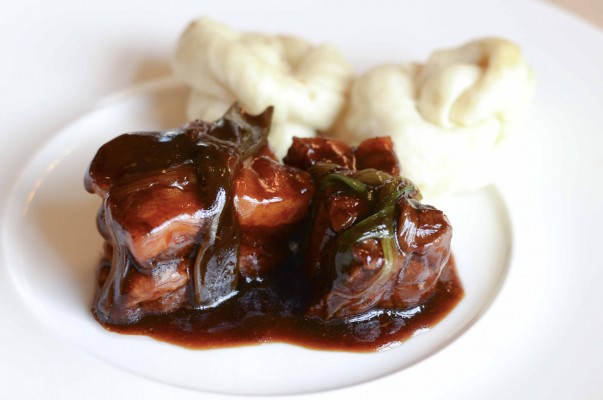 A hands-on cooking class culminating in lunch served with wine or beer.
Delicate, fragrant, and often a series of xiao chi (small eats), Shanghainese cuisine takes influence from the nearby areas: vinegars of Zhejiang, tea from Hangzhou, and the sweet Su-style red braising technique. Explore this region with Linda, creating a refreshing lunch fit for our San Francisco late summer.
MENU
Drunken Chicken - Chicken in Shao Xing Wine, cooked sous vide style
Ma Lan Tou - Tofu Chrysanthemum and Parsley Salad
Kao Fu - Braised Seitan with Mushroom Medley
Longjing Xia Ren – Dragonwell Tea Shrimp
Dong Bo Rou - Braised Pork Belly (pictured)
Nian Gou - Rice Cakes with Chicken, Mushrooms and Cabbage
Jiu Niang (Fermented Rice) with Glutinous Rice Balls
Linda Tay Esposito is a self-taught chef whose food represents a tribute and a commitment to the authenticity of the cuisines of the Pacific Rim. She grew up in Malaysia, lived in China and Hong Kong and traveled extensively in the region exploring the vast culinary offerings and traditions, and capturing the essence of the local cuisines. She brings these exciting flavors, passion and knowledge to the classroom. Her style of teaching makes even the most complex of curries simple to make and a gastro-adventure experience of "Flavor Explosions."
A freelance culinary educator, Linda teaches at the The Cooking School at Cavallo Point and at Sur La Table Cooking School. Previously, she was a lead chef at Parties That Cook where she teaches global cuisines in a team building setting.  She started her teaching career at Whole Foods Market Culinary Center. Most recently, she was head of operations and chef at Bay Area's artisan tofu maker, Hodo Soy. She writes a food blog at www.flavorexplosions.com
(Photo courtesy of Linda Tay Esposito)