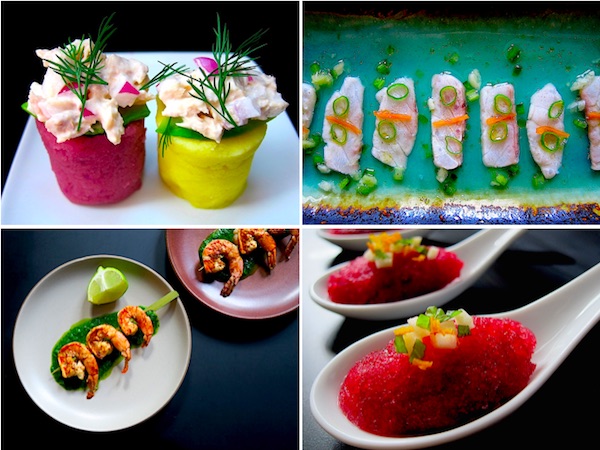 A hands-on cooking class culminating in dinner served with wine and beer.
Apply modern cooking techniques to traditional Peruvian dishes in this hands-on class lead by our resident Peruvian chef, Nico. Using clarification, emulsification, deconstruction, torching, sous-vide, and smoke we will prepare a menu which includes a transparent
chupe
,
tiradito
 with sea foam, a 
huancaina
 garden, a modern 
causa
 timbale, shrimp 
anticuchos
,
smoked quinoa, and purple corn mousse
. The class will culminate in a seated multi-course dinner with wine.
MENU
Chupe Consommé — The traditional soup from the Andes is clarified to separate impurities and served as a consommé.
Tiradito Nikkei with Sea Foam — The sashimi-like tiradito is made with rock cod, lime, ginger, garlic, celery, habanero, green onion, and sesame oil. It's enhanced by using soy lecithin to create a leche de tigre sea foam.
Huancaina Garden — The traditional papa a la huancaina is a potato and lettuce salad topped with a creamy aji amarillo and queso fresco sauce. This deconstructed version has the sauce on the bottom of the plate and seasonal roasted vegetables arranged on top as a garden.
Tuna Causa Timbale — Causa is a potato purée layered casserole with a tuna salad filling. This modern presentation shapes the purée into a roll that is cut into cylinders and topped with a tuna salad.
Sous Vide Anticuchos — The shrimp kebabs are usually marinated with aji panca and vinegar for hours then grilled. Using sous vide, we can cook the shrimp and infuse all the flavors in a shorter time. Using a torch we can sear the shrimp before plating over a chimichurri sauce.
Smoked Quinoa Tabbouleh — Prepared using quinoa, red onions, red peppers, mint, lime, olive oil, smoked with a smoking gun.
Chicha Morada Mousse — The traditional purple corn drink, chicha morada, is made into a mousse using methylcellulose and xanthan gum.
Born in Peru and based in San Francisco, California, 
Nico Vera
 is the founder, chef, mixologist, writer, and photographer for 
Pisco Trail
. As a regular teacher and guest chef at 18 Reasons, his pop-up dinners and classes are a gastronomical tour of Peru's criollo cuisine and its unique culinary history. Visit 
Pisco Trail's calendar 
for a preview of upcoming events, or explore cocktails and recipes that are a 500 year fusion of Inca, Spanish, African, Chinese, and Japanese ingredients and cultures. In addition to the blog, you can follow Pisco Trail's adventures on 
Twitter
, 
Facebook
, and 
Instagram
.
(photo courtesy of Nico Vera)