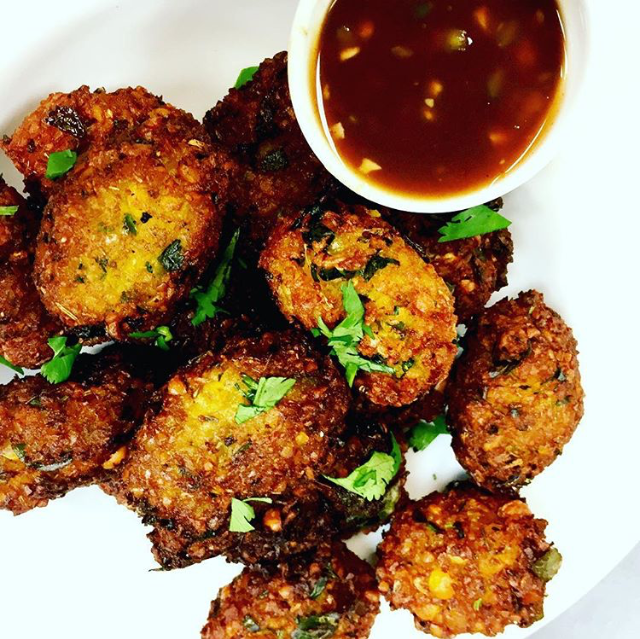 A hands-on cooking class culminating in a family-style dinner served with wine and beer.
In many of our Southeast Asian cuisine classes, we are elbow deep in dried shrimp and fermented fish and it's easy to forget that there are plant-based ways to create depth of flavor from this part of the globe.  Due to the prevalence of Hindu and Buddhist religious traditions in the region, there are many vegan dishes taking advantage of the abundance of aromatics like lemongrass, turmeric and galangal, and using fermented foods for both flavor and nutrients. In this class, learn how to create tasty vegan dishes using real, whole ingredients, and get tips on creating a vegan pantry. 
MENU
Masala Vada - Chana Dal Split Pea and Curry Leaves Fritters with Tamarind Sauce (India, pictured)
Jackfruit Thai Red Curry with Lime Leaves 
Sambal Daun Keledek - Spicy Sweet Potato Greens Stirfry (Malaysia)
Tempeh Nasi Goreng - Fried Red Rice with Fermented Soybeans, Cashews and Yuba Omelet (Indonesia)
Mango Sticky Rice with Coconut (Thailand)
Linda Tay Esposito is a self-taught chef whose food represents a tribute and a commitment to the authenticity of the cuisines of the Pacific Rim. She grew up in Malaysia, lived in China and Hong Kong and traveled extensively in the region exploring the vast culinary offerings and traditions, and capturing the essence of the local cuisines. She brings these exciting flavors, passion and knowledge to the classroom. Her style of teaching makes even the most complex of curries simple to make and a gastro-adventure experience of "Flavor Explosions."
A freelance culinary educator, Linda teaches at the The Cooking School at Cavallo Point and at Sur La Table Cooking School. Previously, she was a lead chef at Parties That Cook where she teaches global cuisines in a team building setting.  She started her teaching career at Whole Foods Market Culinary Center. Most recently, she was head of operations and chef at Bay Area's artisan tofu maker, Hodo Soy. She writes a food blog at www.flavorexplosions.com
(Photo courtesy of Linda Tay Esposito)