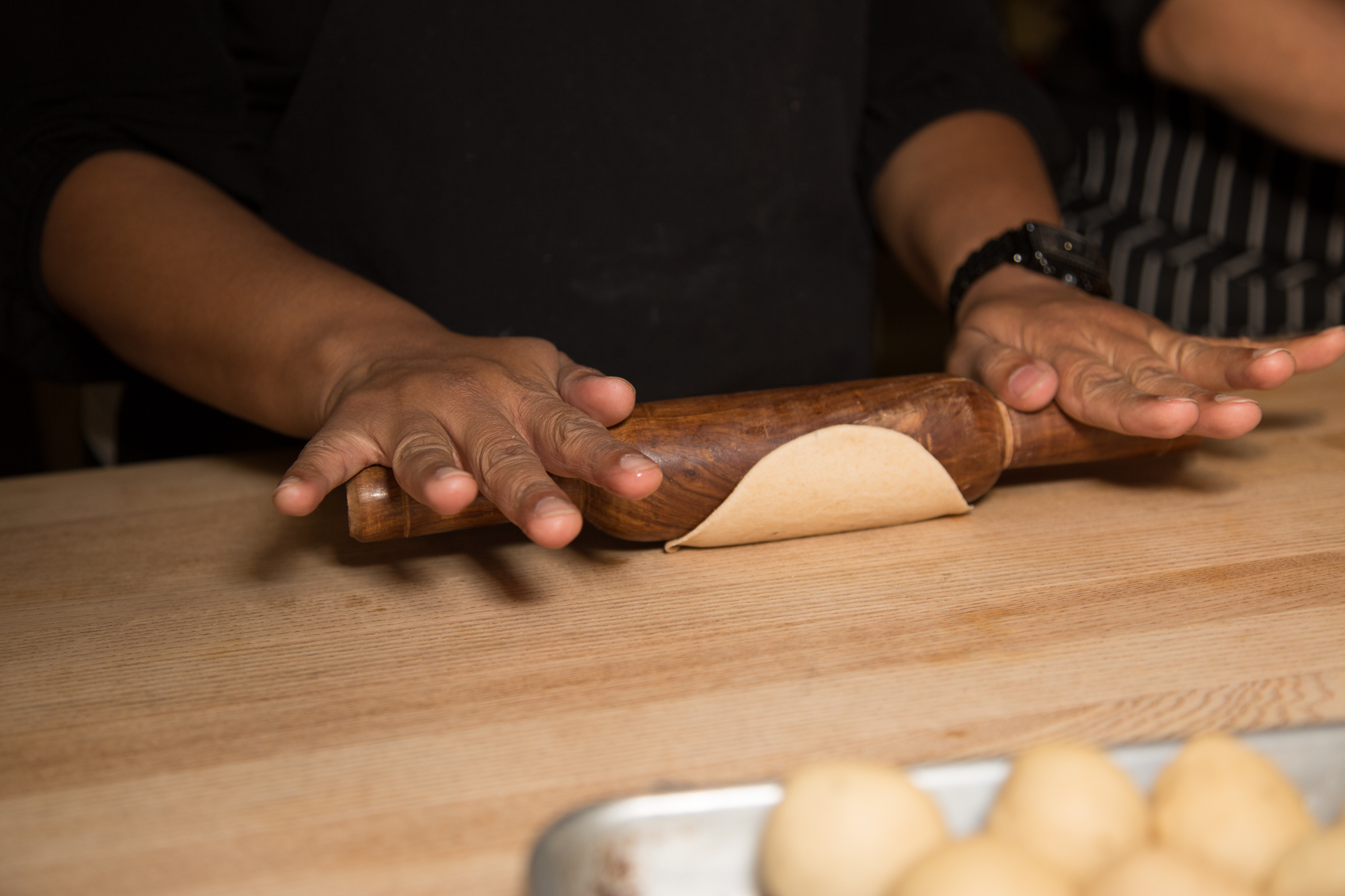 A hands-on cooking class culminating in a family style dinner served with wine and beer.
A kathi roll is a street-food dish originating from Kolkata. In its original form, it was a skewer roasted kebab wrapped in a parantha bread. These days, many variants have emerged, and fall under the generic category. Today, any wrap containing a filling folded in an Indian flatbread is considered a kathi roll.
You will learn how to make a common Indian flatbread, three fillings (which are stand alone dishes in their own right!) and a variety of condiments. We will include Simran's mother in law's famous masala chai recipe. If making Indian bread at home is not something you want to do regularly, we will share store-bought alternatives that work.  And lastly, we'll include an introduction to Indian spices to help demystify those new to these flavors.
MENU
Paranthas - Indian flatbread
Sukhi Aloo Subzi - Dry Potato Curry
Masala Paneer - Stir-fry Indian Cheese with Spices
Masala Chicken - Simple dry chicken curry
Onion Pickle
Mint Chutney
Raita - cooling yoghurt dip
Khachumber - Indian "salsa"/salad
Masala Chai
Served with a pre-made Dahl Makhani (Roop's amazing recipe!)
Simran Singh and Stacie Dong are San Francisco moms with a passion for cooking, eating and exploring the world through food. On their blog, A Little Yumminess (www.alittleyum.com), they share recipes from around the world, favorite foodie destinations in the Bay Area and ideas for bringing up adventurous eaters. Throughout the year the run very successful day and week-long "around-the-world" cooking camps and classes for youth aged from K- 12.  They also teach regional Indian and Asian cooking classes at 18 Reasons and other venues around the Bay Area.  They are also regular contributors to the San Jose Mercury News food section, Sunset Magazine's blog, Bay Area Parent Magazine, and other websites and publications.
Roop Soni grew up in Kashmir and Punjab in a family of both professional chefs and talented home cooks and from a young age she began learning essential techniques and treasured family recipes. These days Roop splits her time between New Delhi and San Francisco. She continues to cook amazing meals for her family and friends, document family recipes, and occasionally teach and cook for public events like this one.