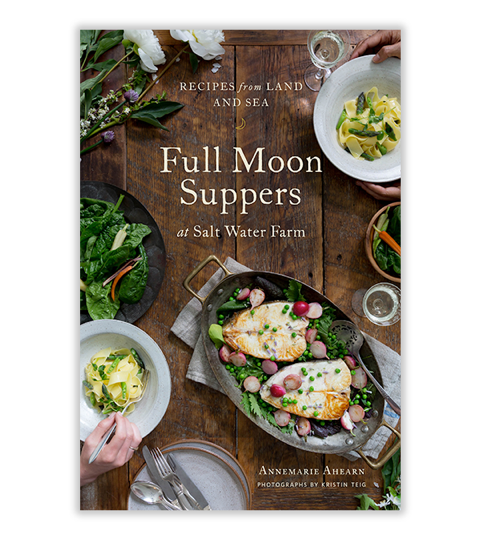 A hands-on cooking class culiminating in dinner served with wine and beer.
Entertaining can be a daunting proposition for many. In this class, we will address how to gracefully prepare a five course meal for a table full of hungry guests. We will discuss shopping, timing, execution, and presentation, while working to prepare a meal together, using recipes from Full Moon Suppers at Salt Water Farm, Annemarie's recently released cookbook. Through this class, you will gain a more meaningful and measured approach to hosting your own parties.
MENU
Elderflower Champagne 
Buttered Toasts, Local Crab, Chive Mayonnaise, Cucumbers, and Tarragon
Pappardelle, Asparagus, Fava Greens, Pecorino, and Pea Shoots
Spinach, Arugula, Carrot Thinnings, and Sunshine Vinaigrette
Cast Iron Halibut Steaks with Herbed Compound Butter, Radishes, Arugula, and Peas
New Potatoes with Chive Butter
Cornmeal Shortcakes, First Strawberries, and Elderflower Whipped Cream
About the book: Full Moon Suppers at Salt Water Farm invites you to a series of magical, seasonal suppers to celebrate the bounty that the land and sea of Maine's Northern coastline provide. This menu driven cookbook offers twelve beautifully crafted meals derived from more than one hundred sold-out evening events at Salt Water Farm, Annemarie's cooking school in Maine. Even if you can't make it to one of Annemarie's monthly Full Moon Suppers, you can re-create them at home, beneath a full moon - or any night- for family and friends. Books will be available for sale at this event and are not included in the ticket price.
Annemarie Ahearn began her career in New York City, where worked in the editorial offices at Saveur Magazine and then decided to enroll at the Institute of Culinary Education. She then went on to work for Dan Barber and Tom Colicchio and took on a number of clients as a personal chef. Throughout her time in New York, she maintained a food column called "The Downtown Chef" and volunteered at the Slow Food headquarters and the Union Square Farmer's Market.  Ahearn also studied and worked in France and Spain at restaurants and cooking schools.
Ahearn founded
Salt Water Farm
in 2009, a cooking school for home cooks located in beautiful Lincolnville, Maine.  The classes focus on large scale entertaining, building seasonal menus, resourcefulness in the kitchen and cooking instinctively. Ahearn is the primary instructor at the school and teaches both weeklong workshops that focus on fundamental kitchen and gardening skills, as well as specialized cooking classes such as bread baking, pie making and entertaining.
Before turning 30, Ahearn was named "Top 30 Under 30" in Food & Wine Magazine, "changing the way America eats." Salt Water Farm has been featured in Bon Appetit, the New York Times, the Wall Street Journal, the Boston Globe, and the Portland Press Herald. Ahearn is the author of Full Moon Suppers, published by Roost Publishing and contributes a monthly recipe column to DownEast Magazine. Recently, Ahearn initiated a program called "Back to Basics" in her local school system, teaching fundamental cooking skills to high school students in Maine.