DIY Holidays: Chevre, Truffles, and Cheeseballs!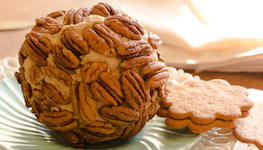 A hands-on cooking class. Class includes a guided goat cheese tasting, recipes, cheesemaking basics and advanced techniques; each student will leave with their very own chevre and festive cheeseball.
Want to make your very own extraordinarily fresh cheese for the holiday table? We do! And luckily we have author and instructor Kirstin Jackson to show us how. In this hands-on class, we'll learn to prepare a fresh chevre, goat cheese truffles, and an old-school, supremely festive cheeseball! We'll learn where to source good milk, the science of coagulation, and how to personalize recipes using different cultures and flavorings.  
Author of It's Not You, it's Brie: Unwrapping America's Unique Culture of Cheese, Kirstin Jackson is a cheesemaking teacher, wine and cheese educator, and writer. She loves teaching people how to make ricotta and creamy burrata pillows as much as she adores pairing her new favorite local cheese with wine. She blames her parents who took her on trips to the California dairy country at a very young age for feeding her current obsession.