Nose to Tail Cooking with Dario Cecchini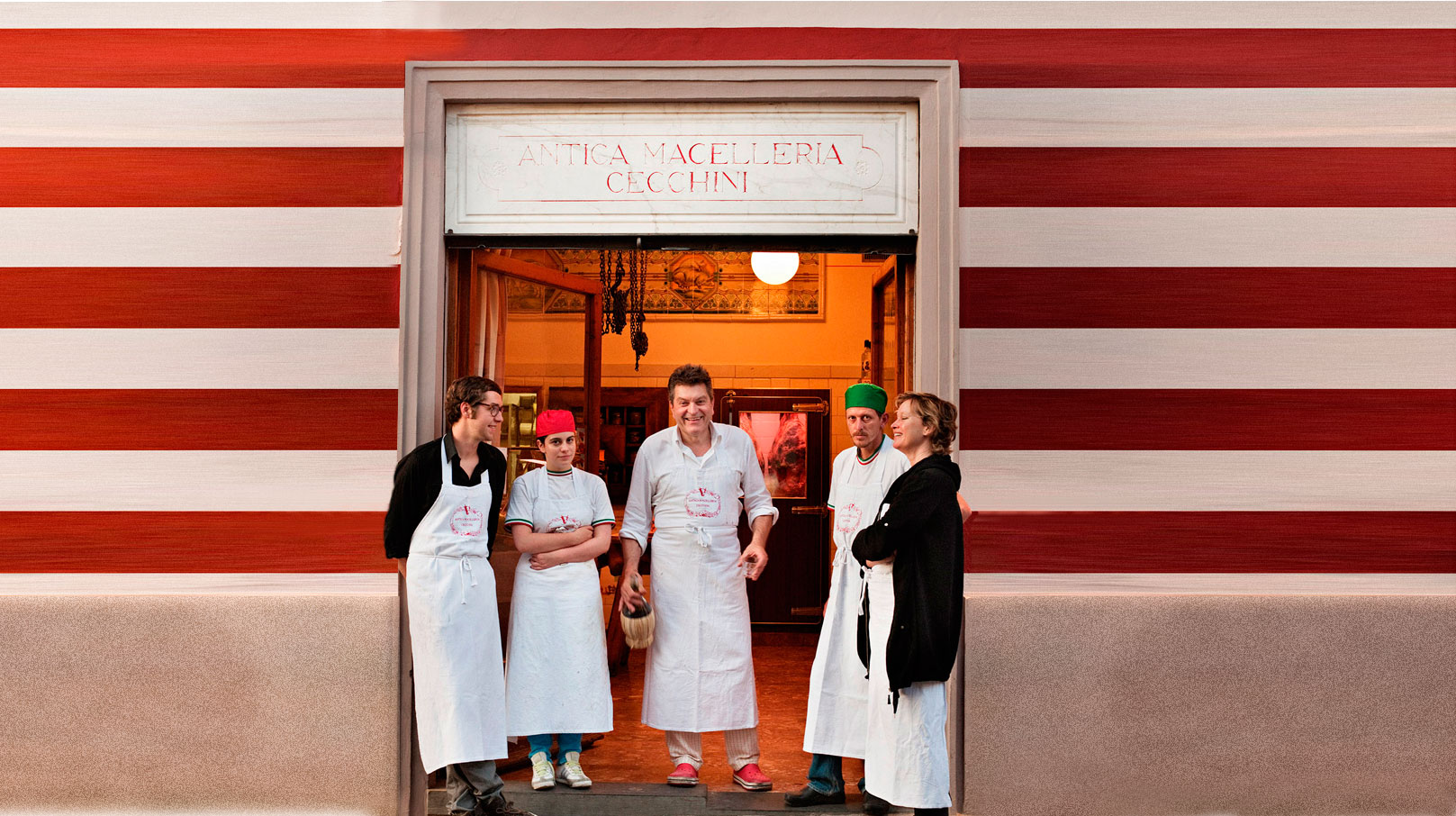 This class is a mix of demonstration and hands-on cooking; it will culminate in dinner served with wine.
The meat counter can be an intimidating place for any shopper, but especially for those of us who aspire to embrace the Nose to Tail philosophy. Here at 18 Reasons, we believe that the more knowledge you have, the more confident you become! And we can't imagine a better person to offer an in-depth look at the hows and whys of ethical meat consumption than the renowned, Dante-quoting butcher from Italy: Dario Cecchini. In this 4-hour course -- translated by Viola Buitoni -- Dario will share his knowledge of and passion for the whole pig. 
Don't miss this extraordinary opportunity to cook, dine, and pontificate (and possibly sing!) with the world's most famous butcher!
"A convivium, the act of living together, is necessary to appreciate food in joy and friendship. This is my life and work philosophy." Dario Cecchini
MENU
Burro del Chianti ~ Chianti butter-herbs and red wine lard spread
Arista in porchetta ~ Pork loin porchetta 
Braciata ~ Neck meat sweet and sour stew 
Patate e estremità ~ Potato casserole with pig's feet 
Vegetable sides, prepared by Viola Buitoni
Fresh, seasonal fruit
 
This event is co-organized by the Consulate General of Italy and the Italian Cultural Institute in San Francisco -- to mark the First Week of Italian Cuisine in the World -- and in collaboration with Bay Area Italian food expert and cooking instructor Viola Buitoni. Immense thanks to the contributions of SanPellegrino/Acqua Panna, Arclinea, Italfoods and Antica Macelleria Cecchini.
Viola Buitoni, a direct descendant of the famed pasta and chocolate family, hails from Perugia, in the heart of Umbria. She came to the US for college, but soon after attending NYU as an economics major, she was drawn back into her genetic passion for food. She ran an Italian catering business and had a shop showcasing the best of Italian food on Madison Avenue in NYC. After moving to San Francisco in 2004 to start a family, Viola can now be found giving lectures on Italian food traditions and trends, and teaching cooking classes in collaboration with 18 Reasons, SF's Italian Cultural Institute and Italian Consulate, Cavallo Point Lodge Cooking School, Draeger's in San Mateo and Blackhawk and Pepperberries in Eugene, OR. Since 2013, she has been a brand ambassador for Baci, the iconic Italian chocolates made by Perugina, the worldwide confectionery brand founded by her great grandfather. Viola has also produced food articles and cooking videos for MissionLocal.org. Recently, she began speaking on panels about tradition and innovation in food production and leading groups to explore local and artisanal food systems and producers in Italy.You can follow her adventures and find information on traveling with her at www.violabuitoni.com.