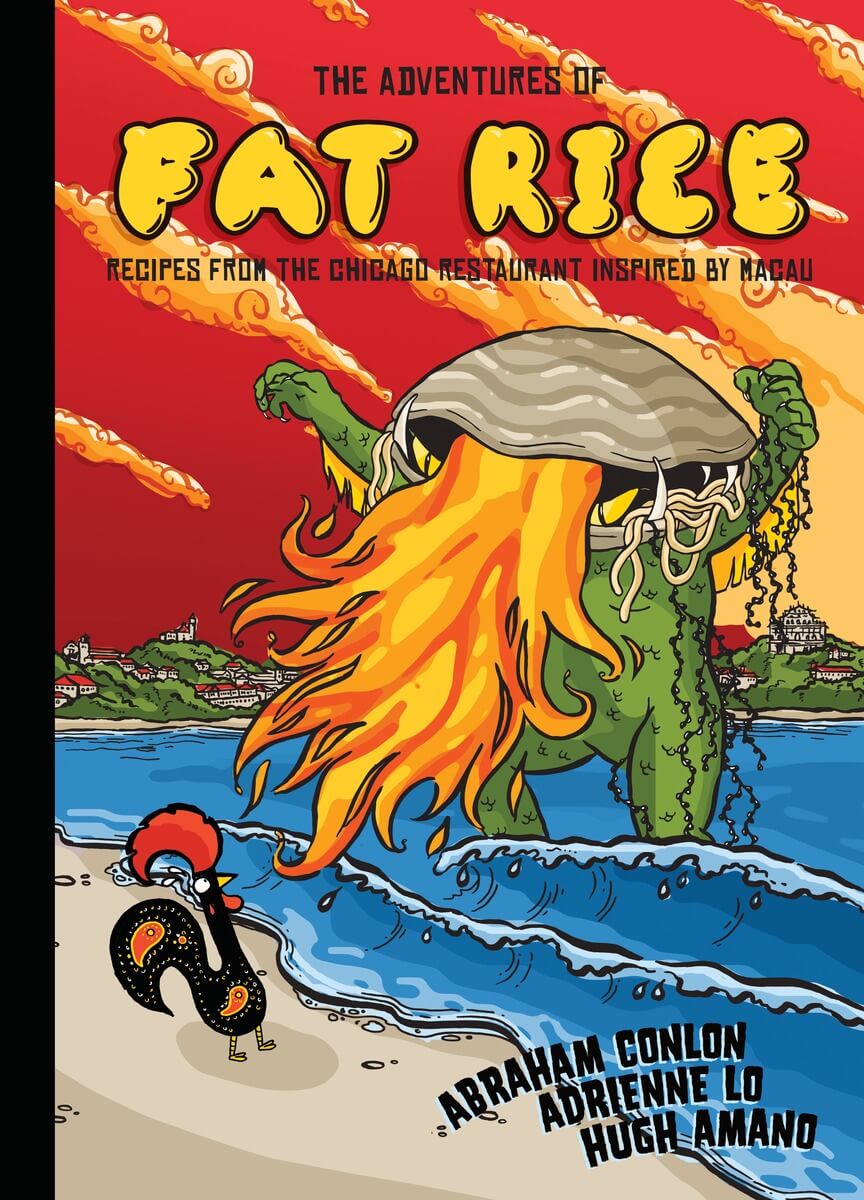 A hands-on cooking class culminating in dinner served with wine and beer.
An hour's ferry ride from Hong Kong, on the banks of the Pearl River in China, lies Macau—a modern, cosmopolitan city with an unexpected history. For centuries, Macau was one of the world's greatest trading ports: a Portuguese outpost and crossroads along the spice route, where travelers from Europe, Southeast Asia, South Asia, and mainland China traded resources, culture, and food. The Adventures of Fat Rice is the story of how two Chicago chefs discovered and fell in love with this fascinating and, at least until now, unheralded cuisine.
In this exicitng class, visiting authors and chefs Abraham Conlon and Adrienne Lo will teach us how to bring the eclectic and wonderfully unique—yet enticingly familiar—flavors of Macau into our home kitchens!
MENU
Potstickers Royale with Crispy Crepe 
Chilli Prawns
Dry-Fried Green Beans
Porco Balichang Tamarindo -- Pork Belly Braised with Tamarind and Balichão (a unique, regional shrimp paste)
Coconut Rice
Serradura -- Macau's Famous Sawdust Pudding
Growing up in Lowell, Massachusetts, Abraham Conlon's culinary beginning was heavily impacted by his Portuguese heritage and a strong Southeast Asian presence in his community. Beginning a professional cooking career at the age of 15, Abraham gained knowledge of classic sensibilities early on. His understanding of French technique bloomed under the tutelage of Frédy Giradet and Grey Kunz. He continued his training at the Culinary Institute of America while also studying fusion techniques under Norman Van Aken. The next stage in Abraham's career found him running Chez Asian Bistro in the Dominican Republic, melding traditional Southeast Asian styles with local ingredients, followed by Augustine's at Fredericksburg Square in Virginia. Adrienne Lo, a Chicago native with Chinese heritage, attended Trinity College in Connecticut. During her junior year, Adrienne studied abroad in India, and after graduation, she traveled to Italy to work on a farm. Upon returning to Chicago, Lo met Conlon (who had also re-located to the city) and founded X-marx, an underground experience exploring modern techniques as well as world home-style cuisines. Their current venture, Fat Rice, which opened in 2012, is a return to their respective roots. Harmonizing the rich influence of Abraham's & Adrienne's upbringing with a thirst for culinary exploration and preservation, Fat Rice focuses on food from modest traditions, prepared with an immense respect for ritual, custom, and technique. In addition to Abe being named a "Rising Star" by StarChefs in 2015, Fat Rice has been named a "Best New Restaurant" by Bon Appetit, Jean Banchet and Diners Club International, and has also been recognized by the James Beard Foundation, Food & Wine Magazine, Eater National and Cooking Light Magazine to name a few.
Their new cookbook, The Adventures of Fat Rice, will be released on October 25, 2016, and is published by Ten Speed Press.