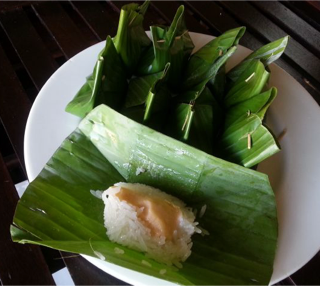 A hands-on cooking class culminating in dinner served wine and beer.
Southeast Asians have long used the pliable, protective leaves of tropical plants for cooking, saving and serving food. In this intensive workshop, we'll learn how to work with dried, frozen and fresh leaves while preparing iconic dishes from Hong Kong, Thailand, and Malaysia. A variety of methods using both dry and moist heat will reveal the unique characteristics of each leaf, from the delicate fragrance of pandan to the expansive convenience of banana. There will also be stations set up for practicing different styles of leaf bowls and dumpling wraps.
MENU
Shrimp with Rose Wine in Pandan Leaves
Chicken and Lap Cheong in Lotus Leaves
Nonya Sticky Rice in Bamboo Leaves
Red Curried Mushrooms in Banana Leaves
Coconut Custard in Banana Leaves [prepared in advance]
TECHNIQUES
— How to prepare dried, frozen and fresh leaves for wrapping and cooking.
— How to incorporate the grain, stem, and vein of leaves (both their strengths and weaknesses) into styles of wrapping.
— Using leaves with different cooking methods (both moist & dry heat)
— Flavor profiles of maritime and mainland of different SE Asian countries
— Where to find and how to select
Thy Tran is a culinary writer, researcher and chef-instructor who's been teaching in the San Francisco Bay Area for over 18 years. She has worked in restaurants, coauthored award-winning cookbooks, contributed to national food magazines and consulted for a wide range of businesses and nonprofits. With a passion for understanding the cultural context of food, Thy specializes in migration and how we reshape our stories, recipes, techniques and traditions. Learn more about her work at www.WanderingSpoon.com.