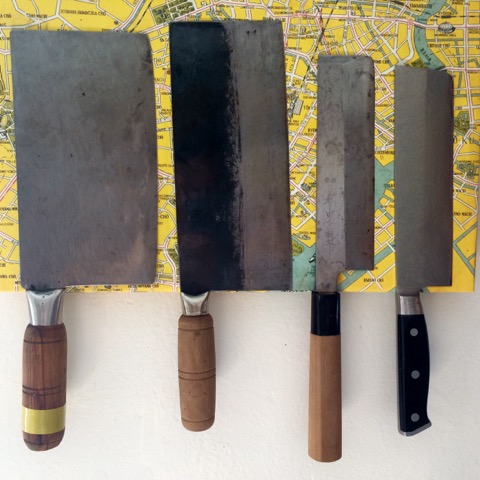 Are you the proud owner of a brand-new cleaver or usuba? Perhaps you've been thinking about buying one? If so, this hands-on class is just for you! 
After a quick introduction to Asian-style knives, you'll learn the fundamental techniques of cutting with a flat blade. Chopping and slicing, mincing and mashing…you'll practice extensively in order to develop your own grip, angle and motion. While this class emphasizes knife skills, the evening's recipes will also provide a delicious, comparative survey of Asian flavor profiles. 
MENU
Tsukemono — Japanese Quick Pickles: Eggplant with Umeboshi & Shiso, Cucumber with Miso
Chow Fun — Cantonese Stir-fried Rice Noodles
Lumpiang Sariwa — Filipino Fresh Rolls
Suan La Tang — Sichuan Hot & Sour Soup
Bringing your own cleaver is highly recommended so that you can develop experience with its specific weight and shape. Some student cleavers will be available for loan during class.
Vegetarian ingredients included with prior notice.
THY TRAN is a culinary writer, researcher and chef-instructor who's been teaching in the San Francisco Bay Area for over 18 years. She has worked in restaurants, coauthored award-winning cookbooks, contributed to national food magazines and consulted for a wide range of businesses and nonprofits. With a passion for understanding the cultural context of food, Thy specializes in migration and how we reshape our stories, recipes, techniques and traditions. Learn more about her work at www.WanderingSpoon.com.